The Same-Sex Marriage Bill Just Passed The Senate
In a historic vote, Australia's upper house has passed a bill for marriage equality. It now goes to the lower house for debate.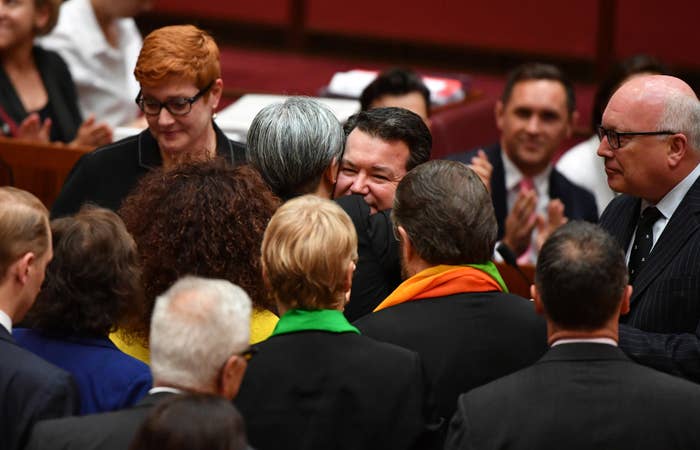 The Senate has passed a bill for same-sex marriage in an historic vote almost exactly two weeks after it was revealed a clear majority of Australians had voted "yes" in a national survey on the issue.

The bill, penned by Liberal senator Dean Smith, passed on Wednesday afternoon 43-12 with no substantive amendments. After the votes were announced by speaker Scott Ryan, the public gallery rose in a standing ovation, while politicians hugged on the Senate floor.
The bill will now proceed to the House of Representatives, where it will face more debate and potentially more amendments before coming to a vote. Politicians on all sides of politics, including prime minister Malcolm Turnbull, have said it will be passed before Christmas.
The Senate debate lasted three and a half days, with a number of senators delivering final short speeches on the significance of the occasion just prior to the vote.

Labor senate leader Penny Wong said those in the Senate were standing "on the cusp of a remarkable achievement and an historic event".
"I'm often asked what this law means for me and my family. This law matters to loving couples across the country," she said.
"But what is more important is what it means for all of us – what it says to young LGBTIQ Australians, what it says to the young man struggling with who he is or the young woman who feels alone and ashamed, what it says to the children of same-sex couples who feel ostracised. It says to so many Australians: this parliament and this country accept you for who you are; your love is not lesser and nor are you. It says: you're one of us."

Dean Smith said the largely respectful debate had shown "the soul of the attorney [-general George Brandis], the lived experience of senators Wong, Rice, and Pratt, the conscience of those who opposed the bill, and the convictions of those who supported it".
He said the fact the bill was not amended meant a balance had been achieved, and that the bill did not represent "the triumph of one group over another but the advancement of freedoms for all of us".

"In the course of a generation, we have seen the LGBTI community move from rejection to tolerance, from tolerance to acceptance, and from acceptance to embrace," Smith said.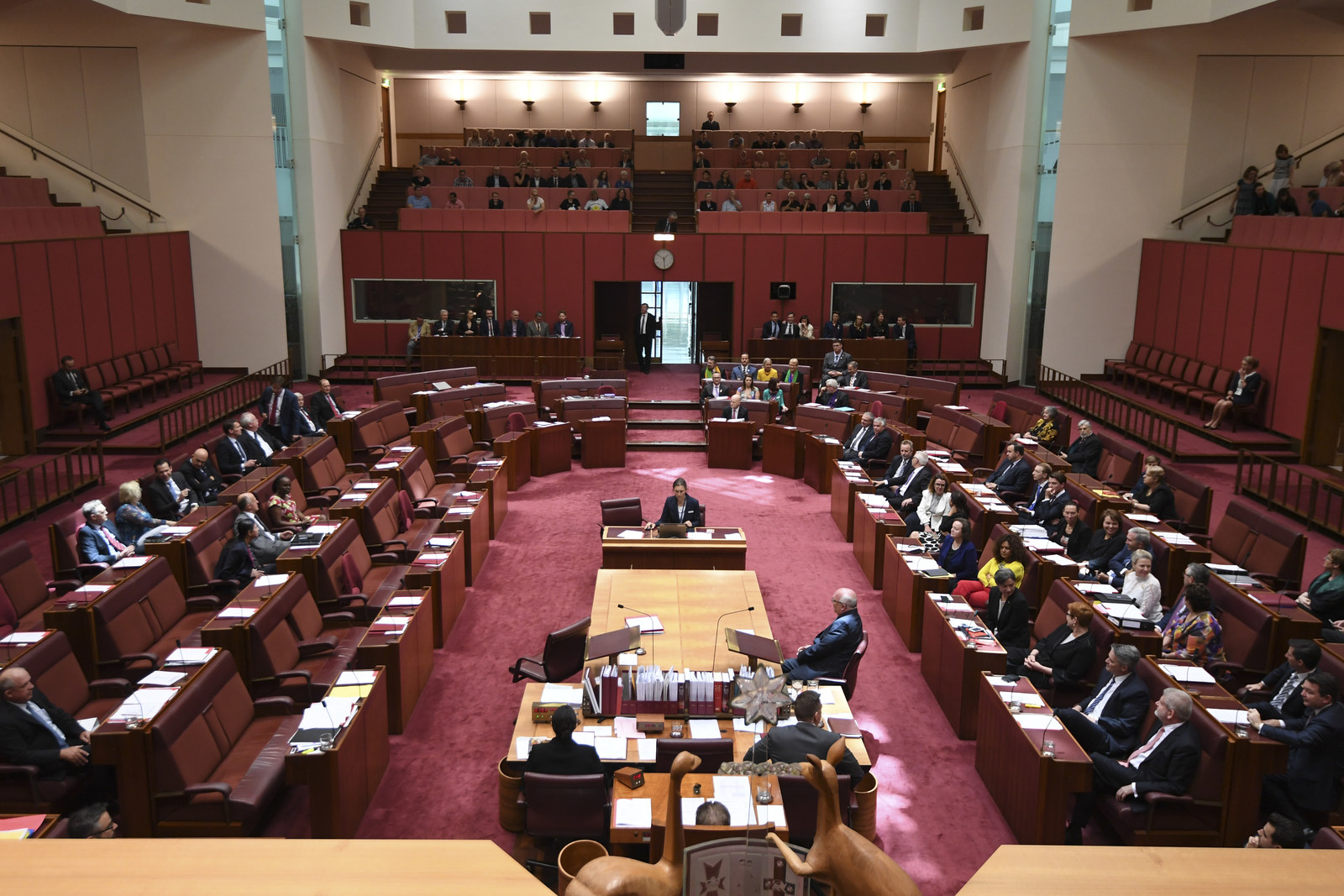 Attorney-general George Brandis said that while he once did not support a public vote on the issue, he was ultimately happy that marriage equality had come about in this way.

"I am so delighted that the result was an overwhelming yes. I am so grateful for the grace and decency of those who were not persuaded to change in the way that they have accepted the result," he said.
"I am so proud of Australian democracy today—more proud than I have ever been. Nobody owns this result but the Australian people themselves."
Several speakers were applauded after their contributions, including Wong, Smith, Labor senator Louise Pratt and Greens senator Janet Rice.

The 43 ayes consisted of much of the Labor Senate caucus, as well as a significant number of government senators, including ministers George Brandis, Simon Birmingham, Marise Payne, and Mitch Fifield, and Nationals leader Nigel Scullion. Every Greens senator voted in favour, as did the two Nick Xenophon Team senators, Derryn Hinch, and David Leyonhjelm.
The 12 senators who voted against were government senators Eric Abetz, Slade Brockman, Matthew Canavan, Concetta Fierravanti-Wells, Barry O'Sullivan and John Williams, Labor senators Chris Ketter and Helen Polley, Australian Conservatives Cory Bernardi, One Nation's Brian Burston, estranged One Nation senator Fraser Anning and independent Lucy Gichuhi.

Seventeen senators were absent from the chamber for the vote – some of them abstaining, including National Bridget McKenzie, Liberal James McGrath and One Nation's Pauline Hanson. Some missing senators were at the funeral of a former Labor senator Steve Hutchins. Labor senator Gavin Marshall is overseas on a United Nations trip, while Katy Gallagher was in Sydney with her child, who is undergoing surgery today.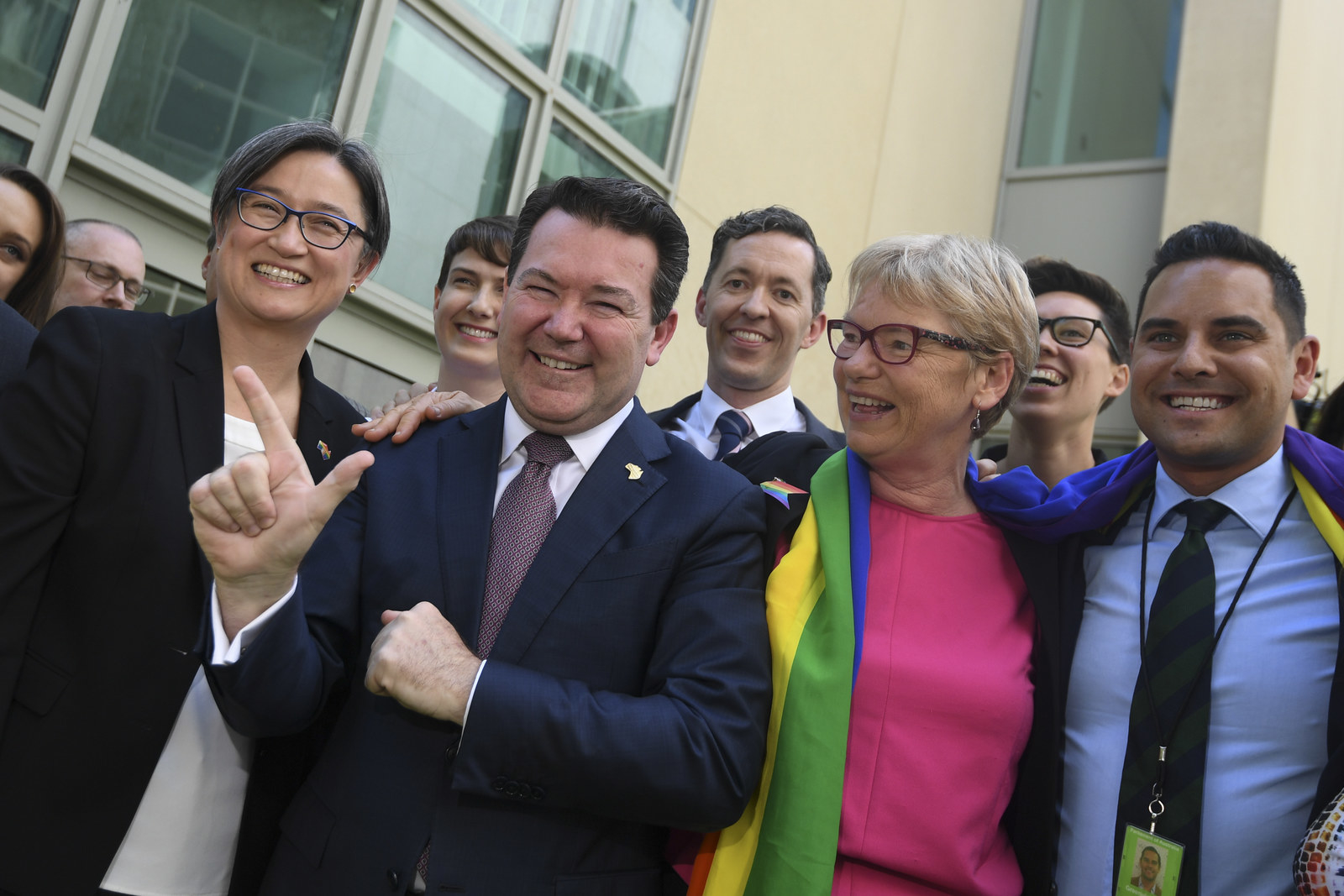 Elated advocates spoke after the vote, thanking senators for their work.

Rodney Croome, a longtime LGBTI rights campaigner, said it was an "emotional moment" for him to witness the Senate vote. He urged members of the lower house to pass the bill without delay.
"There is nothing standing in your way to enact marriage equality before Christmas," he said. "After the vitriol and trauma of this debate, let's make 2018 a year of love, equality and commitment."
Anna Brown from The Equality Campaign, said the victory was the culmination of more than a decade's work of advocacy.
"During the debate we saw history being made with LGBTI members from all major parties leading the debate. Our supporters in parliament stared down efforts by religious conservatives to introduce new forms of discrimination against LGBTI people," she said.
Over the course of Tuesday and Wednesday, a number of amendments to the bill were defeated, most by a powerful coalition of Labor, the Greens, the Nick Xenophon Team, Derryn Hinch, and government senators including ministers Marise Payne, Simon Birmingham and Nigel Scullion, as well as Dean Smith, Jane Hume, and Linda Reynolds.
Five highly-anticipated amendments put by Liberal senators James Paterson and David Fawcett, backed by a group of staunch opponents to marriage equality, were voted down with dramatic margins throughout Tuesday afternoon and evening.
A further two amendments put by George Brandis and Matthew Canavan were also defeated on Tuesday night, while more put by One Nation, the Greens, and Liberal Democrat David Leyonhjelm were rejected on Wednesday.
Several opponents of marriage equality took to the floor prior to the vote to lament the defeat of these amendments.
"The taste of defeat is always bitter and nobody likes it," Tasmanian senator Eric Abetz told the Senate. Abetz added that he accepted and respected the "yes" vote, but would vote against the bill to represent Tasmanians who voted "no" in the survey.
The bill cannot proceed to the House of Representatives this week because the scheduled sitting was controversially cancelled by the government.
Manager of government business Christopher Pyne said the cancellation was so the parliament could focus exclusively on marriage equality, but the Labor opposition contended it was to avoid the possibility losing votes on the floor while the government is down two MPs who are fighting by-elections due to the dual citizenship crisis.