People in the LGBTI community are sharing stories about how Roz Ward — the academic and Safe Schools Victoria coordinator who was suspended from her job Wednesday — made a difference in their life.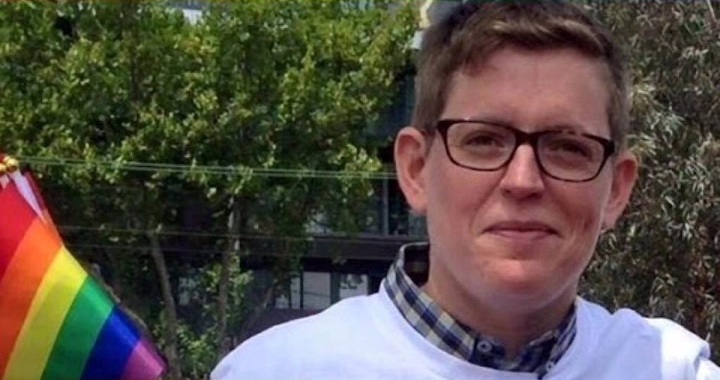 Ward, the co-founder of the Safe Schools Coalition, an LGBTI anti-bullying program, was suspended from her position at La Trobe University's Australian Research Centre in Sex, Health, and Society after a meeting with university management.
Her suspension, which her union said was for "engaging in misconduct", came after Ward posted a picture of the rainbow pride flag and wrote "Now we just need to get rid of the racist Australian flag on top of state parliament and get a red one [referring to the socialist red flag] up there and my work is done" on her Facebook page.
The Australian newspaper reported on the post. It was the latest in a series of articles criticising Ward.
La Trobe didn't immediately respond to BuzzFeed News for comment and had told other outlets the suspension is a human resources matter and would not comment further.

18-year-old transgender man Erik Ly told BuzzFeed News he "wouldn't be here" if it wasn't for Ward's help during a tough time at school.
Towards the end of Year 10, Ly was struggling. His private school in Victoria wouldn't allow him to wear the boys uniform unless he had parental permission, and teachers continuously referred to him with female pronouns.
"it was impossible for me to have any parental consent or support," Ly said. "My relationship with my family was going through a tough time."
During an appointment at the Gender Clinic at the Melbourne Royal Children's Hospital, it was suggested Ly get in touch with Ward, who could help him with school.
"I would have meetings with the principal and end up breaking down, after or during the meeting. I would ring Roz, and Roz would always listen to me, offer to help, offer to ring the school to talk about their responsibilities."

Ly said Ward was the first person to embrace his identity instead of questioning it, and helped him when his mental health was in a very dark place.
"Roz gave me so much hope and courage to be myself, hope that society would one day accept me," he said.
"When I was feeling suicidal, I would think about those moments of acceptance. That's what kept me from killing myself." Ly stressed that every conversation he had with Ward was always focused on him and not politics.
A Facebook page set up on Wednesday night in the wake of the suspension gained over 2000 followers.
The hashtag #IStandWithRozWard is also spreading on Twitter.
Many transgender young people and their parents posted about how Ward assisted with their transition in school. One person said Ward "saved my life."
La Trobe alumni and academics also expressed their dismay about the suspension.
The National Tertiary Education Union condemned La Trobe for suspending Ward, saying the university had been cowed into participating in an "anti-intellectual, anti-democratic attack".
"The hysterical response to Ms Ward's private Facebook posting about the Australian flag is typical of the right's absolute refusal to consider the ways in which racism is expressed, often unconsciously, in symbols, institutions and attitudes," said Victorian secretary Colin Long.
"Whether one agrees or not with Ms Ward's contention that the flag betrays a racist origin, it is entirely reasonable to make such an argument, and many have done so without fear of having their livelihoods stolen from them."
The NTEU is considering legal action.
The Institute of Public Affairs, a conservative think tank that advocates for freedom of speech, has also lent its support to Ward.
Matthew Lesh, an IPA research fellow who authored a report about free speech on university campuses, told BuzzFeed News that Ward should not have been suspended.
"Marxists, libertarians, conservatives, everyone in between – they should be free to express political perspectives," he said. "If she was going out there and personally vilifying somebody it might be a bullying situation, if she was defaming somebody, or whatever else. What she said is extreme and radical in a sense, but it's not even particularly offensive."