The Conservative Same-Sex Marriage Bill Would Roll Back Anti-Discrimination Protections
"Are we going back to a time in Australia where there were signs outside a shop saying who they would serve and who they wouldn't?"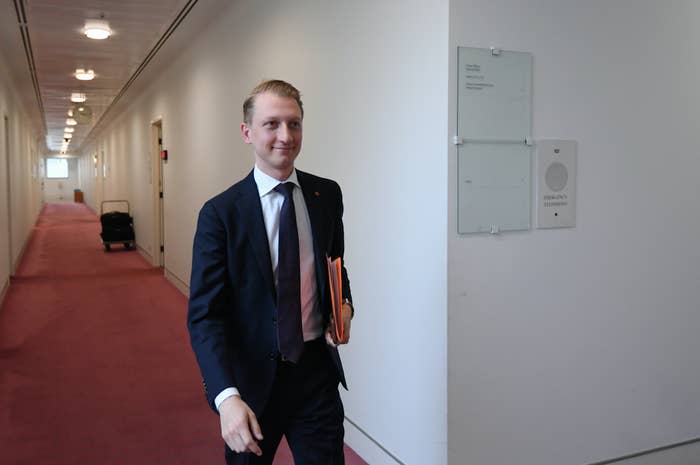 Gay couples could be legally turned away from wedding service providers, and anti-discrimination laws designed to protect LGBT people would be overturned, under an extraordinary rival same-sex marriage bill released on Monday.

The bill would legalise same-sex marriage but attached would be a swag of exemptions and extensions to the law, designed to protect anyone who objects to same-sex marriage, or gay and transgender people in general. The bill has already generated ire and fear from LGBTI people.
Its release comes ahead of the highly-anticipated result in Australia's same-sex marriage survey on Wednesday. If a "yes" vote is successful, the fight for same-sex marriage will return to the parliament, where politicians are expected to duke it out over what exemptions should be in a bill to allow same-sex marriage.
The bill released on Monday, sponsored by Liberal senator James Paterson, is intended as a counter to one penned by Liberal senator Dean Smith. Smith has said he would introduce his bill on Thursday should the result in the survey come back as "yes".
The Paterson bill would see a wide variety of wedding service providers — including bakers, florists, photographers, transports providers and hotels — granted the right to turn away gay couples. The exemptions would apply to wedding-related services – for instance, a gay couple could likely be ejected from a hotel on their honeymoon, but not on a regular holiday.
It would include a clause that allows government employees to discriminate against same-sex couples by refusing to register their marriages on the relevant state or territory registry. This famously played out in the US with Kentucky county clerk Kim Davis, who was briefly jailed after refusing to register a same-sex couple in August, 2015.
The bill would also protect a number of beliefs under the law — including the view that marriage is solely between a man and a woman; that sex should only be between a married man and woman; that gender is a binary; and even the view that same-sex relationships are immoral or wrong.
The bill would enshrine a right to hold, express, and act on those beliefs, and override any state or territory laws that infringe on those beliefs in order to prevent discrimination against LGBTI people.
The bill would also create a right for parents to pull their kids out of class if the content taught contravenes their beliefs against same-sex marriage, and sex outside of marriage.

The Smith bill, which has gained the support of Labor and The Equality Campaign, provides a narrower set of exemptions in relation to marriage celebrants and religious organisations alone.
Paterson, who is a supporter of same-sex marriage, said he thinks "religious freedom and speech are important rights".
"I suspect 30-40% of Australian will vote no [in the survey]. I don't think their votes should mean we shouldn't have same-sex marriage, but I do think that their freedoms should be protected and I think my bill is a bill that best does that."
Co-chair of Australian Marriage Equality Alex Greenwich slammed the bill as seeking to "divide Australians".
"Australians have been voting not to entrench discrimination in legislation," he said. "That is what senator Paterson's bill seeks to do.
"Are we going back to a time in Australia where there were signs outside a shop saying who they would serve and who they wouldn't?"
Finance minister Mathias Cormann said that the government had no position on which bill to support, but would facilitate the debate of a private members' bill on the floor of parliament. Cormann described the Smith bill as "a good starting position" but said it would need improvement to "strengthen religious protections".