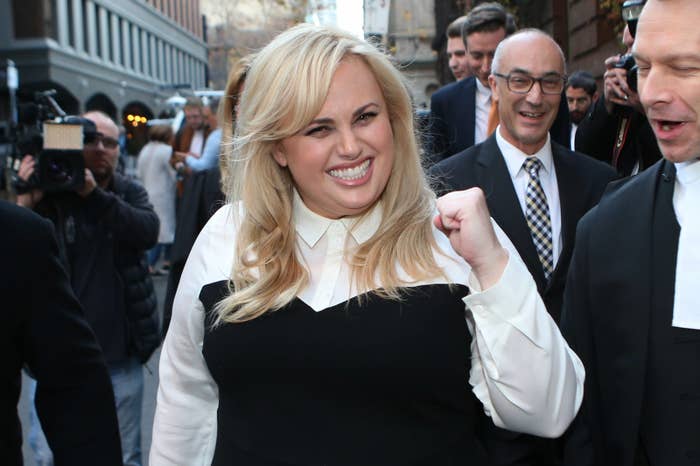 Australian actor Rebel Wilson was back in a Melbourne courtroom on Wednesday to hear an appeal against her $4.5 million defamation payout in June last year.
Bauer Media, the publisher of Woman's Day magazine and associated websites, was found by a jury to have defamed the Pitch Perfect star by painting her as a serial liar in a number of articles.
Wilson was awarded the huge payout by Justice John Dixon in September 2017. It consisted of $650,000 in general damages and $3.9 million in special damages.
It is Australia's largest ever defamation damages payout and surprised media outlets and legal practitioners across the nation when it was handed down.
Bauer accepts the jury verdict but is appealing the payout on the grounds that it is "manifestly excessive", and believes that Dixon made errors in fact and law in determining the payout.
Bauer's barrister Michael Wheelahan QC told the court it should consider other defamation awards in deciding on the Wilson case, including that of a teacher who was awarded $350,000 after being wrongly accused by Fairfax Media of being a sexual predator.
"In all the circumstances of [the Wilson] case, it's our submission that a fair and reasonable assessment of damages is in the range of $250,000-$300,000," Wheelahan told the court.
He submitted that a separate award for aggravated damages on top of that would be in "the tens of thousands, not the hundreds [of thousands]".
The court also heard that there was insufficient evidence Wilson had lost film roles as a result of the articles.
In his September decision, Dixon found it was probable that Wilson had lost out on at least two lead or co-lead roles in the period after filming Pitch Perfect 2 as a result of the defamatory articles. He said he could not point to any particular role.
Wheelahan argued on Wednesday that films Wilson had starred in, including Pitch Perfect 3, a remake of 1980s film Dirty Rotten Scoundrels, and Isn't It Romantic should be considered in the "trajectory" of Wilson's career following the publication of the articles.

"When looking at a trajectory, one should take into account not only the path upwards but the speed humps along the way," he said. "There were two speed bumps along the way and they were Trolls, which is an animated film, and Kung Fu Panda 3."
Wilson attended Wednesday's hearing at the Victorian Court of Appeal with her mother.

Earlier this month, a number of Australian media outlets were barred from joining the Bauer appeal to argue against the $4.5 million award.
The court ruled that the outlets, which included the Seven and Nine networks, News Corp, Fairfax, Macquarie Media, and the ABC, would not add anything to the proceedings that wouldn't be argued by Bauer.
Last week, Dixon rejected an application from Wilson to have her court costs fast-tracked and paid in a lump sum.
He ordered that Bauer pay her costs via the usual method of determining the amount in the Victorian Costs Court. It is expected Bauer will cover more than $1 million of the $1.4 million she reportedly spent on the case.