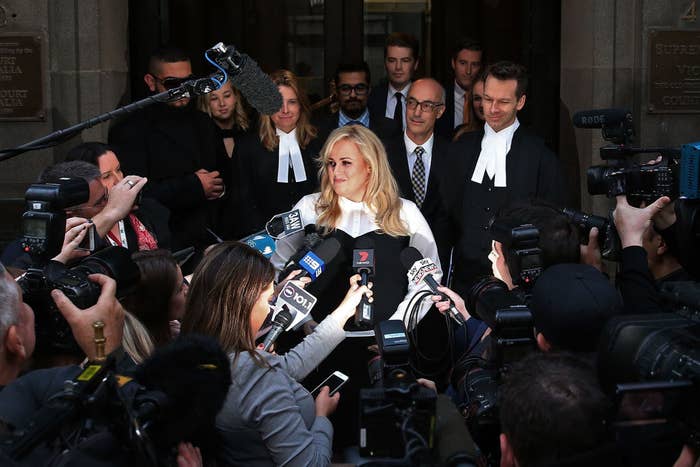 Rebel Wilson and the magazine publisher that defamed her will go through the usual process of determining court costs, after the Australian actor lost a bid to have her costs from the high-profile 2017 defamation case fast-tracked and paid in a lump sum.
But publisher Bauer Media has still been ordered to pay her costs and will likely end up forking out more than $1 million of the $1.4 million Wilson spent on the defamation case.
A Melbourne jury last year found that Bauer Media had defamed the Pitch Perfect star in articles that painted her as a "serial liar" and said she had lied about her name, age, and background.
Wilson said she missed out on roles in films including Trolls and Kung Fu Panda 3 as a result of the stories about her being a liar published in Woman's Day and on various Bauer websites.
She was awarded a payout of $4.5 million – Australia's largest ever defamation award. Bauer Media is appealing the multimillion-dollar payout.
On Thursday, Wilson lost an application to have her court costs paid in a lump sum ordered by the judge and avoid the usual process of being assessed in the costs court.
Wilson's legal team had argued that the regular process would likely be "protracted and expensive", that it would give rise to a significant delay, and that a gross sum order would be more cost-effective.
But Justice John Dixon said such an order was a "rare event" and he was unconvinced it was needed in this case.
He ordered that Bauer pay Wilson's costs via the usual method, where the costs court will determine which expenses were reasonably incurred.
The court has previously heard that experts for both Wilson and Bauer Media had assessed her costs at between $1.1 and $1.3 million.
In his judgment, Dixon also offered some thoughts on what he believed should be considered reasonable expenses.

He certified costs of Wilson's lawyer, Michael Collins, at $9,000 per day of the 22-day trial.
He also said that the cost of a security guard for Wilson was reasonably incurred, noting that she had been left distressed after a member of the public approached her in an "inappropriate fashion" during the case.
A number of Australian media outlets were recently barred from joining Bauer's appeal against the massive payout awarded to Wilson, which will be heard later this year.
The court ruled that the outlets, which included the Seven and Nine networks, News Corp, Fairfax, Macquarie Media, and the ABC, would not add anything to the proceedings that wouldn't be argued by Bauer.