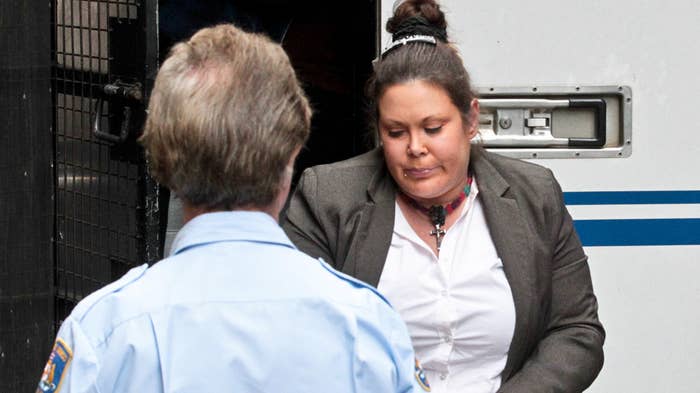 An Australian woman who lured her ex-husband to a house, blinded him using Exit Mould spray, and killed him in a violent attack will spend at least five and a half years behind bars.

Raquel Hutchison, 40, and her fiancé Paul Wilkinson, killed her ex-husband Brett Walker* in 2014 when she tricked him into returning to his St Marys house with text messages and ambushed him.
On Thursday, Hutchison was sentenced to nine years in prison, with a nonparole period of five years and six months, over the "callous" manslaughter.

Walker died from asphyxia arising from multiple injuries he suffered in the beating — most of them inflicted by Hutchison — including a broken nose, injuries likely inflicted by an electric cattle prod or Taser, and a cord used as a ligature around his neck. Exit Mould household spray was also used to blind or incapacitate Walker.
A young relative was present and witnessed the violent attack. After the attack the couple put Walker's body in the boot of Wilkinson's car and dumped him near Wisemans Ferry north of Sydney.

Hutchison and Wilkinson were accused of murdering Walker, but both were found not guilty of murder and guilty of manslaughter by Supreme Court Justice Peter Hamill in November 2018.
Handing down Hutchison's sentence on Thursday, Hamill said there was a "disturbing" degree of brutality shown in the crime, and the way Walker's body was treated after his death showed a "callous disregard for his humanity".
He said the fact a child had witnessed the attack was a "very serious aggravating circumstance" of the manslaughter.
"[The child] has suffered and continues to suffer grave emotional and psychological damage as a result of this experience," Hamill said.
Hutchison sniffed at times but was mostly silent as she sat in the dock in the middle of a large courtroom in Darlinghurst, Sydney. A number of Walker's family members were present in the public gallery.
Hutchison was found guilty of manslaughter rather than murder as she was acting in "excessive defence" of young relatives who, she argued at trial, she believed were being abused by Walker. Her claims of abuse have not been substantiated. She was also found to be substantially impaired by mental health conditions.
Hamill described Hutchison's motive of protecting children as "objectively misguided and the result of serious psychiatric conditions".
He noted there were "bizarre aspects" to the evidence given in the case, including Walker's interest in paranormal activity such as demonology and ghost hunting.
Hutchison also had a "dalliance with mystical things", Hamill said in his verdict, citing evidence she considered herself to be a "pagan white witch" and that she had, with a child, made a voodoo doll of Walker that she stuck pins in and later burned.
But, Hamill said, these aspects were largely irrelevant to the sentencing.
"In determining an appropriate punishment, it does not matter whether Ms Hutchison dabbled in paganism or considered herself to be a white witch," he said.
"The fact, as it seems to be, that she was involved in concocting spells wishing the victim ill, and destroyed a voodoo doll with similar malignant thoughts, confirms my finding that she had come to despise her husband in an irrational manner."
He said Walker's relatives had remembered him as a selfless and loving man who volunteered at a soup kitchen and called late-night radio programs to talk about social justice issues as a teenager.

Hutchison had had a "difficult life" and had been the victim of sexual abuse as a child, Hamill said.
He said he had taken this factor into account but added somebody's personal circumstances "no matter how moving and tragic, cannot distract from the evil involved in taking a human life".
Hamill found Hutchison had good prospects of rehabilitation.

She has been in custody since her arrest on Oct. 21, 2014, and will be first eligible for parole on April 20, 2020.
Wilkinson will face a sentence hearing on Feb. 1, 2019.
*Name has been changed for legal reasons.