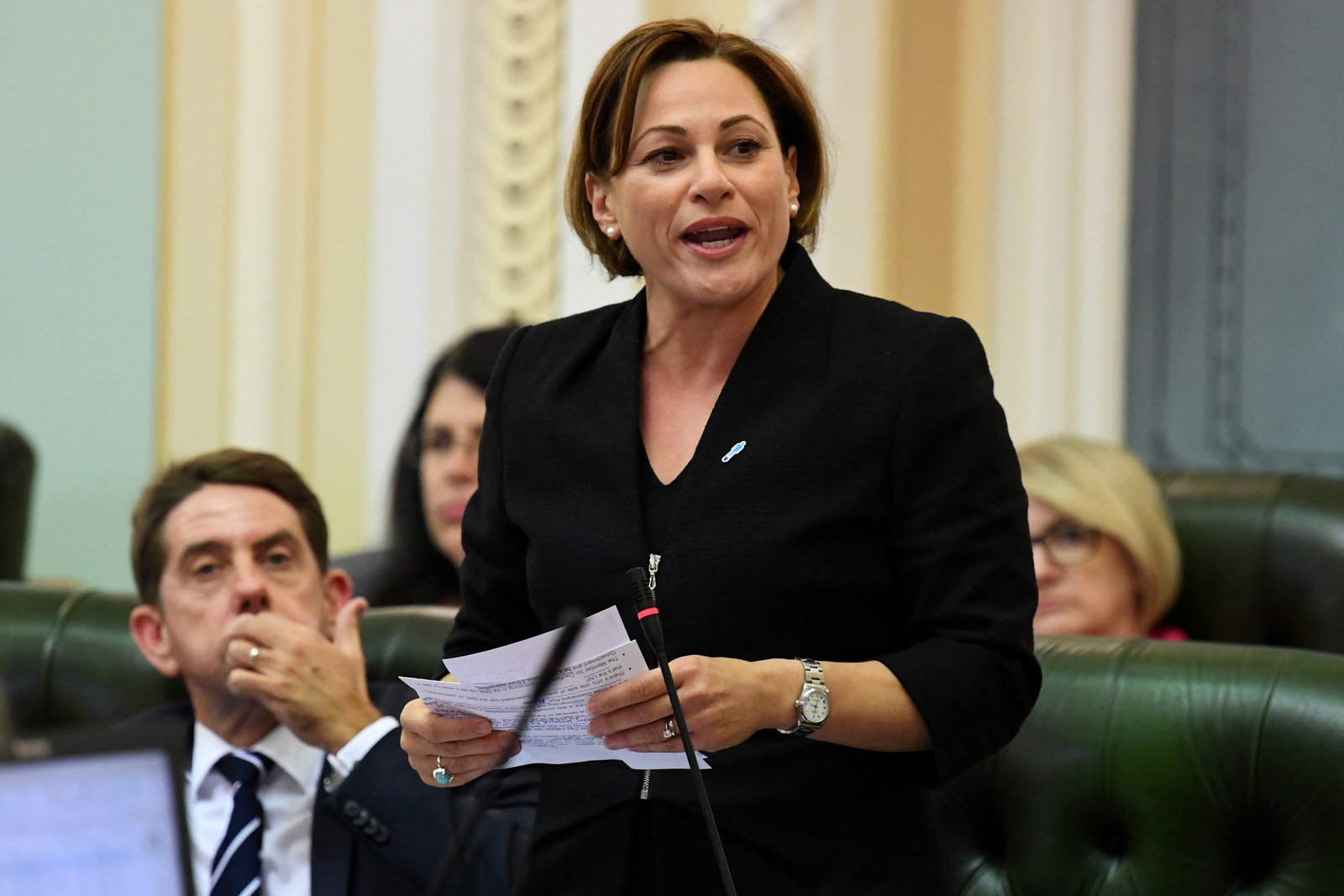 Queensland deputy premier Jackie Trad has been targeted with an anti-gay email from someone purporting to be her, and had swastika stickers placed over the "yes" signs on her office, in the weeks since the same-sex marriage postal survey began.

The Labor politician has been a vocal advocate for same-sex marriage in her electorate of South Brisbane. Late on Sunday, an email was sent to her electorate email from an unfamiliar address, but with the sender name listed as "Jackie Trad".
The body of the email, which had the subject line "Vote YES for Pedophilia Perversity", consisted mostly of unintelligible rambling about gay people, Satan, and Nazis, and several copy-pasted links to google searches of various US political conspiracy theories.
Initially, Trad's staff thought perhaps it had just been sent to their office. But on Tuesday, a constituent who owns a local small business dropped in to tell the office they too had received a copy of the email too, from the same "Jackie Trad" sender.

Police are now investigating the email. Trad and her staff are unsure how many other people would have received the correspondence.
In early September, "Vote Yes" signs outside of Trad's office were targeted with stickers from the same Neo-Nazi group claiming responsibility for various offensive posters put up in Melbourne, Tasmania and elsewhere.

Trad told BuzzFeed News the "disgusting, vile" behaviour would not stop her or anybody else from advocating for marriage equality.
"These are extremists who are using every dirty tactic to confuse and distract people from what this debate is actually about – whether all Australians, no matter who they love, should be treated equally under the law," she said.
"If we stay focused on what matters – making sure people return their 'yes' votes — than I have no doubt that love will win out in the end."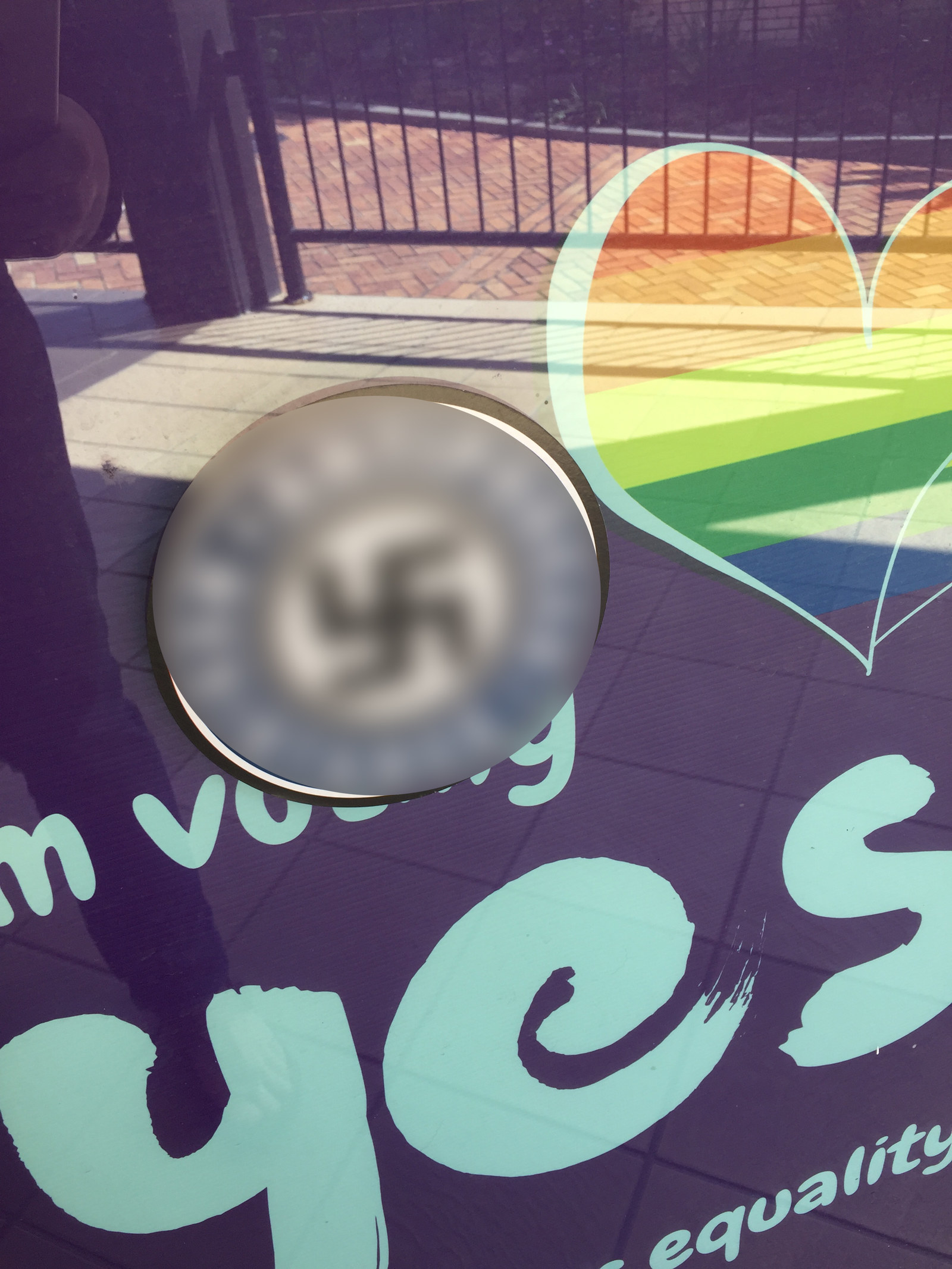 Last weekend, same-sex marriage signs and flags at three houses in Trad's South Brisbane electorate were vandalised with spray-painted swastikas. At another house decorated with rainbow signs, a young woman was left terrified after a man yelled anti-gay slurs and hurled rocks at her house, smashing two windows.
The incidents prompted a statement from the Queensland police, saying officers were investigating if the properties was targeted due to the rainbow flags flying at all four addresses.
Trad told BuzzFeed News that given the strong support for marriage equality in South Brisbane, the electorate was "a target for the extremists within the 'no' campaign".
"Lots of our signs have been pinched as well. We've distributed over 300 signs to local businesses and residents and many people have come in saying they've been stolen or destroyed," she said.
She described the people embarking on such vandalism as "complete cowards".
"They don't want to stand up and put their position," she said. "What they want to do is, they want to go into areas at the dead of night and tear down signs and throw rocks through windows and hurl abuse at people. They're the actions of cowards, of people filled with hate."
Trad added that in her time talking to people around Queensland since the postal survey began, she has not met anyone who told her they were voting "no".
"In the places I have been, this includes regional Queensland, I have spoken to people about the postal survey. It is the biggest conversation happening in our nation right now," she said.
"I am yet to meet someone who is voting 'no'."