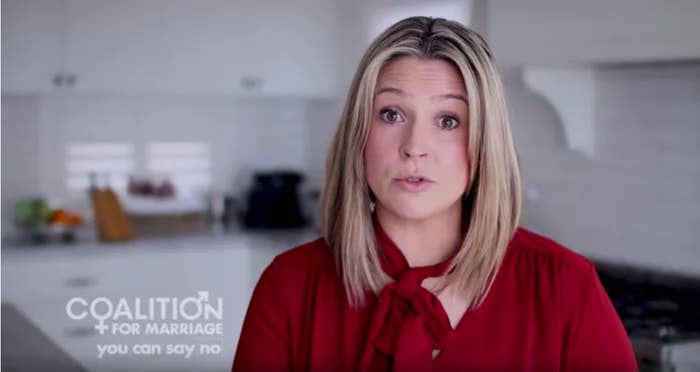 A woman who shot to fame as a concerned mother in an advertisement against same-sex marriage has issued a public apology to an LGBT youth leader who sued her for defamation over a Facebook post.

Marijke Rancie runs the "Political Posting Mumma" Facebook page, where she regularly posts content arguing against same-sex marriage, transgender rights and LGBTI education in schools. It has more than 19,000 followers.
She was sued last year by Adele Moleta, also known as "Delsi Cat", who runs the queer party organisation "Unicorns" and has previously worked as a school teacher and at LGBTI youth charity Minus18.
Moleta brought the lawsuit after Rancie shared pictures of her on Facebook in Dec. 2017, saying in the caption that it was a "sneak peek" into a "rabbit hole that is pretty sick and twisted to your average Australian family", among other things.

Rancie, a prominent campaigner for the losing "No" side in Australia's national same-sex marriage vote, posted a public apology to Moleta on her Facebook page on Tuesday morning.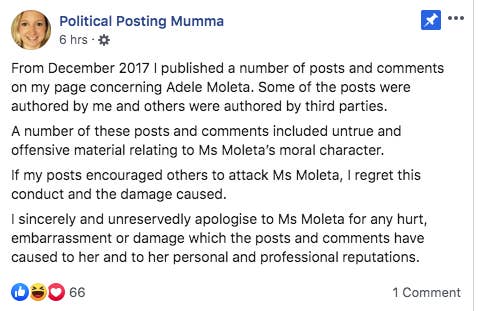 Rancie wrote that she had published a number of posts and comments about Moleta on her page — some written by her and others by third parties — that included "untrue and offensive material".

"If my posts encouraged others to attack Ms Moleta, I regret this conduct and the damage caused," she wrote.
"I sincerely and unreservedly apologise to Ms Moleta for any hurt, embarrassment or damage which the posts and comments have caused to her and to her personal and professional reputations."
The post will stay pinned to the top of the Political Posting Mumma page for 60 days.
The apology comes after a mediation on Monday. According to a Federal Court order, the lawsuit was dismissed with agreement on both sides.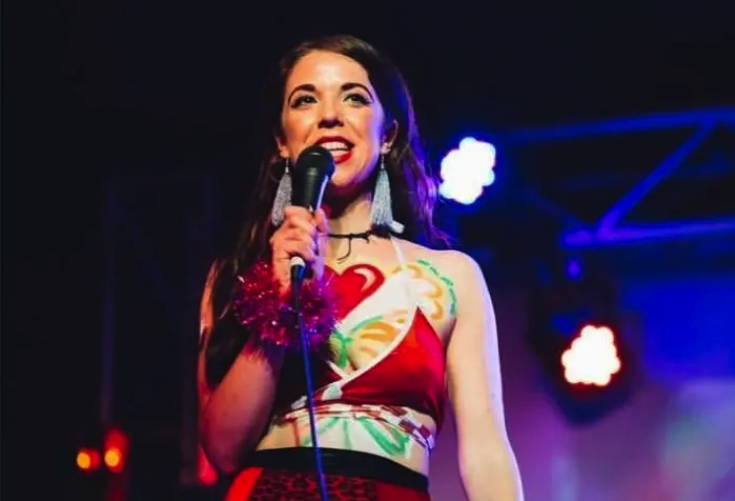 Moleta, in her early 30s, alleged in the lawsuit that Rancie's post and its 200 comments defamed her by suggesting she "is a sick and twisted person who organises events for high school aged children at which she engages in and condones sexually suggestive conduct while nude or semi-nude".
She also argued the comments suggested she is a paedophile; that she grooms high school aged children; and that she is a shameful person who should not be allowed anywhere near children.
Moleta was represented by international law firm K&L Gates, as well as barristers Matthew Collins QC — who is the president of the Victorian Bar Association and acted for Pitch Perfect star Rebel Wilson in her defamation case — and Natalie Hickey.
Rancie was represented by Western Australian firm Steenhof Brothers Barristers & Solicitors, which says on its website that it follows a Christian ethos.
"We believe the highest standard for our conduct is set out in the Bible," the firm says on its website. "We aim to infuse our practice with Christian virtues."

In a video posted on May 9, about three weeks before the public apology, Rancie declared she would not back down over the lawsuit.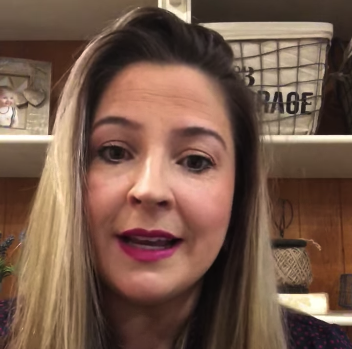 "These days, even calling it as you see it can land you in big trouble like landing in court," she said. "Guys, I'm no stranger to criticism. I'm pretty tough. I'll continue to stand up. But this legal challenge is certainly new for me.
"It's not clear what the outcome will be, it's actually a highly complex legal matter, but I'm not beaten. I'm not backing down. I won't be bullied into silence, that's exactly what the activists want."
Rancie had also issued a narrower apology earlier this year, referring to specific comments on her post, but the case continued until now.
BuzzFeed News has contacted Rancie and Moleta for comment.