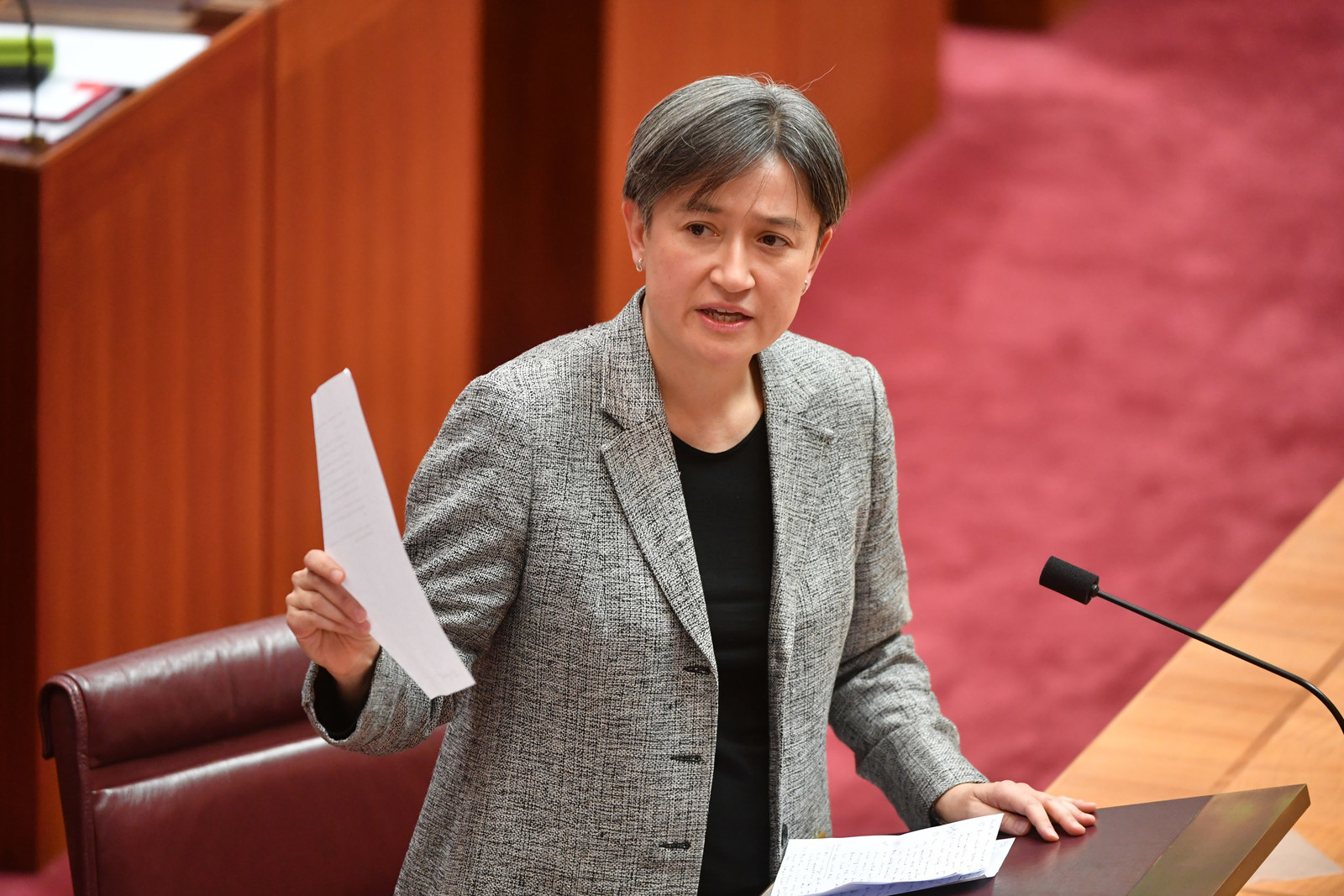 As the upper house voted on a bill that will ban vilification and intimidation against LGBTI people during the government's same-sex marriage survey, Labor Senate leader Penny Wong, who is gay, pointed out that although "sometimes prejudice comes in very polite forms" it still causes hurt.

In the same debate, senator Louise Pratt held back tears as she spoke about her "rainbow family" being handed an anti-marriage equality pamphlet at a shopping centre.
The government passed the emergency protections bill through the Senate on Wednesday morning with the support of Labor, the Greens and cross benchers. It will now go to the House of Representatives this week, where it is expected to pass.

The legislation will make it illegal to vilify, intimidate or threaten harm against people on the basis of them being LGBTI, having religious convictions, or for their views on the survey. The bill could see people in violation slapped with a $12,600 fine, and will cease at the end of the survey.
Acting special minister of state Mathias Cormann made a point of rejecting the argument that offensive and objectionable comments mostly come from the "no" campaign, saying it had been ugly on both sides for many years.
"This bill is not about protecting advocates or supporters of 'yes' side from those arguing in favour of the current definition of marriage," Cormann said.
"This is about ensuring this process is fair to both sides."
The survey has begun — with forms posted out yesterday — but the for and against campaigns cranked into gear weeks ago. Australians have already seen acrimonious arguments between "yes" and "no" campaigners play out in the media, as well as countless flyers and posters denigrating LGBTI people pop up in city streets and mailboxes.
Wong told the chamber a story about her Malaysian father, who came to Australia in the 1960s when the White Australia policy was in place, and who was invited to the homes of well-to-do, educated people in the eastern suburbs of Adelaide as a Colombo Plan scholar.
"He said, 'They were very polite to me and gave me cups of tea. But they didn't want me to take their daughter out'," Wong told the Senate.
"I'm often reminded of that in this debate. Sometimes prejudice comes in very polite forms. Sometimes a lack of acceptance and disrespect comes with a great deal of courtesy. But it lands nevertheless."
Wong said she was used to the debate, but the constant barrage of articles and comments saying her family is somehow less good than others was wearing even her down.
"If I feel like that, how do you think it feels for the children in same-sex couple families, or to LGBTI Australians everywhere, to be told, politely and courteously, 'Actually you're not quite normal. Your families aren't as good'."
She also slammed the "no" campaign for discussing everything but same-sex marriage itself: "They want to talk about a whole range of quite odd, bizarre and unconnected things because they don't actually want to say what they mean, which is: 'We don't think gay people should be equal'. That's actually what they think."
Pratt told the Senate the safeguards won't stop LGBT Australians being exposed to hurtful comments, because it hasn't stopped her family from being given anti-LGBT material.

"I was down the local shop with members of my own rainbow family, just doing the shopping for the evening meal, when they were handed an anti-marriage equality pamphlet," she said.
Pratt co-parents her three-year-son Jasper with her former partner Aram Hosie, a trans man, and his male partner.
"The pamphlet is too hurtful to repeat here.
"But it wasn't even about marriage, the quality of my relationship with my partner or the quality of my son's dad's relationships.
"The 'no' side isn't debating that because they know in the eyes of the community they have already lost that debate."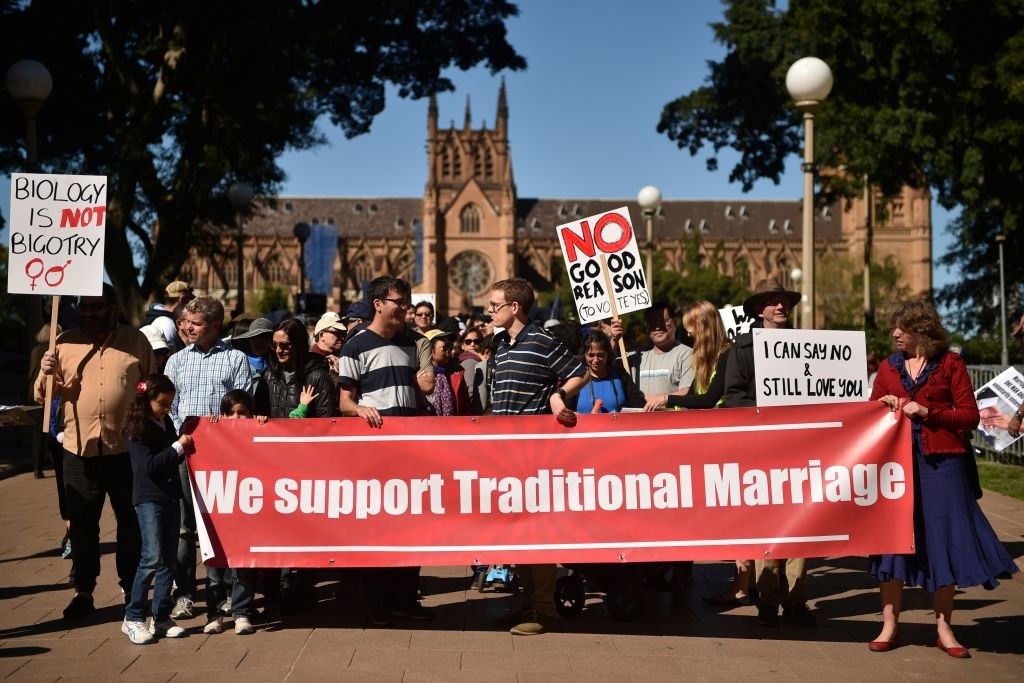 The emergency legislation has also prompted advocates to call for permanent, nationwide protections from vilification for LGBTI Australians.

Just.Equal spokesperson and former federal senator Brian Greig called on the government to introduce a national hate speech law protecting LGBTI people, "not simply a temporary one that will be thrown away after the postal survey".
"Western Australia, South Australia, Victoria and the Northern Territory have no state-based laws to prevent or prosecute vilification on the grounds of sexuality or gender identity," he said.
"This means LGBTI people in these states are especially vulnerable to hate speech and look to the Commonwealth for national laws to address this."
But right wing think tank the Institute of Public Affairs (IPA) labelled the emergency survey laws an "attack on freedom of speech".
"Vilification laws are used to silence opponents," said Simon Breheny, director of policy at the IPA. "Attempts to limit the scope of public debate are an affront to liberal democratic principles.
"The government is warning Australians against speaking their mind in case their personal views offend others. These laws are a dangerous limitation on individual freedom."
With Labor and the Greens pledging a vote in favour, the bill was always going to pass easily — but that didn't stop a couple of cross bench senators getting up to rail against the legislation.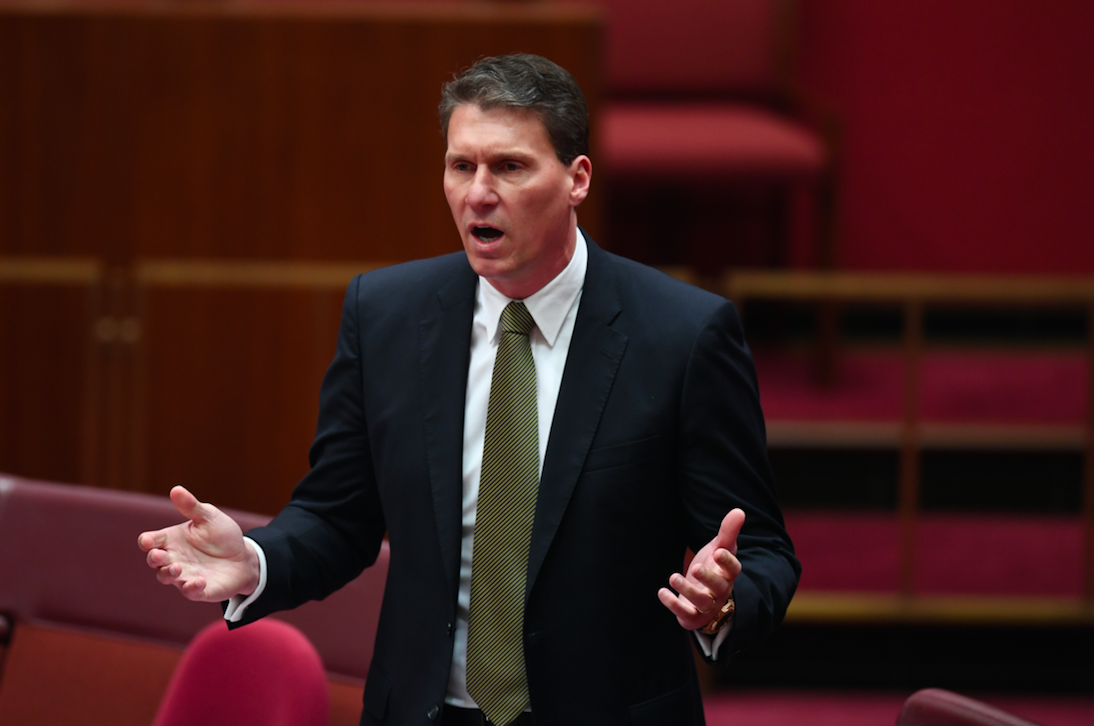 Conservative South Australian senator Cory Bernardi took a stance against the bill, acknowledging that it ultimately wouldn't make a difference in the vote.

"People will be trying to use lawfare as a mechanism to silence their opponents," Bernardi said. "The spurious claim will be, my feelings are hurt. I feel vilified and upset."
He also criticised the part of the bill which grants attorney-general George Brandis, who supports same-sex marriage, the power to accept complaints under the bill.
"Do we want a cheerleader, and I don't mean this disrespectfully, but anyone who is a partisan cheerleader in a campaign, to be reserving any form of judgement about a complaint to one side or the other?" Bernardi asked.
A number of other senators spoke.
Greens senator Janet Rice talked about her marriage to her wife Penny Whetton, who is transgender, and how their lives changed after Whetton transitioned and people around them started to treat them as a same-sex couple.

"We went from being mainstream Australia to being weird," she said. "To being discriminated against."
Labor's Jenny McAllister, who is chairing a Senate inquiry into the postal survey, said she had seen much of the material circulated that "generally seeks to denigrate gay and lesbian people".
She also praised the courage of lesbian, gay and bisexual politicians for "showing great courage as their own choices have been placed under tremendous scrutiny", and for sharing their personal stories.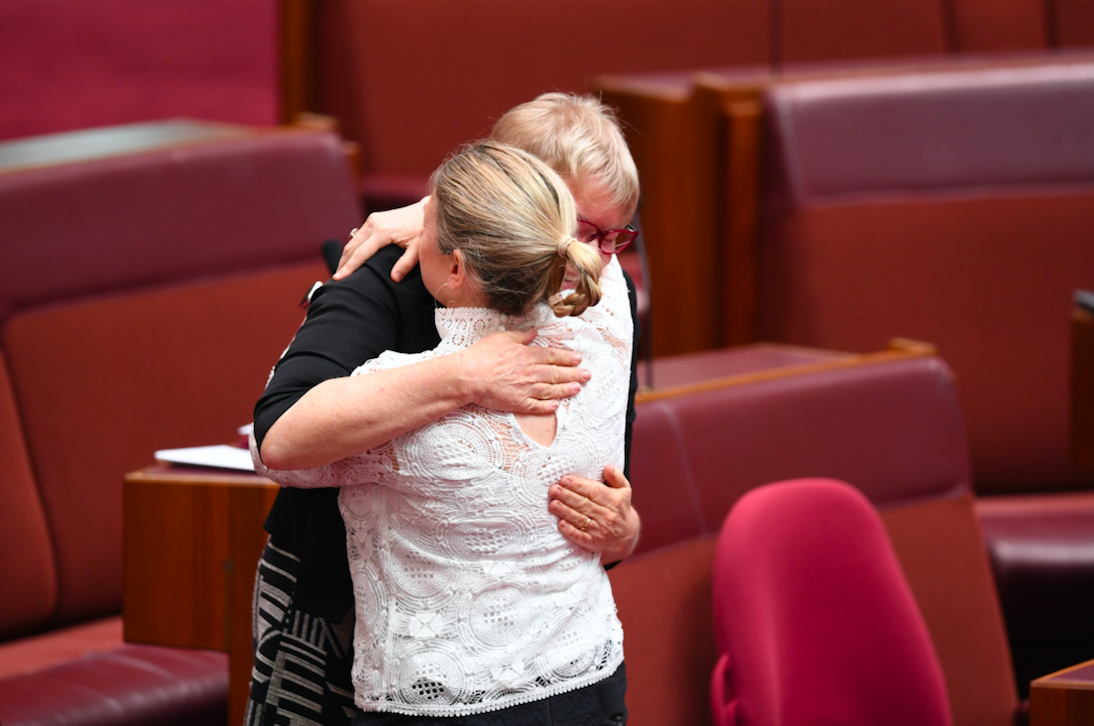 On the flipside, One Nation's Malcolm Roberts criticised the politicians, honing in on Wong, Rice and Pratt to claim they had allowed other people's "value judgments" to push them around, and that they should simply choose to ignore anti-LGBTI sentiment.

"People's rights must be put to a vote because non-LGBTIQ people's voices need to be heard," he said.
Meanwhile, Nick Xenophon Team senator Skye Kakoschke-Moore asked the parliament — in which eight out of 226 members are openly gay, lesbian or bisexual — to simply put themselves in the shoes of the LGBTI community during the postal survey.
"Imagine being a same-sex couple whose ability to marry one another is being determined by a mass mail-out by this government," she asked the chamber.
"Imagine it, because for well over the majority of people in this place that is all we can do."
Labor leader Bill Shorten has written to the prime minister asking for urgent funding for LGBT counselling and trauma services to assist in the increased demand during the postal survey campaign.
"Beyondblue has registered a 40 per cent increase in call volume following the announcement of the postal survey," Shorten wrote.
"LGBTIQ phone-counselling service Q Life has recorded a more than 20 per cent increase in the amount of calls since the survey was announced."
The opposition leader says phone counselling services have had to put on additional staff to cope with the influx.