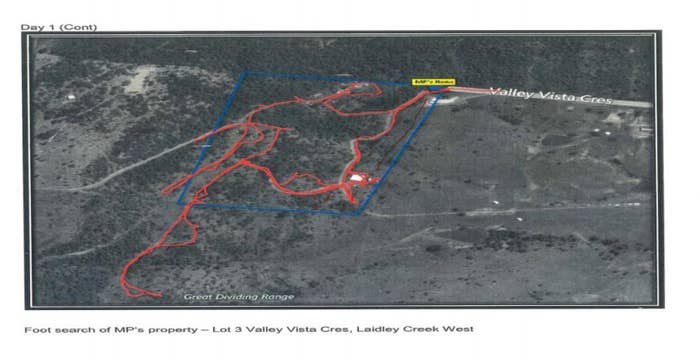 On Nov. 16, 2014, 46-year-old Darrell Gene Simon got on his bicycle and rode to his Laidley Creek West property in rural Queensland, Australia.

He was never seen alive again. It wasn't until May 2016, some 18 months later, that his body was found in a remote corner of the property by its new owners.
Now, Queensland deputy state coroner John Lock has found that only half the property was searched at the time Simon went missing, and that his body could have been located earlier if police had used a high quality map provided by the council instead of a Google map that showed incorrect property boundaries.

Lock finalised the inquest into the death on Dec. 19, 2018, finding that Simon had tossed his bike into a nearby dam and killed himself shortly after arriving at the property on Nov. 16.
Simon's partner, Sharon Rowland, told the inquest she last saw Simon when he kissed her goodbye and left for his usual morning bike ride from their rental property in the nearby town of Plainland.
He would often spend time by himself on the property in a converted shed, Rowland said, and so she wasn't alarmed for several days when he did not return.
He was officially reported missing on Nov. 22, and SES volunteers searched the property the following day using GPS trackers and a Google map provided by police with the boundaries of the property marked on it, the inquest heard. They found no trace of Simon.
One of the SES lead searchers gave evidence that volunteers had searched "precisely" the area highlighted on the map given to them by search coordinator sergeant Anthony Harm, Lock said.
When Simon's bones were discovered 18 months later, it prompted a police review that concluded, based on GPS data, that only the eastern half of the property had been searched.
Lock said that two other officers had later obtained an aerial map of the property from the local council, at no cost to the police.
"It is quite apparent the quality of the images of the property on this map is far superior to the Google map images used in the search of the property and one wonders if the same mistake in conducting a search of only half the property would have been made if this map had been obtained by sergeant Harm," Lock said.
Lock said it was "regretful" that only half the property had been searched, and it "should not have happened".
He pushed back against a conclusion in the police review that a partial internal property fence had led to the error, saying the fence was "not significant" and did not demarcate the entire property.
"The maps should have been cross checked by the search coordinators prior to searching and subsequently to ensure the correct boundaries were identified," he said.

Lock also noted that the delay in finding Simon's body had "compounded the grief" felt by his family and friends, particularly his father.
"In that period it seems rumours and speculation suggesting foul play and malicious or accidental intent by unknown/unnamed third parties were coming to the surface. However there is just no credible evidence supporting any such speculation," Lock said.
The only conclusion based on the evidence is that Simon killed himself, he added.
"One wonders if Darrell's body was found during the first police search on 23 Nov. 2014, whether such unhelpful and at times clearly defamatory and untruthful speculation would have even surfaced."

But Lock also said it wasn't a sure thing Simon's body would have been found even if the entire property had been searched.
"The terrain and vegetation was difficult and Darrell seems to have been of the mind to make discovering him difficult in that he disposed of his bicycle in the dam and threw his helmet and perhaps other clothing in the middle shed or elsewhere," he said.

Lock also accepted that the search failings did not contribute to Simon's death.
He recommended Queensland Police review its policies so officers have faster access to "high quality map products" and GPS data for such searches.

Simon had significant financial troubles and "knew he was going to lose his rural property" at the time he killed himself, his father told the inquest.
"Unsurprisingly, and as is so often the case, the fact Darrell Simon would take his own life was quite unpredictable to those who knew him and cared for him," Lock said.
"In hindsight one can see the financial stressors were almost certainly building in his own mind around the time he made his decision."
If you or someone you know needs help, you can call Lifeline Australia on 13 11 14 or Beyond Blue Australia on 1300 22 4636.