People are trying to sell their forms for the government's same-sex marriage survey on online marketplaces like eBay and Gumtree, the day after the High Court gave the green light for the survey to go ahead.
Zaky Mallah — a former terror suspect who was briefly the subject of national controversy after appearing on Q&A wearing a marijuana leaf hat and accusing politician Steve Ciobo of encouraging young Muslims to go to Syria and fight for ISIS — listed his survey form on Gumtree for $600.
The forms will not be posted out until September 12, and are due back by November 7.
Mallah told BuzzFeed News he was selling the form "out of respect for both sides".
"I love my straight and gay friends equally. So I'm sitting on the fence with this one. Hence, the paper is up for grabs," he said.
Asked if it had occurred to him that some might not regard selling the form as particularly respectful, Mallah said: "I really don't care what people think".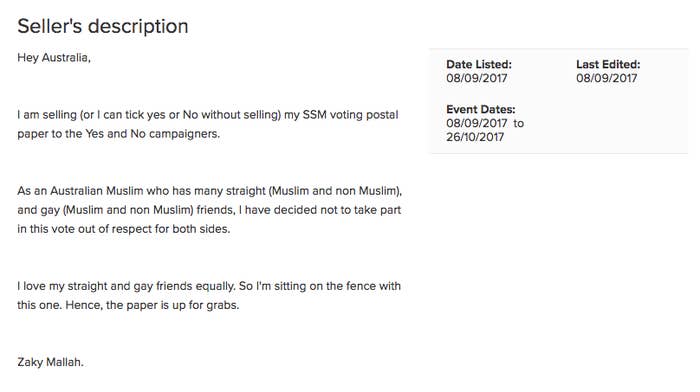 Mallah said he planned to use the $600 on taking his gay and straight friends out to lunch.
As for how the sale might play out: "I will fill it out for them. It will only take a pen and a quick tick. Or I can give them the form. Either way, I have no problem."

Mallah told BuzzFeed News he had already had an offer, providing a screenshot of someone asking it it was available.
Earlier on Friday, AAP and the West Australian reported that another survey form had gone up for sale on eBay. The listing has since been removed.
The Australian Bureau of Statistics told BuzzFeed News it has contacted several online marketplaces, including Gumtree, eBay, Facebook, Amazon and Alibaba, asking them to remove ads selling the survey forms.

"To date eBay and Facebook have confirmed listing survey forms or survey responses for sale would not comply with their policies and they will block and remove any such listings," the ABS said.
The ABS also indicated that responding to the postal survey with a form that has been bought or sold would likely be an offence against either the Census and Statistics Act 1905 or the Commonwealth Criminal Code.
UPDATE
Gumtree has since deleted the advertisement, telling Mallah it did not meet its posting guidelines.