Pauline Hanson has told the Senate she is sick and tired of being labelled racist by people who "cannot define one word I have ever said ... that is racist".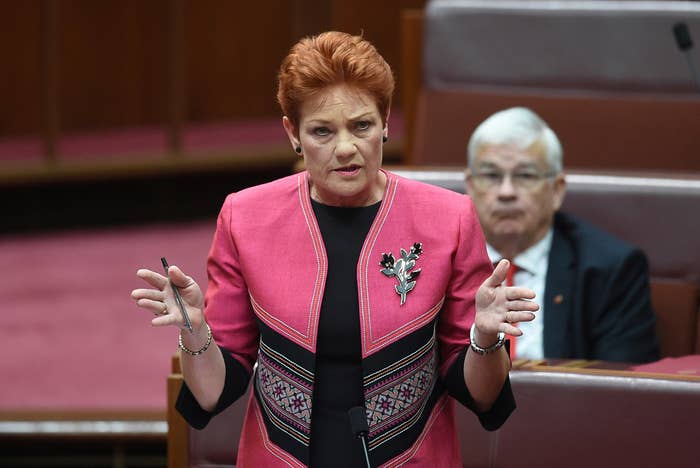 The One Nation leader made the comments during debate on a crossbench-sponsored bill to repeal the entire Part IIA of the Racial Discrimination Act.
The bill would make it lawful to offend, insult, humiliate or intimidate people on the basis of their race.
Hanson, who used her first speech in 1996 to say Australia is being "swamped by Asians" and her second in 2016 to say it is being "swamped by Muslims", said Australia has reached a point of reverse racism.

"I am fed up with people ... calling me a racist if they cannot define one word that I have ever said in policy, or anything, that is racist," she said.
Hanson also expressed frustration at being asked to be "tolerant" about people she perceives to be uninterested in the Australian "way of life".

"I've had it up to here with my tolerance," she said. "I welcome anyone who has come to this country to join us, to assimilate, and to respect our culture and our way of life."
The bill is sponsored by a large array of crossbenchers, including libertarian David Leyonhjelm, all four One Nation senators, the Justice party's Derryn Hinch, and the now-resigned Family First senator Bob Day.
It is a more radical iteration of a similar attempt by approximately 20 government backbenchers to defang the Racial Discrimination Act by removing the words "offend" and "insult" from section 18C of part IIA.
The crossbench bill is very unlikely to pass the Senate.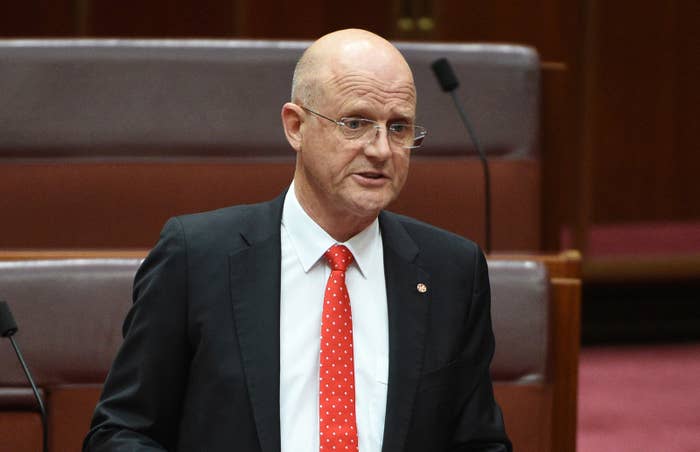 Senator David Leyonhjelm suggested that the existence of hate speech laws protecting Jews in Nazi Germany was an example of the futility of laws like 18C.

"The laws made minor heroes of [Joseph] Goebbels and [Julius] Streicher," he said. "Even worse, while hate speech cases were prosecuted, the majority of assaults on Jews weren't. A clear abdication of state responsibility."
He also said it was bizarre to have protections for race-based hate speech but not for insults on other topics.
"Are we really such delicate little daffodils that we're fine if we are insulted, humiliated, or intimidated when it comes to our children, our choice of partner, our IQ, and where we live, but we can't handle offence when it comes to race?" he asked the Senate.

Government senator James Paterson lent qualified support to the bill, saying that while he was largely sympathetic to its aims, he did not believe an attempt to repeal the entirety of Part IIA was viable.
"I cannot see any prospect of this bill passing this parliament," he said. "One of the lessons from the previous attempt at reform … is that there is no point going through another symbolic loss."

Paterson added that "while this bill exists in its current form, we [people pushing for reform] feel that we do not live in a free society and that our freedom is not protected".
Another government senator, Ian Macdonald, said he thought the crossbench bill went too far, and that senators should wait for the report from a parliamentary inquiry into section 18C.
Labor senator Pat Dodson, who is one of five Indigenous federal parliamentarians, described the bill as "an ideological creep back to bigotry and racism" and said Labor could never support it.

"There is nothing wrong with freedom, particularly if you are from the ruling class. There is a hell of a lot wrong with freedom if you have to battle to experience it – if you have to fight for it," he told the parliament.
"If this nation cannot stand up for the weakest, the poorest, and those who are most vulnerable because of their race, their ethnicity, or their beliefs, then we have become a very sad replication of what democracy is about."
Greens senator Nick McKim blasted the bill, saying those pushing for reform merely wanted people to be able to say racist things without consequences.
"For people who want 18C reform to style themselves as warriors for freedom of speech is dishonest," he said.