The One Nation "Gay Nazi Mind Control" Candidate Says She Was Misquoted
"I never said that."
The One Nation candidate who said LGBT people use a Nazi-style mind control program to convince others to support same-sex marriage now claims she was "misquoted" on the issue.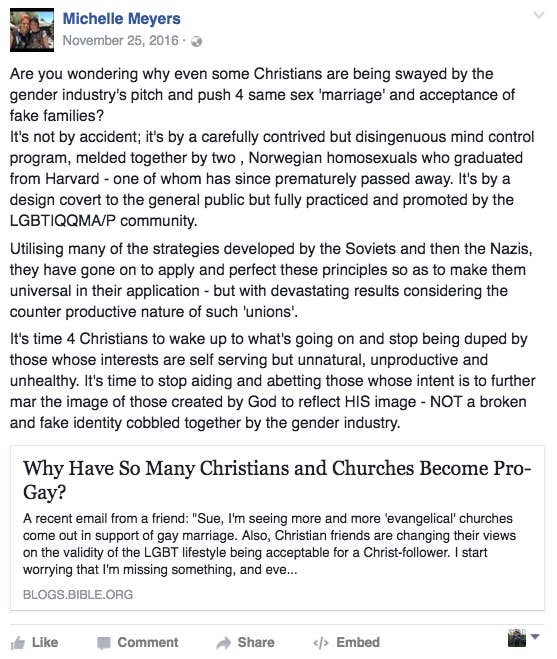 Michelle Meyers is the candidate for far right nationalist party One Nation in the seat of Bateman in Western Australia's state election on Saturday.

Her outlandish comments about LGBT people and mind control attracted widespread attention in February. Neither Meyers nor federal One Nation MPs responded to questions about her views at the time.
But when faced on Thursday with a reporter from Out in Perth – the West Australian LGBT news website that broke the story – Meyers finally spoke on the issue.
At a function with party leader Pauline Hanson at the Mount Hawthorn pub, Meyers told Out in Perth they had "trolled her big time".

"I never said that," she said. "I was misquoted, you never looked into any of the references that I put up and I was told that you were out to bag me because I don't support your view."
Asked if she stood by her implication that same-sex parented families are "fake families", Meyers said: "Yeah, they are, they're fake families."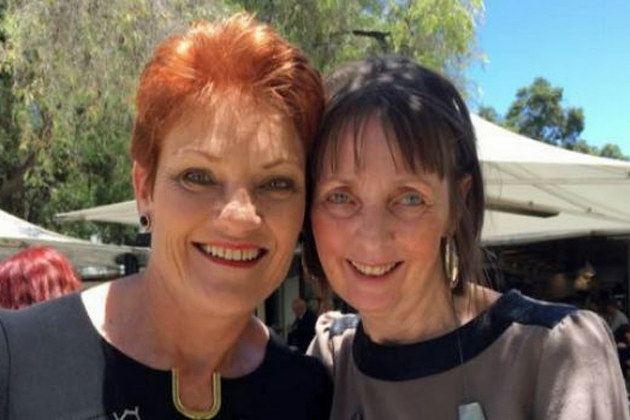 Here is what Meyers wrote on Facebook in full:

"Are you wondering why even some Christians are being swayed by the gender industry's pitch and push 4 same sex 'marriage' and acceptance of fake families?

"It's not by accident; it's by a carefully contrived but disingenuous mind control program, melded together by two Norwegian homosexuals who graduated from Harvard – one whom has since prematurely passed away. It's by a design covert to the general public but fully practiced and promoted by the LGBTIQQMA/P community.

"Utilising many of the strategies developed by the Soviets and then the Nazis, they have gone on to apply and perfect these principles so as to make them universal in their application – but with devastating results considering the counter productive nature of such 'unions'.

"It's time 4 Christians to wake up to what's going and stop being duped by those whose interests are self serving but unnatural, unproductive and unhealthy. It's time to stop aiding and abetting those whose intent is to further mar the image of those created by God to reflect HIS image – NOT a broken and fake identity cobbled together by the gender industry."
In the same post, she linked out to an article titled Why Have So Many Christians and Churches Become Pro-Gay?