A novelty-sized thank you card has sparked tension among politicians who support marriage equality.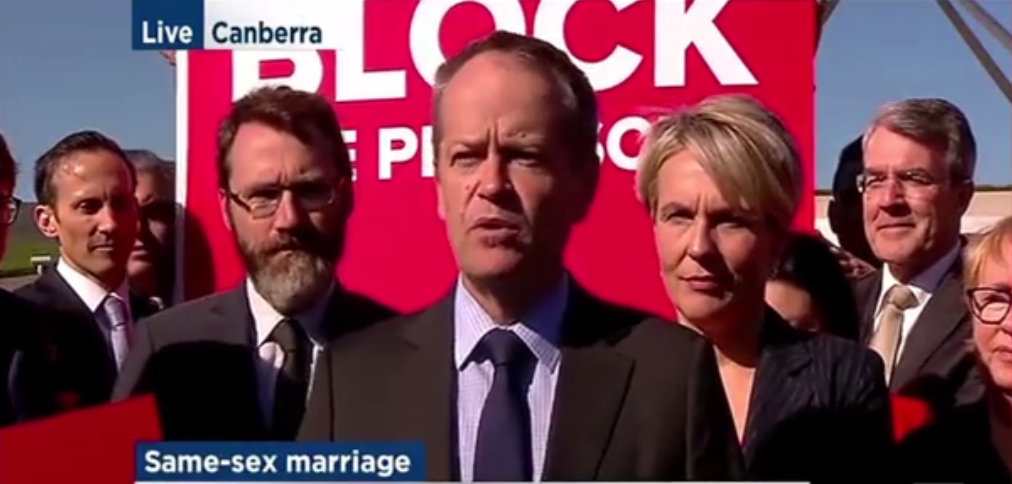 Marriage equality advocates delivered the 2.4-metre-tall card to parliament on Thursday, to thank the politicians who have promised to vote against the plebiscite.
Delivered by groups Just Equal and All Out, the card was accompanied by a petition against the plebiscite signed by more than 92,000 Australians.
The card was presented to a large number of Labor MPs, fronted by leader Bill Shorten, on the lawns of Parliament House on Thursday morning.
But noticeably absent from the event were the other parties that have pledged to vote down the plebiscite, including the Greens.
A source told BuzzFeed News there was talk of a cross-party photo event with Labor and the Greens, but it was canned after Labor said no.

BuzzFeed News understands Labor took the initial invitation from advocates to mean it would be an exclusively Labor event.
When asked if the Greens could join in for a cross-party picture on the front lawns, Labor said they would rather not.
Later in the day, advocates took the card around Parliament House, where it was signed by politicians from the Greens, the Nick Xenophon Team, and senator Derryn Hinch.

The Greens are placing increasing pressure on Labor to put aside their differences and work on a bill with them, with Richard Di Natale penning a letter to all party leaders asking for cooperation on same-sex marriage earlier this week.
On Thursday night, LGBTI spokesperson Janet Rice posted on Facebook that it was "disappointing" the letter had not yet elicited a response from Labor.
"Come on Bill – let's get hooked!" she wrote.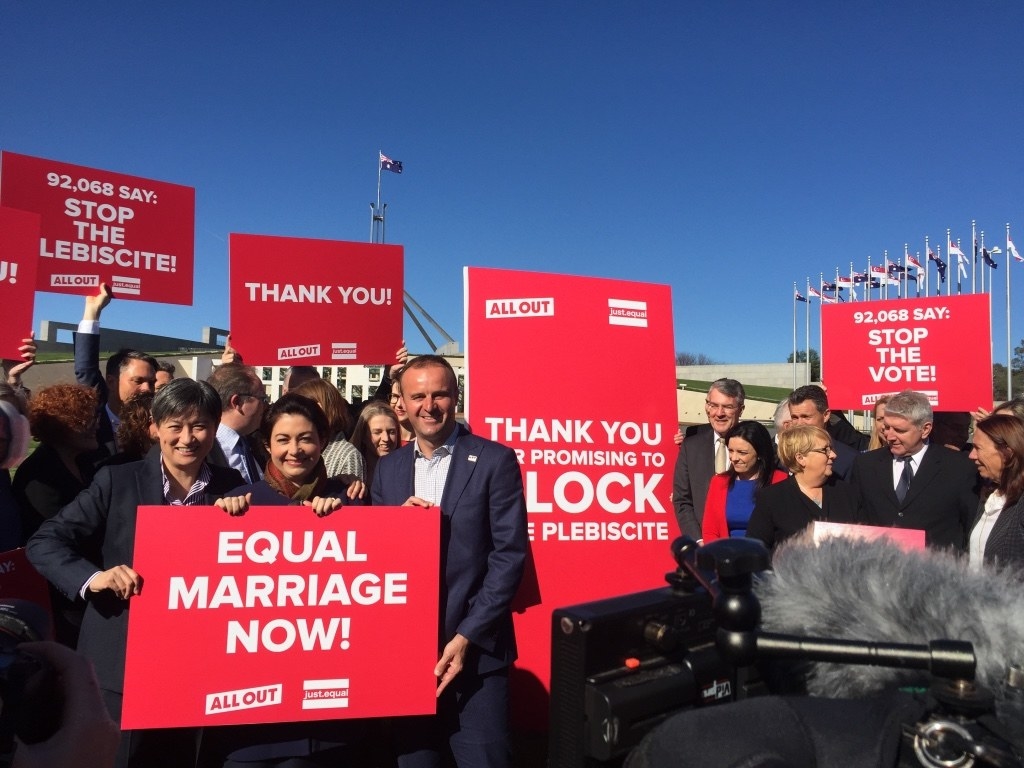 Ivan Hinton-Teoh, the founder of Just Equal, told BuzzFeed News the presentation of the card was, from his end, an "enormous success".
"The purpose of our action was to show the Senate majority against marriage equality is rock solid and to celebrate the parliament hearing the voices of thousands of people concerned about the plebiscite," he said.
"In regards to that, it was great to see so many Labor members showing up at the start of the day to receive the thank you card."
Hinton-Teoh added that the point of the day was to thank people, not to demonstrate cross-party cooperation.
"That is a campaign goal and one we will be working towards in coming weeks," he said.
Last month, Labor and a trio of Greens and independents came under fire for presenting two near-identical marriage equality bills to the parliament on the same day, while professing their desire to work together.

Advocates have signalled a key path forward on marriage equality is a cross-party bill in the Senate, where the government does not have a majority.
After announcing Labor will block the plebiscite on Tuesday, Shorten reiterated that his party will "work with anyone to achieve marriage equality".
Speaking to BuzzFeed News on Wednesday, deputy Labor leader Tanya Plibersek said a cross-party bill would require cooperation with a Liberal or National MP.
"It's not a cross-party bill until we have someone from the government keen to put their hand up," she said.