65,000 Young Australians Joined The Electoral Roll For The Same-Sex Marriage Survey
New voters...hello.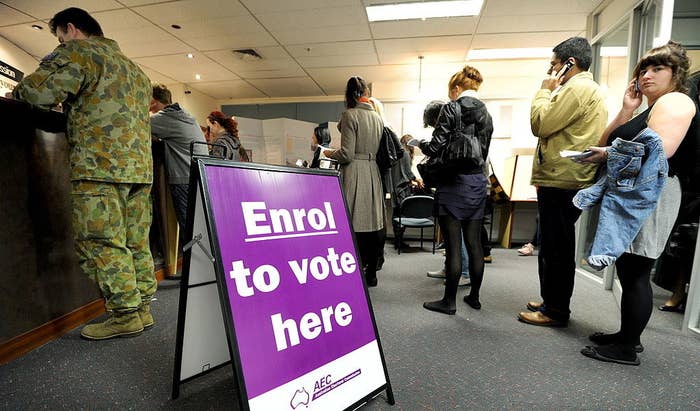 A rush of new enrolments for Australia's same-sex marriage postal survey has seen the electoral roll grow to more than 16 million — the largest roll since Federation.

Since the survey was announced on August 8, the Australian Electoral Commission (AEC) has added more than 90,000 new voters to the roll.
It has processed 765,000 enrolment transactions — including the new voters, address updates and other changes of detail — and has 165,000 yet to go, meaning the number of new voters could still rise.
"An estimated 95% of eligible Australians were enrolled at the 2016 federal election, increasing marginally to 95.3% at 31 July," said electoral commissioner Tom Rogers.

"We expect this to reach a record high once processing has been completed."
Posts asking people to enrol with the AEC link from actress Margot Robbie, singer Troye Sivan, and meme page The Simpsons Against The Liberals generated the most interactions on social media, according to an analysis by BuzzFeed News.
The AEC will provide final enrolment figures next week.

At the last federal election, 132,000 new voters registered with the AEC as part of 687,000 transactions.
It appears that the same-sex marriage postal survey has seen fewer new voters sign up, but more people updating their address or other details.
The most recent figures from the AEC indicated there are around 800,000 "missing electors" — people who are eligible to vote but not on the roll.
There are significantly more missing electors among Australians aged 18-39 than among those aged 40 and older.
Recent data from the Household, Income and Labor Dynamics (HILDA) survey found that older demographics tended to have more traditional views on marriage, but that all age demographics had shifted to be more in favour of same-sex marriage over time.
Unlike a usual election, the same-sex marriage survey is not compulsory and nobody will be fined for not returning their form.
UPDATE
On Wednesday, the AEC released more information on the final number of enrolments, saying more than 98,000 people had joined the roll in the period from August 8–24.
Of these, 65,000 were aged 18–24.