Hello! Are you wondering what's up with those three government ministers who were hauled before a court on Friday and asked to explain why they shouldn't be charged with contempt of court? Well, you've come to the right place.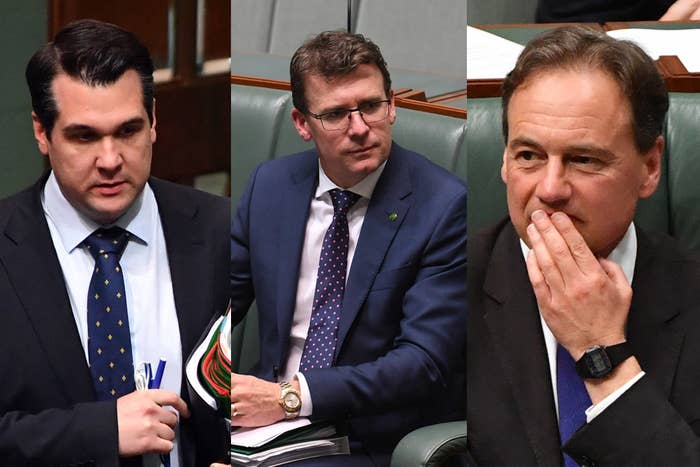 Pictured above, from left, is assistant treasurer Michael Sukkar, human services minister Alan Tudge, and health minister Greg Hunt.

On Friday, a lawyer for these three ministers appeared before the Victorian Court of Appeal to argue they should not be referred for prosecution for contempt of court over comments criticising Victorian judges reported by The Australian last week.
We asked two lawyers – Jason Bosland, a senior lecturer at Melbourne Law School, and Sharon Rodrick, a senior lecturer in the faculty of law at Monash University – for a primer on why this is happening and what may occur.

What, exactly, is contempt of court?
Contempt of court is an act which interferes with, or undermines the authority of, the court. It can take a number of forms – for instance, yelling abuse at a judge in court – but the relevant form here is contempt by publication. There are two main types of contempt by publication: sub judice contempt, and scandalising contempt.
Sub judice contempt is where comments are made that have the tendency to interfere with proceedings before the court.
Scandalising contempt is where comments are made that have the tendency to undermine the authority or dignity of the court.
"The whole theory underlying [scandalising contempt] is that if the courts aren't respected by the public, people won't got to the courts to get their disputes resolved, and that's not in the public interest," Rodrick said.
Why were Hunt, Tudge and Sukkar asked to appear in court and explain themselves?
The three ministers criticised Victorian judges over comments made in relation to Anzac Day terror plotter Sevdet Ramadan Besim, whose 10 year sentence is currently before the Victorian Court of Appeal, having been deemed insufficient by the Commonwealth.
The ministers' comments were made in an article in The Australian newspaper last Tuesday. According to a statement from the Court of Appeal, the article "inferentially" referred to another appeal case for a teenager known only as MHK, which also remains before the court.
In a public statement, the Court of Appeal said it was concerned the ministers' comments could potentially be held in both sub judice and scandalising contempt.
"Given that the court's decisions in both cases were pending, the court is concerned that the attributed statements were impermissible at law and improperly made in an attempt to influence the court in its decision or decisions," the statement read. "Further, the court is concerned that some of the statements purported to scandalise the court."
Bosland said this type of hearing – where you or your lawyer have to show up and justify your actions – is not rare, but that government ministers being called to explain themselves is uncommon.

"It isn't uncommon for the media to be required to come to court to explain," he said. "It's very, very uncommon for the court to ask ministers, current government ministers, to come to the court and explain themselves."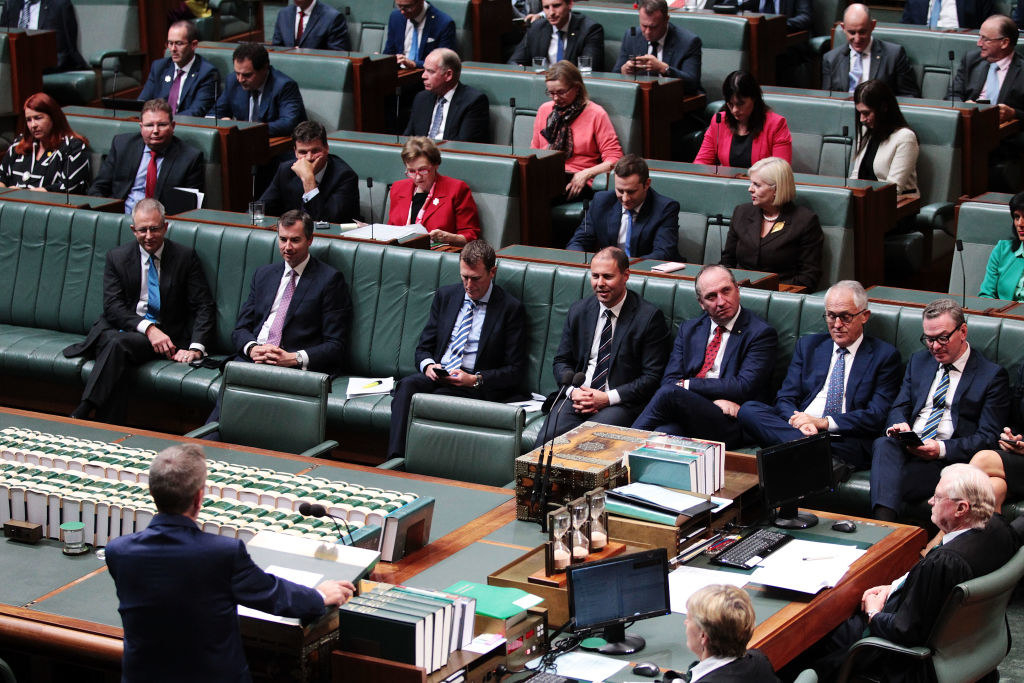 Does the fact they are government ministers make any difference?
"The more credible the person who is making the insinuation against the court, the more likely it is that you'll fall foul of [contempt]," Rodrick said.

For example: "If you've got a litigant who's come out of court and lost a case, they're likely to spew a whole lot of invectives against the judge. The court would likely say that most people would take that with a grain of salt."
For a government minister the situation is slightly different.
"I think the status of them as government ministers certainly gives greater credence to what's being said," Bosland said.
"[The statements] were made by three prominent ministers who you would think command respect in the community, and things they would say would be taken more seriously than perhaps other speakers."
However, Bosland added, their position in government could also strengthen a defence that their remarks were made in the public interest.
So what happened at the hearing last week?
You can watch it yourself here if you have a spare hour and a love for legal drama.
If that doesn't apply to you, here's a rundown:
First off, chief justice Marilyn Warren read a statement saying the court would not be influenced by the ministers' comments in any way when it came to Besim and MHK's cases.
Then the lawyer for all three ministers – Commonwealth solicitor-general Stephen Donaghue – read aloud a statement from the ministers outlining their position. The statement did not contain any apologies or retractions.
"We did not intend in any way to influence the court in its decision, nor did we intend to interfere with the due administration of justice or bring the court into disrepute," part of the statement said.

"We did intend to participate in what we consider to be an important public discussion."
The judges then asked Donaghue a series of questions.

Donaghue argued that the ministers' comments were in response to an article published by the ABC about differences in terror offence sentencing between NSW and Victoria.
"These comments were inspired by reporting of these two cases [Besim and MHK] but not just directed to them," he said.
In one exchange, justice Mark Weinberg asked if the ministers had made their comments with any understanding of the kinds of sentencing requirements that apply, or an appreciation of the complex issues before the court.
Donaghue: They were undoubtedly speaking in a situation where they were aware of only a small subset of what had happened in the context of the appellate hearing.

Justice Stephen Kaye: So they were speaking in total ignorance?


Donaghue: They were speaking in response to what they knew from a press report.

Kaye: Well, that sounds to me like total ignorance.

Donaghue: Well it's certainly less than a total picture, a long way less than a total picture, your honour. I accept that. In my submission, it's not particularly surprising to find politicians responding to statements made in the media.

Weinberg: It's not common to find them making these sorts of statements when a case is before the court and is reserved, we haven't seen any examples of that.

Kaye: I've never seen any in more than 40 years of the law. This is the first time I have ever seen it.

Warren: I would join with Justice Kaye on that comment and I'd anticipate Justice Weinberg would also.

Weinberg: I might add a few more years to the 40 years.
As the hearing continued, Donaghue announced that Sukkar had retracted a comment in which he referred to "hard left activist judges".
Following the retraction, justice Mark Weinberg asked the court if any of the men were "lawyers, legal practitioners, or had any experience of the law at all".

"They all had law degrees at various times of their lives, but I don't believe any of them have practised in the criminal law area and some of them have never practised at all," Donaghue said.

A short time later Hunt and Tudge both also retracted one of their comments from the article. Donaghue described his instructions as having "evolved" throughout the course of the hearing.
The lawyer representing The Australian said the newspaper retracted the original story and apologised to the judges, adding "don't shoot the messenger".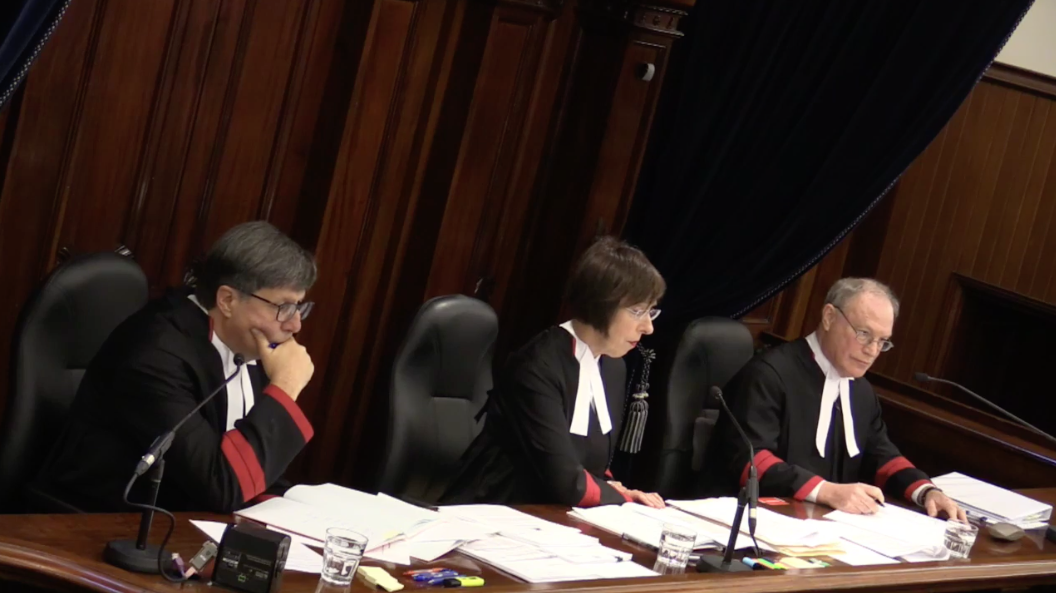 So... are the ministers going to be charged?
We don't know. The judges reserved their decision, which means they are taking some time to review the relevant information before they decide. We also don't know when that decision will be.
"The statements made by ministers suggest the court has acted with reference to political ideology or pre-determined ideological beliefs rather than according to law," Bosland said.
"That is a very grave accusation to make against a judge, or judges. It's certainly the type of statement that could be held in scandalising contempt.
"That's not to say they are, it's just that they are the types of statements that have previously been held in contempt."
What happens if the ministers are charged and found guilty?
Any person who is convicted of an offence that carries a jail term of more than one year can't sit in parliament. They don't actually have to be jailed for a year, just convicted of an offence which can carry that sentence.

Contempt of court is unusual in that it has no maximum sentence, so a jail term of more than one year can apply. (Rodrick said it is "rare" that people are imprisoned for contempt and that it is never for very long.)
But if any of the ministers are charged and found guilty, there's a chance they could lose their seat in parliament... where Malcolm Turnbull's government has a one seat majority in the House.
"It probably would spark a High Court challenge," Bosland said. "It's quite remarkable."