Mike Baird Calls For "Respect Of Individual Opinions" In Wake Of Homosexuality And Incest Comparison
"What I want to see...is respect for individual opinions."
NSW premier Mike Baird has refused to condemn comments from a state Liberal MP supporting the comparison of homosexuality to incest, instead calling for "respect for individual opinions" in the marriage equality debate.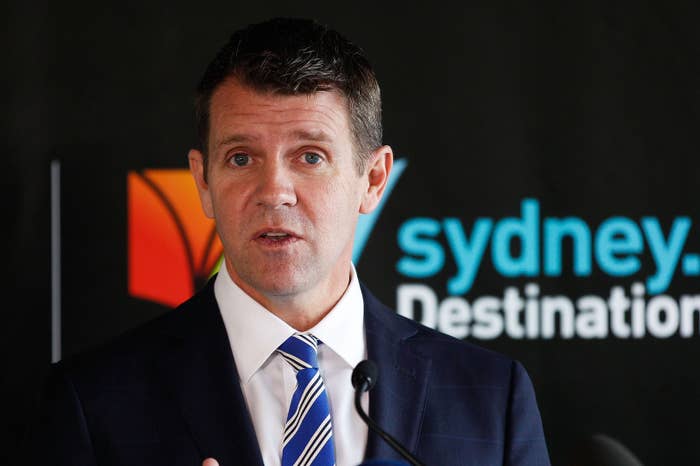 Earlier this month, Edwin Nelson, who works as a parliamentary staffer for NSW Liberal MP Kevin Connolly, resigned from his position in the Macquarie University Liberal Club after publishing a series of posts on Facebook comparing homosexuality to incest and bestiality.

"A quick question to all my left wing friends out there… is it wrong for two homosexual men who are brothers to sleep with each other," Nelson wrote on Facebook. "If you answer no - then what would you say to two brothers and sisters sleeping with each other."

NSW Young Liberal President Alex Dore strongly condemned the comments.
"The posts are idiotic, illogical and totally unrepresentative of the NSW Young Liberals," he told BuzzFeed News.

But Connolly supported his staffer, describing the content of his Facebook posts as "logical and unremarkable".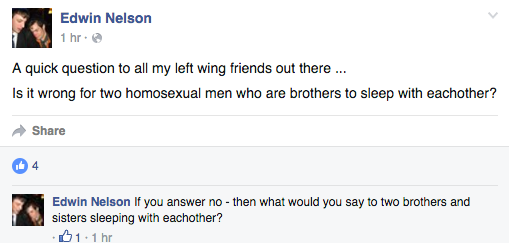 "Mr Nelson has made the logical and unremarkable observation that proponents of changing the definition of marriage to include any two adults who love each other would have no rational basis on which to exclude two adult brothers or two adult sisters from that definition of 'marriage'," Connolly told the Rouse Hill Courier.

Asked on Tuesday if the government supported Connolly's take on the matter, Baird stressed the importance of respecting individual views in the marriage equality debate.
"I have not seen those comments but I make it clear that individual members of Parliament will have different views in relation to the marriage equality debate," Baird said.

Baird said he would not personally support words comparing homosexuality to incest, but "members are allowed to have different views".
"What I want to see as part of the debate, both here and at the national level, is respect for individual opinions. The words and the way they are said is important."