Two Gay Men Were Lashed For Having Sex In Indonesia's Aceh Province
They were caned in front of a crowd in Banda Aceh.
Two men caught having sex in the Indonesian province of Aceh were subject to a public caning today, in a punishment widely criticised by human rights groups.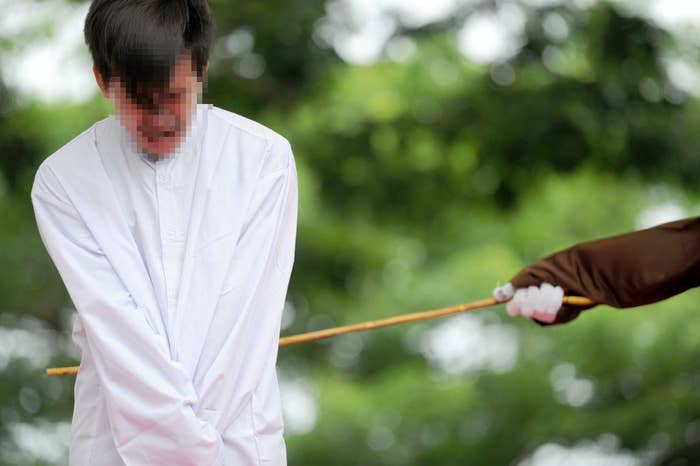 The men, aged 20 and 23, were allegedly having sex in a house in Aceh on March 28 when a group of vigilante enforcers entered the dwelling and filmed them.
The men were sentenced to 85 lashes each last week. According to Human Rights Watch, they received 83 lashes on Tuesday, with two subtracted for the two months they spent in detention.

The public caning took place outside a mosque in the provincial capital, Banda Aceh. Hundreds of people turned up to watch the punishments being meted out to the two men and other Indonesians convicted of different offences.

Aceh has a special legal status allowing it to insert Sharia bylaws into the criminal code. In the province, ordinances criminalising drinking alcohol, sex outside of marriage and gay sex can be enforced against Muslims and non-Muslims.

Andreas Harsono, a researcher with Human Rights Watch, told BuzzFeed News: "Today is a historical day, not only in Aceh, but also in Indonesia. This is the first time that gay sex is being punished with caning, to be precise – with torture, in public. It's the first time in the modern history of South East Asia to have caning for gay sex."

Josef Benedict, the Amnesty International deputy director for Southeast Asia and the Pacific, called on the international community to pressure Indonesia over its treatment of LGBT people "before the situation deteriorates further".
"This sickening spectacle, carried out in front of more than a thousand jeering spectators, is an act of utmost cruelty," Benedict said.

"Flogging sentences and the criminalisation of same-sex relations are both flagrant violations of international human rights law."
The caning comes as activists fear that rising anti-LGBT sentiment across Indonesia will spur on anti-LGBT violence and efforts for nationwide criminalisation.

Aceh is the only Indonesian province where homosexuality is illegal – but two, separate ongoing processes could see gay sex criminalised across the country: a proposal being considered by the Constitutional Court, and the drafting of Indonesia's new Criminal Code in the parliament.
The caning occurred just two days after 141 men were detained during a police raid on a Jakarta sauna popular among gay men.
Police said the men were arrested under suspicion of violating Indonesia's strict anti-pornography laws, and that ten of them would be charged.
The mass arrest was condemned by the Advocacy Coalition for Violence Against Gender and Sexual Minority Groups, which includes representatives from LGBT rights group Arus Pelangi and the Institute for Criminal Justice Reform.
The Advocacy Coalition said in a statement that police forced the detained men to strip, took photos of them, and distributed the photos online.
"They were still treated unlawfully by the local police by photographing the victims naked and then disseminated those photos to the point of virality, be it by messages, social media or the news media," the Advocacy Coalition said.
"We find that act to be illegal and inhumane."