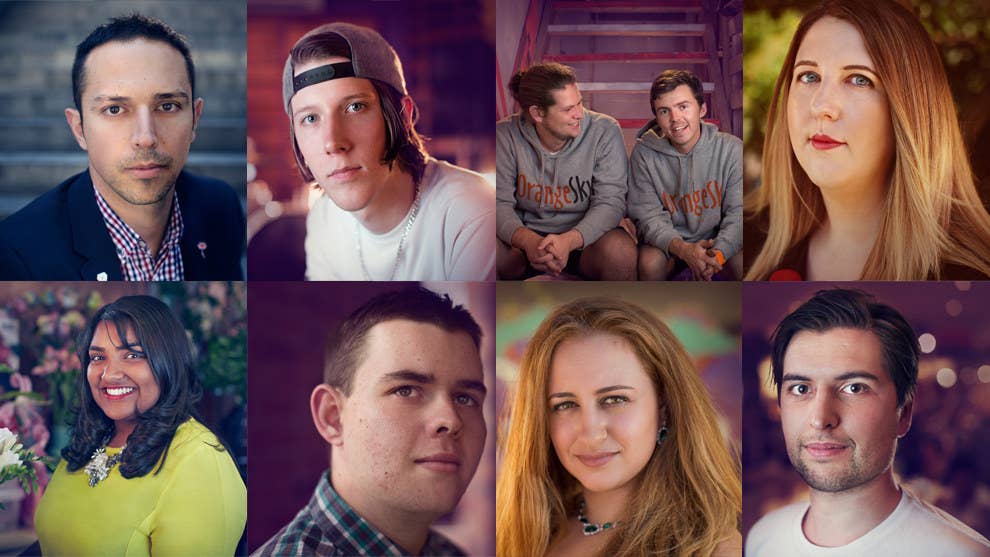 Ahead of the 2016 Australian of the Year Awards, BuzzFeed News spoke to the eight Young Australian of the Year finalists about their work, what makes them tick, and advice they have for young Aussies who want to change the world.
Lucas Patchett (L) and Nic Marchesi, Queensland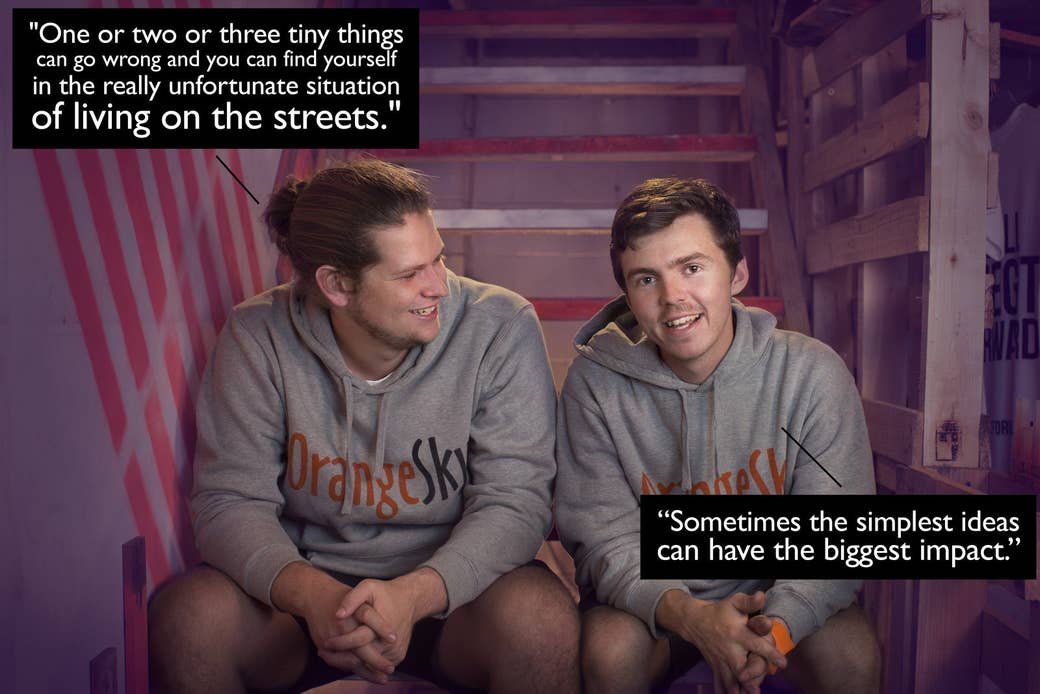 "Sometimes the simplest ideas can have the biggest impact," Nic Marchesi tells BuzzFeed News.

It's good advice – and Marchesi knows it. After all, it doesn't get much simpler, or more impactful, than Orange Sky, the mobile laundry he founded with friend Lucas Patchett in 2014. The two men, now 21, came up with the easy way to wash and dry the clothes of homeless Australians while thinking of ways to get their schoolmates interested in volunteering after graduating.
Marchesi already had a van, and the pair successfully pitched their idea to a laundromat supplier. "They had a few questions and qualms, but eventually said 'OK, let's go downstairs and pick out the machines you want'," says Patchett. "It blew us away." Three weekends, twenty trips to Bunnings, and a lot of experimentation later, they had the world's first mobile laundry.
Two days after the charity launched, it blew up online. "I remember waking up and we had over a thousand emails in our crappy little Gmail account because we had trended overnight on Reddit," says Patchett. The media attention led to donations from people around the world, and within a couple months, a second van hit the streets. Now, there are five vans across Australia and almost 300 Orange Sky volunteers wash thousands of kilograms of laundry a week.
But just as important as the practicalities of clothes-washing are the conversations volunteers have with Orange Sky clients, says Marchesi.
"You spend a few minutes driving to a location, press a few buttons and the machines are running – and then it's time to have a chat. The great thing about those conversations is that they're making a massive impact."
Patchett recalls one conversation that really opened his eyes. Jordan, who was getting his clothes washed by Orange Sky, had gone to school just down the street, and studied the same degree at university.
"This guy has had the exact same past trajectory as me, but a few wrong turns, maybe a few poor decisions and he's found himself living on the streets," says Patchett. "That's something I think about a lot – one or two or three tiny things can go wrong and you can find yourself in the really unfortunate situation."
As for the next generation of social entrepreneurs, Patchett's advice is simple: give it a crack. "Everyone has ideas, everyone can drink beers and sit around a table and talk crap. But it's the next day, taking it from that ideas stage into doing something."
"What we've come up with is not the next cure for cancer, it's not a multi-million dollar machine that saves lives," adds Marchesi. "It's a simple thing with a massive impact."
Arman Abrahimzadeh, South Australia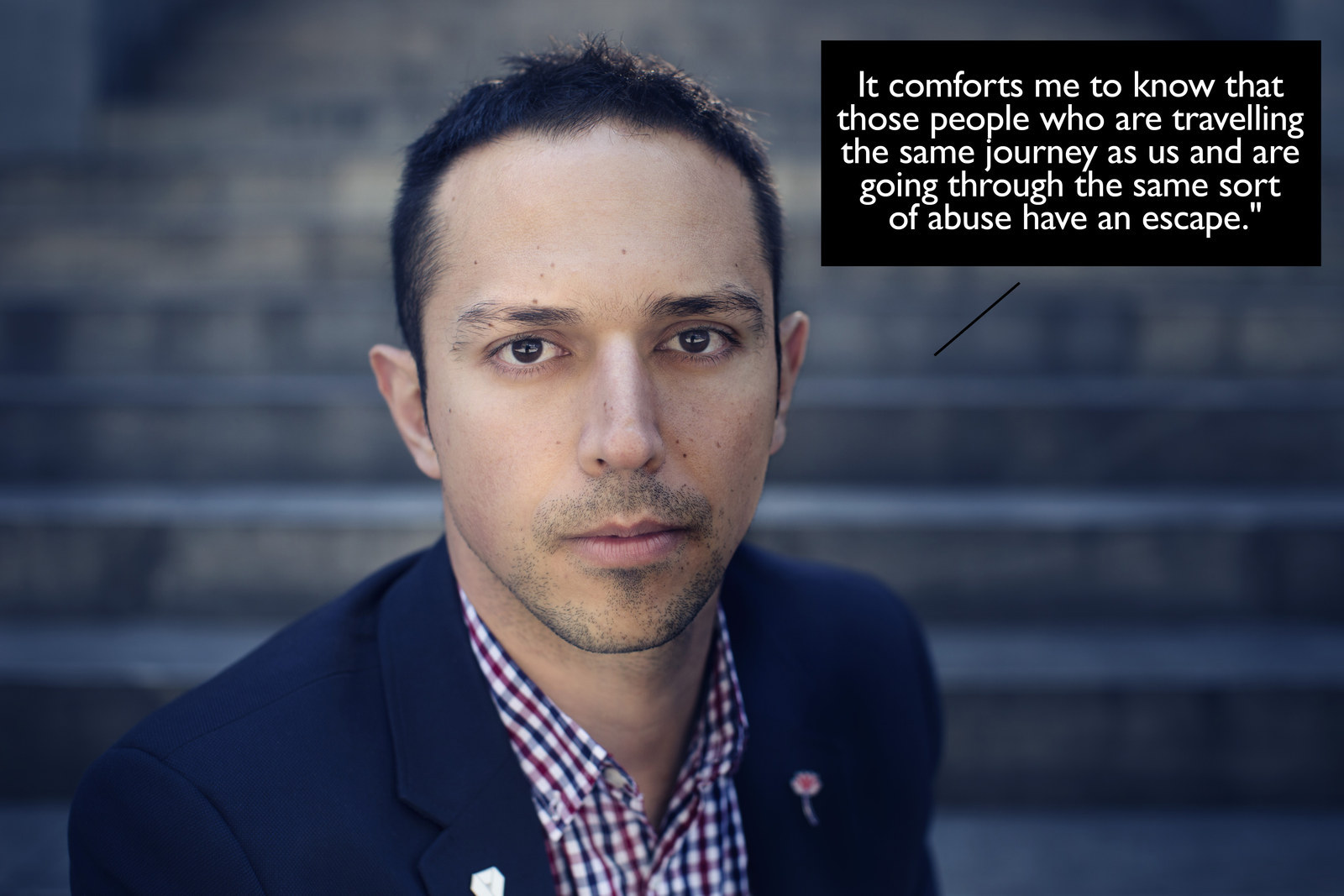 In 2010, Arman Abrahimzadeh witnessed something no person should ever have to see.
In front of 300 people on a dance floor at the Adelaide Convention Centre, Arman and his sisters watched as their father murdered their mother Zahra, a horrifying culmination of years of domestic violence.
It was left to Arman and his sister to bring up their 12-year-old sister.
Now, he's a White Ribbon Ambassador, speaking at schools, clubs and businesses about his family's tragic experience and how to stop the cycle of abuse. Last year, he established the Zahra Foundation, to provide financial literacy programs to women who have left abusive relationships.
"When we left our home, my older sister and myself were full time uni students, my younger sister was 11 years old and my mum wasn't employed and she barely spoke any English," he tells BuzzFeed News. "We faced homelessness, poverty and isolation, because my mum didn't have any family here and we couldn't talk to anyone from our community."
The 28-year-old has been overwhelmed by support from people helping to set up the foundation.
"We've gone from rags to riches, and not in a financial aspect but in a social and friendship aspect. When we left our home we had no one to approach and now we have so much assistance and people supporting us. We had nothing and no-one and now we have so many people around us."
The foundation gives women economic independence by teaching them everyday banking and financial skills. Abrahimzadeh says giving back to the community has helped him heal as well.
"I do this because it is partially a healing process but it comforts me to know that those people who are travelling the same journey as us and are going through the same sort of abuse have an escape, or have options."
Abrahimzadeh is a huge admirer of Rosie Batty, but says he still comes across Australian men who won't listen to a woman talk about domestic violence.
"Let's go back to the beginning and look at the root cause of the issue. When I speak at workplaces where the majority of people are men, I've been told this by certain people, 'I'm a man and it doesn't affect me or concern me.' So if I was to have a fresh take on this issue I would say 'I am a man and I am talking about a man's issue.'"
Melissa Abu-Gazaleh, New South Wales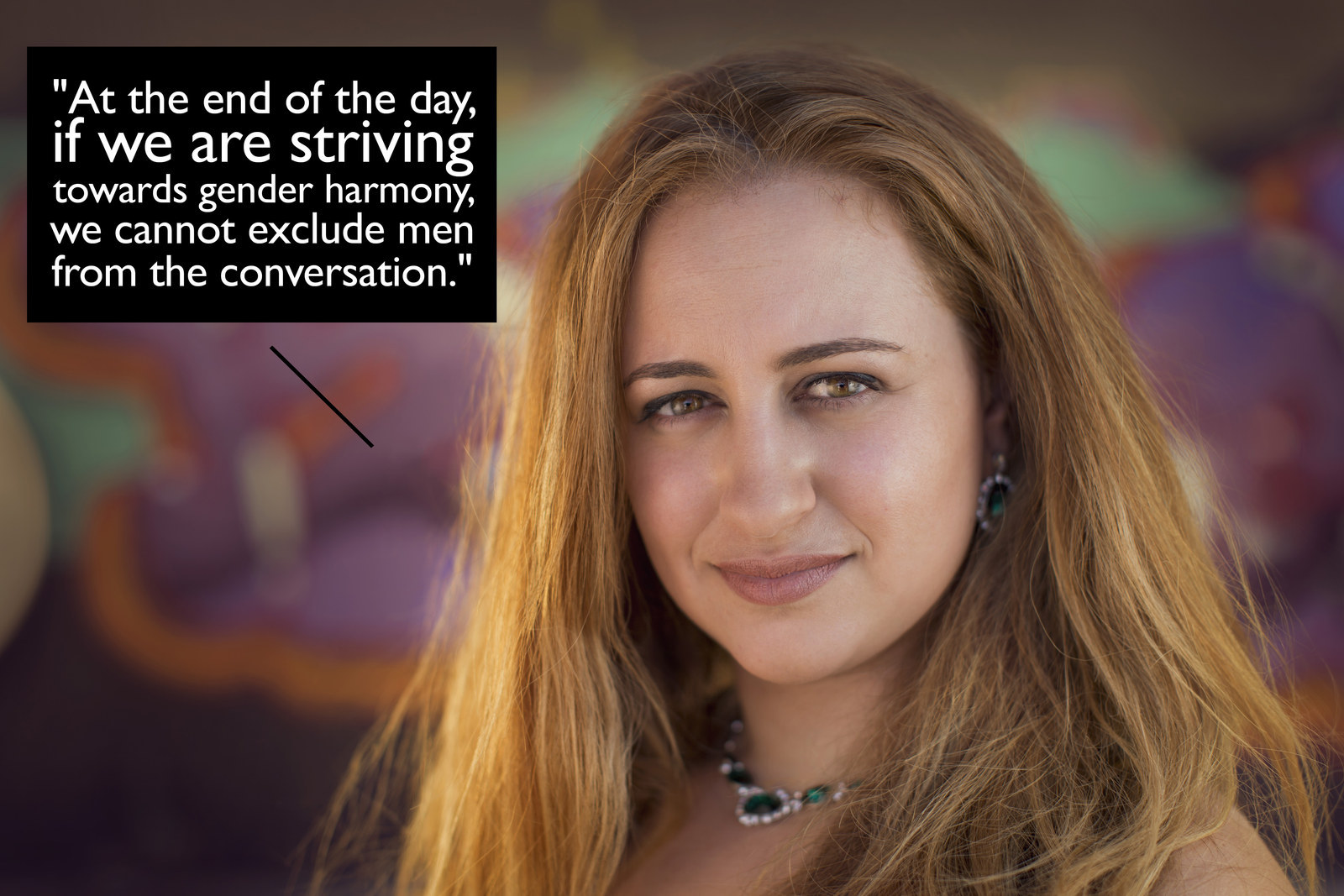 Growing up, Melissa Abu-Gazaleh was "given every opportunity".
As young woman from a disadvantaged area in Wollongong, Abu-Gazaleh says she attracted a lot of help and investment from people who wanted to see her succeed. "Every marginalised box there was, I ticked," she tells BuzzFeed News. "And I guess all of that investment helped me be the best person I could be."
At the age of 19, Abu-Gazaleh, now 29, started the Top Blokes Foundation. Feeling lucky to have received the support she did, she saw holes in the way Australia supported young men. "I saw that young men were the ones highly represented in suicide, in youth crime, in street violence, alcohol-fuelled violence," she says. "I felt like the Australian community didn't understand effective ways to engage with them."
Top Blokes runs long-term mentoring programs for men aged 14-24. Abu-Gazaleh says there's a focus on redefining traditional masculinity – letting boys know it's OK to open up - and having "sophisticated conversations" about issues like family violence, anger, mental health, alcohol, and pornography.

"People often say 'young men don't like to talk'. Once you get them talking in a safe environment, you can't shut them up!" she says. "Traditionally, men feel that they need to suppress their feelings, not talk about it – but I am seeing younger men more comfortable with talking about their feelings."
At first, not everyone was on board. People told Abu-Gazaleh that "boys bring it on themselves", and said she should support young women instead. But she ignored her detractors. "At the end of the day, if we are striving towards gender harmony, we cannot exclude men from the conversation," she says.
The program is helping boys from difficult homes turn their lives around, too. One boy, labelled a "problem child" for his anger issues, was suspended from school nine times in six months after constantly throwing tables and chairs. Since the Top Blokes program, he hasn't been suspended once. Another boy, from a family with intergenerational unemployment, used his certificate from the program to "set himself apart" from other applicants and secure his first job.
Abu-Gazaleh says young people with a big idea should "strive for significance" – but also, stay focused and determined. "When I started Top Blokes, I didn't set out to save the world – just to make it happen."
Robert Gillies, Victoria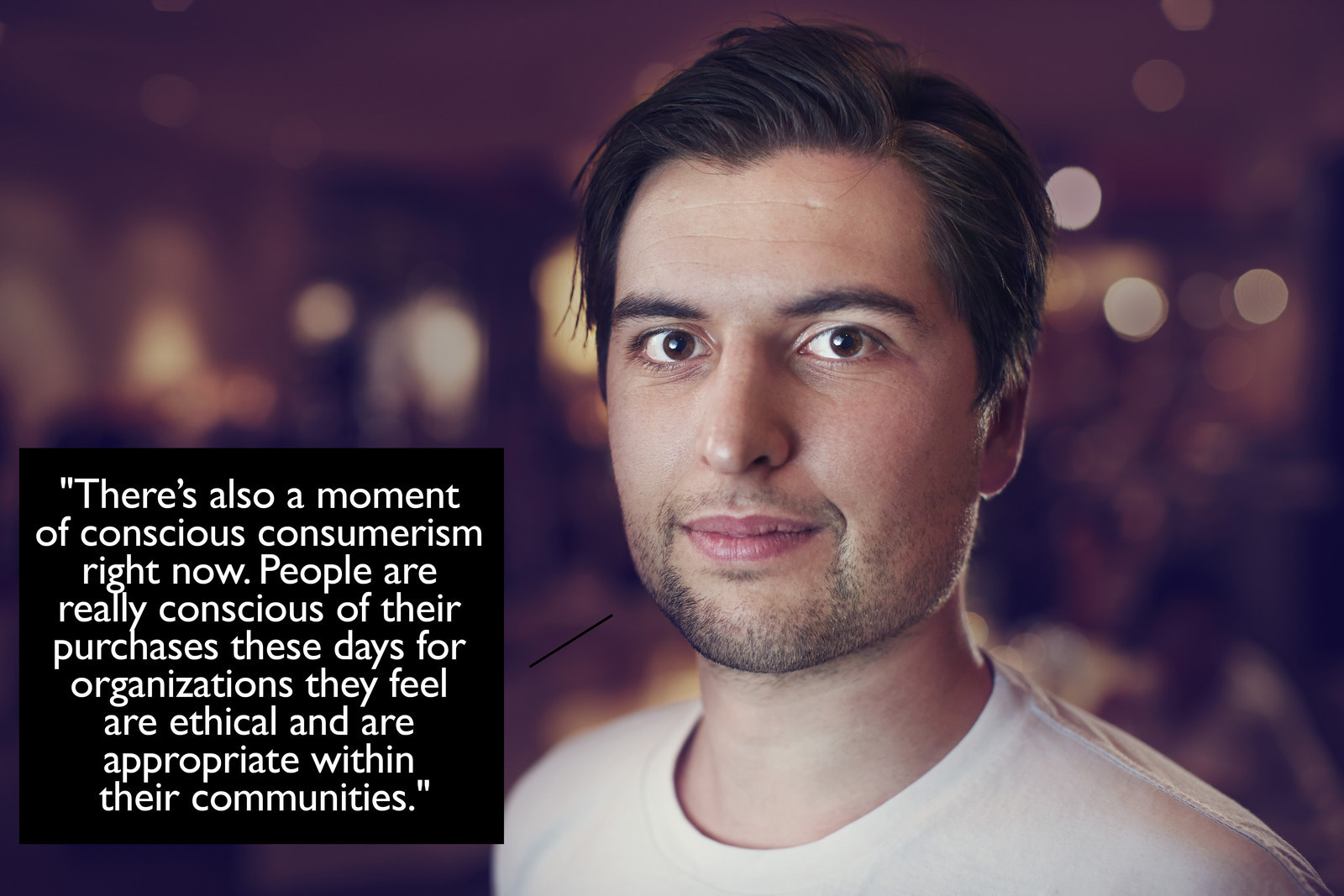 Robert Gillies must be the busiest man in Australia.
The 25-year-old is studying for a Bachelor of Medicine and Surgery, a Masters in Public Health and a Diploma in Philosophy, and at the same time leading a bunch of businesses through his awesome initiative, Homeless of Melbourne.
"For me it's about surrounding yourself with mates and a fun team," he tells BuzzFeed News.
His attention right now is on running a clothing brand called HoMie, which employs Melbourne's homeless people in its store. Proceeds from the women's clothing line are used to support anti-domestic violence charities.
Robert has discovered that young Aussies like him are willing to pay more for things like clothes if you give them a good reason to.
"There's a moment of conscious consumerism right now. People are really conscious of their purchases these days, [they're looking] for organisations they feel are ethical and are appropriate within their communities."
But he's also buzzing about another initiative he's set-up with mates called Charity Taps, which has seen beer taps installed in several Melbourne bars. Every beer that's poured means money chipped in to local charities.
Robert can't wait to head down to Canberra for the Young Australian of the Year awards, and tells BuzzFeed News he's incredibly honoured just to get the opportunity.
"I can't wait to head up to Canberra and meet the PM. It's really nice acknowledgment for the entire team."
And he has some sage words for other young people who want to make a difference, but feel like modern life can get way too busy.
"Think about what you really love doing and just convert them into hobbies. Engaging people and trying to be a voice for people who don't have a voice, they're really rewarding positive things. If you substitute your time watching TV or hanging out with mates with something worthwhile, you kind of feel like there's no sacrifice."
Nipuni Wijewickrema, Australian Capital Territory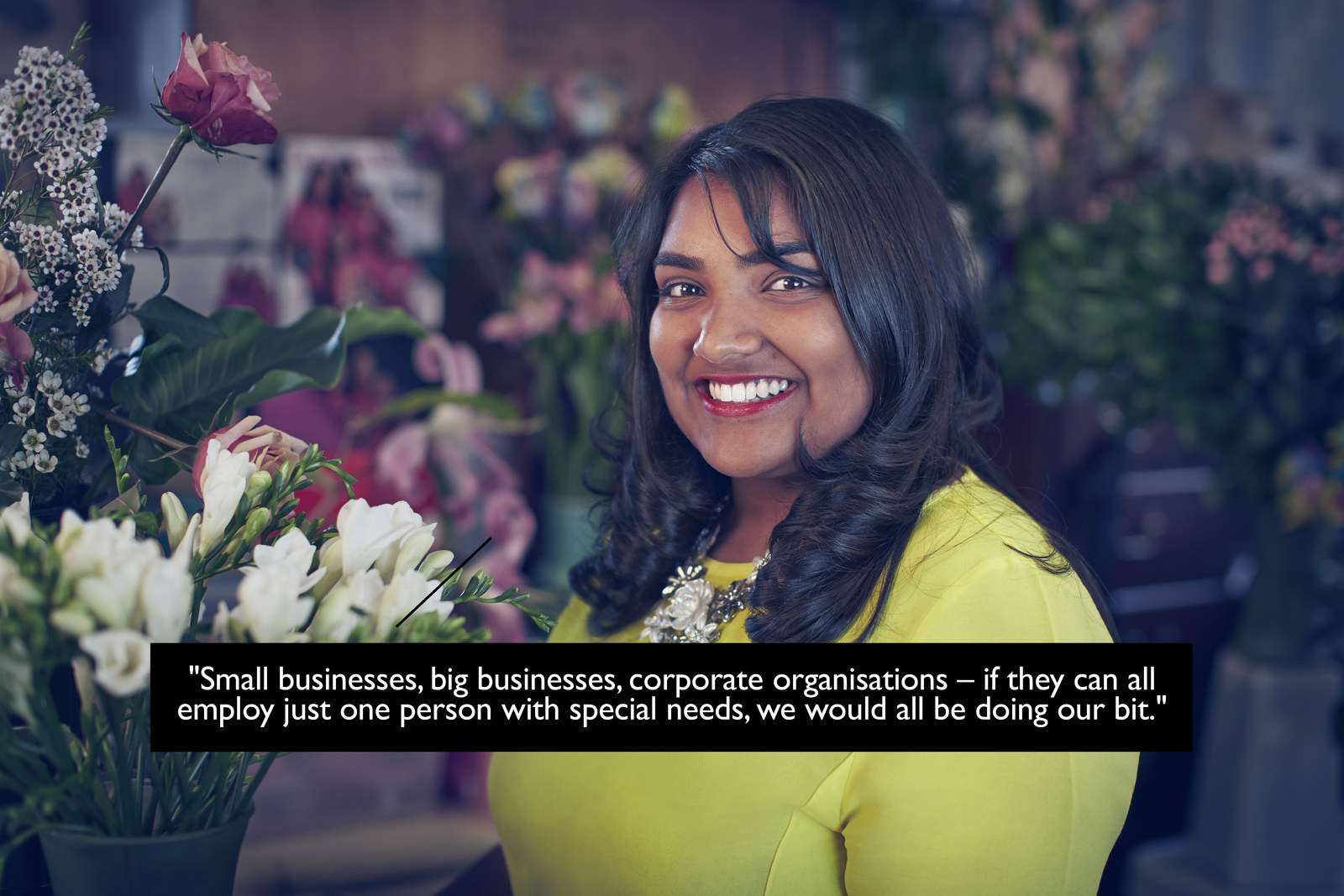 "I'll be honest," says Nipuni Wijewickrema. "There's not a lot of money to be made in flowers."
But at GG's Flowers, the small Canberra business Wijewickrema runs with her sister Gayana and other family members, success is measured in happiness, not profit.
The family-run florist started in February 2014, created by Wijewickrema's family as a way to ensure Gayana, who has Down Syndrome, would have employment prospects after finishing high school. Now, the family business has evolved into a project devoted to employing people with a disability.
Wijewickrema, 22, tells BuzzFeed News she "found her calling" in employment advocacy. A big believer in the empowerment and independence employment brings, she says not being able to get a job can be the root of a lot of problems.
"The amount of people I get calls from every week saying 'My daughter, she's 37, she finished school when she was 18 and she hasn't left the house since' – it shatters my heart."
And while GG's Flowers is a good start, says Wijewickrema, the solution will take a nation. "It's all of us taking a bit of corporate and social responsibility and employing at least one person with special needs."
Along with Gayana – who is GG's most familiar face, delivering flowers around Canberra with a signature chat and hug – Wijewickrema employs four other people with a disability on a casual basis. In classic social entrepreneur fashion, she wishes she could do more.
"We haven't been able to employ anyone full time because we don't have the work," she says. "Some days we have a few flower orders, and some days we have none."
The benefit of employing people with special needs goes beyond the impact on those people, says Wijewickrema – it's good for the community as well.
"It's very rare that [Gayana and I] go to the shops and people don't stop us to say hello, or take a photo," she says."It's breaking down those barriers of people being fearful of people with a disability."
Going forward, Wijewickrema has big plans for her sister. "I want her to be the CEO of this great organisation."
And if she wins Young Australian of the Year, her focus will be on Gayana. "Because of Gayana, we've changed four lives, and counting," she says.
"This one will be for my sister."
Catherine Hughes, Western Australia
Catherine Hughes made international headlines this year after posting a video of her infant son's final days before he died of whooping cough at just three weeks old.
The video went viral as people shared the heartbreaking post in an attempt to spread the 28-year-old music teacher's important message about vaccination.
Just two days after her son Riley's death in March 2015, Catherine and her husband started the Light for Riley Facebook page to prevent further death from the disease.

"After Riley passed away we had a choice, we could either hide away from the world and not get out of bed, which was really tempting, or keep busy," she tells BuzzFeed News.
"Life goes on. We had our daughter so we didn't really have that option, and we decided to make some change."
Because babies can't be vaccinated before they are six weeks old, she wants people to know how important it is to keep up with their own vaccinations.
"In a country as lucky as Australia, children shouldn't be dying from preventable diseases. Vaccination isn't just something that happens when you're a child, it begins in pregnancy and continues throughout adulthood."
Hughes took her campaign to Canberra and met with politicians to lobby for pre-natal vaccinations. Thanks to her work, whooping cough boosters are now free for pregnant women in their third trimester in Australia. Her fundraising efforts have raised over $70,000 for whooping cough vaccines and another campaign has seen 45,000 vaccines for other preventable diseases donated to UNICEF. This year, she plans to tour the country sharing her story and educating people about vaccinations at parenting expos.
"I still feel a lot of guilt over his death, even though I know logically it's not my fault. But I feel like as his mum I should have protected him. It alleviates my guilt knowing that I'm helping to protect other babies like Riley," she says.
Her efforts have seen her abused online by anti-vaxxers, but that hasn't dampened her resolve.
"It is difficult, but we have already experienced the worst thing that can happen. We have lost a child, so the stuff they say doesn't compare to that. The harassment doesn't compare to the pain and grief in losing a child. We are strong in our belief and nothing they say will stop us from advocating for immunisation."
Benjamin Masters, Northern Territory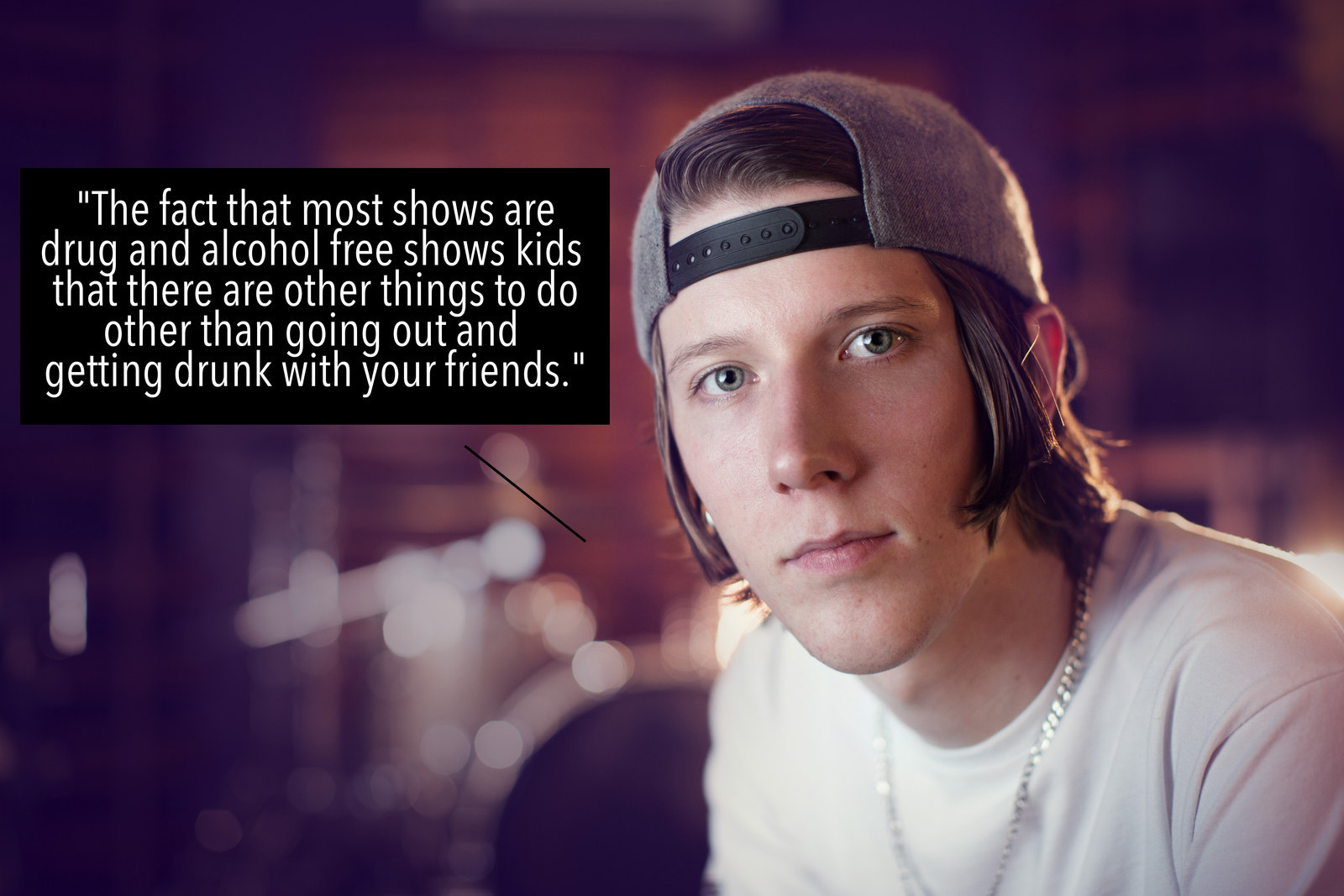 A drummer in a hardcore band, Benjamin Masters is known for his passionate dedication to the local music scene in the Northern Territory.

It's hard enough to break into the music industry yourself, but 20-year-old Benjamin is determined to help others along the way. Fed up with the limited opportunities for local bands, he set up all-ages, drug and alcohol free gigs for the whole community to enjoy.
"I started putting on all-ages shows in Darwin in 2013, because I noticed there were a lot of kids who wanted to go to shows but couldn't," he tells BuzzFeed News.
"It also meant I was able to give other bands more chances to jump on stage and perform, and just create a bit more of a scene in that area."
He is also a mentor for young people, working as a drumming tutor for high school students and running a booking agency that gives new bands a chance to play with more established outfits. He's set up a studio in his garage to help produce their tracks and give them a more commercial sound. Benjamin says it has been great to be able to give young people a creative outlet, when at times drinking seems likes the only recreational activity.
"I see young kids getting trashed at a festival called Bass in the Grass, 13-year-olds absolutely smashed off their face, it's just ridiculous.
"The fact that our shows are drug and alcohol free shows those kids that there are things to do other than going out and getting drunk with your friends. I think it provides a good alternative for the youth scene," he says.
Masters even launched an annual music festival in Darwin, called Terrorfest which attracts mostly metal and hardcore bands, but he says it has a friendly atmosphere.

"The whole movement is actually really positive, and a lot of people don't realise that, but there's a family vibe. When the pit opens up it looks rough but you're in there doing your own thing and if you get knocked down you get helped back up again."
It's that kind of attitude that has seen local bands start selling out gigs to hundreds of people, and turned the Darwin music scene into something special.
Zac Lockhart, Tasmania
Zac Lockhart has a shy voice. But when he speaks about homelessness and mental health issues, he speaks like a young man who has seen a lot.
Like thousands of other young Australians growing up, Zac found himself homeless and living in a youth shelter. At around the same time he was also struggling with mental illness.
"I went through youth homelessness and also mental illness. I guess I learned from first hand experience how it important is that we raise awareness about those issues because fighting for them will actually improve people's lives," he tells BuzzFeed News.
He's a full-time student and in his spare time works with a group in Tasmania called Flourish Mental Health. He recently released a film that helps explain to young people how they can take care of their mental health.
But his next project is about a little-known but "lonely" disorder that has horrible consequences.
"I'm currently working on a documentary about trichotillomania which I suffer from, which gives people the impulse to pull out their own hair," he says.
"I am hoping to make it to explore what it is and some of the things that result from it but also give people help [to know] that they're not alone because it is a really lonely illness."
He says that battling mental illness has become one of Australia's most important issues. Lockhart hopes to spend time as Tasmania's Young Australian of the Year spreading a really simple message but important message.
"There is so much stigma around these issues but if we talk about them it reduces that and people feel more comfortable talking about their own problems and to seek help."
"So the single best thing anyone can do is literally talk about it."