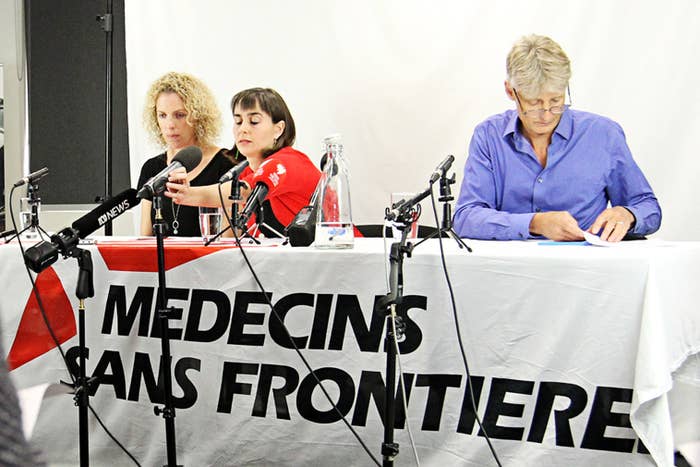 A refugee detained on Nauru for more than five years says he was able to speak candidly with the "independent" doctors from Médecins Sans Frontières (MSF) who were recently kicked off Nauru, but he does not trust the medical staff contracted by the Australian government.

The international humanitarian organisation had been on Nauru for 11 months, providing mental health services to Nauruan locals as well as the refugees and asylum seekers detained on the Pacific island as part of Australia's offshore detention policy.

On October 5 MSF was ordered by the Nauruan government to cease its work. Staff left the island days later, and had their visas cancelled on the way out.
In a press conference last week MSF Australia executive director Paul McPhun condemned the "very unusual" decision of the Nauruan government, saying the charity's relationship with officials had grown worse over time, and called for Australia to immediately get refugees and asylum seekers off Nauru.
The Nauruan government then issued a lengthy statement accusing MSF of having "conspired against us" and come to the island with the political agenda of fighting against Australia's offshore processing policy.
Amin* is an Iranian refugee who resides in module housing in one of the community refugee camps on Nauru. He told BuzzFeed News that he was an early patient of MSF and had regular appointments with a psychiatrist.
"She was my counsellor, my friend, my doctor, and the witness to my torture and traumatisation," he said.

Amin was shocked but ultimately not surprised by the news that MSF had been ordered to stop work on Nauru. He thinks it is related to medical reports written by MSF doctors and given to patients being increasingly used in Australian court proceedings to force medical transfers of ill refugees and asylum seekers.
Amin described MSF as "skillful doctors, working in [the whole] world and everybody knows them, they are independent".

"They are going to write an exact and honest report about the patients," he said.
Last week, McPhun would not be drawn on whether MSF's role in court proceedings played a role in the organisation being kicked out: "I don't want to get into speculation. It could be, but it's not for us to say."
Asked about the serious health issues plaguing refugees and asylum seekers in Question Time on Tuesday, Australian prime minister Scott Morrison said there were 65 medical workers on Nauru, including 33 mental health professionals.
"There is one healthcare professional to every 11 transferees on Nauru," he said. "Decisions about medical transfers are made on a case-by-case basis, and quite a number of those have been made in recent times."
Amin said he does not trust these staff, who work for International Health and Medical Services (IHMS), the company contracted by the Australian government to provide medical services on Nauru.
MSF psychiatrist Beth O'Connor, who worked on Nauru for 11 months, said it was difficult for patients to establish a therapeutic relationship with IHMS doctors when the patients know they are employed by the Australian government.
Asked if a lack of trust affects treatment of refugees and asylum seekers, IHMS referred BuzzFeed News to the department of Home Affairs.
Whistleblowers formerly employed by IHMS on Nauru have told of facing bureaucratic delays on their medical decisions, and not being able to carry out their work independently.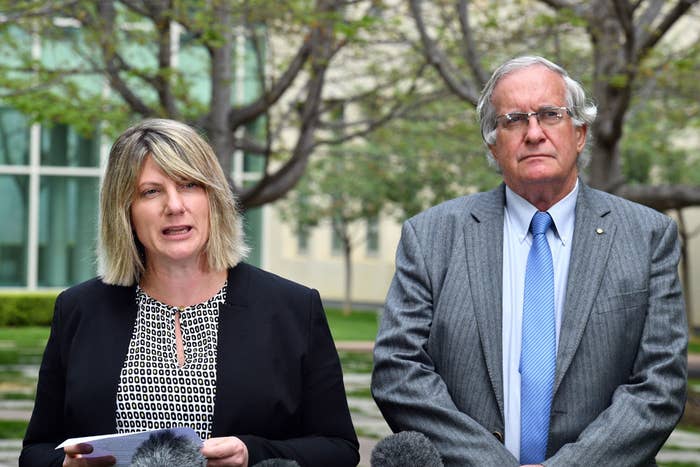 Amin said he spoke to the MSF psychiatrist about the pain of being separated from his family while on Nauru. He has never been able to meet his son.
"[He] can only recognise my face as a game," he told BuzzFeed News, explaining that he can only communicate with his child via phone, and when he appears on the screen, he doesn't realise he is looking at his father.
"When I am calling him he is just smiling, that's it," he said. "He cannot recognise me as a father, as a physical person, you know? I am a voice, some kind of game for him.
"I am missing very, very important moments in time in his life ... But unfortunately I am missing the time he is born, missing the first smile, missing the first time he is crawling, I am missing his first step, I am missing his first word," he said, beginning to cry.
"I cannot even explain how painful it is."
Attention on the plight of refugees and asylum seekers on Nauru has escalated in recent weeks following MSF leaving the island and a growing public campaign from doctors who say children must be evacuated from the island immediately.

Earlier this week three Liberal MPs went public with their concerns over conditions on the island, saying they had asked Morrison to bring around 85 children who remain on Nauru to Australia before they are resettled in a third country.
On Wednesday, a senior medical officer with IHMS was deported from Nauru.

In a statement, IHMS said she was stood down "for a breach of Regional Processing Centre rules" and said there was no impact on services as another senior medical officer was already on the island.
*Name and other identifying details have been changed.