Marriage Equality Has Been Delayed, And LGBTI People Are Cheering
LGBTI Australians weren't duped into opposing the plebiscite – they chose to stand against it. This is the community saying "enough".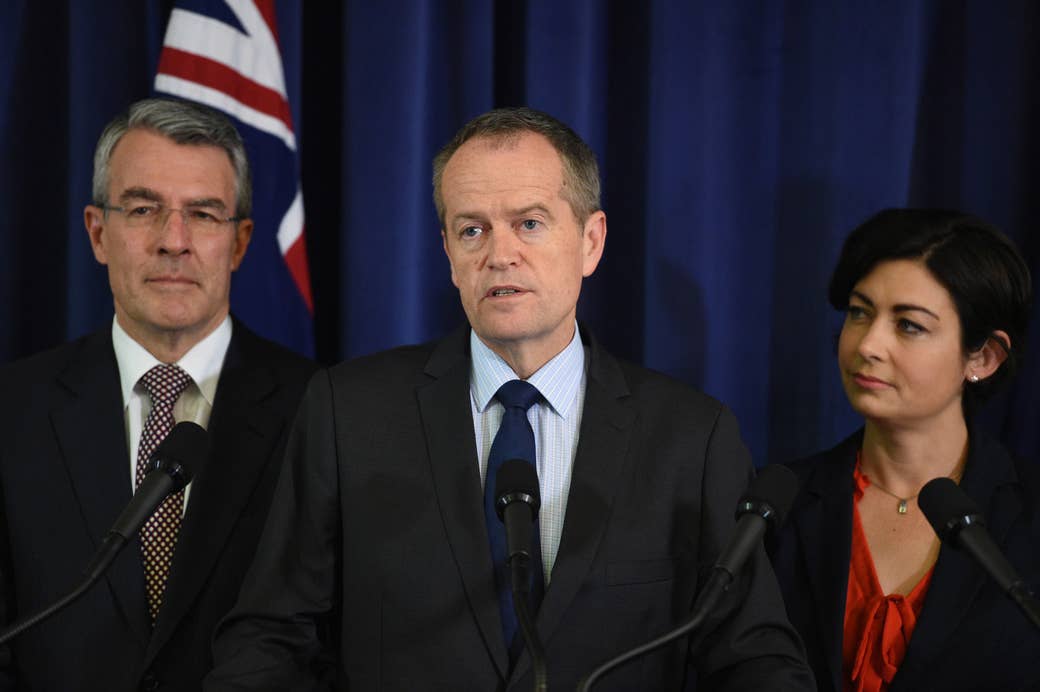 The announcement was months in the making, and boy, was it organised.

On Tuesday morning, a bunch of "rainbow families" – same-sex parents and their kids – file out of an anteroom off the Labor caucus room in Parliament House and assemble for photographs. Most had flown to Canberra the night before.
Journalists are told to vacate the seats directly in front of a waiting podium. "They're for the families," a staffer says. There's a bit of groaning about the pointlessness of it all. Everyone knows what's coming.
Then Labor heavyweights roll in the door. Leader Bill Shorten, deputy Tanya Plibersek, Senate leader Penny Wong, and shadow attorney general Mark Dreyfus make a beeline for the kids and the room is filled with the sound of camera shutters.
Long-time marriage equality advocate Rodney Croome is standing quietly in the corner, watching the hubbub. I walk over, and he flashes me a goofy smile and a double thumbs-up before rapidly returning to his usual calm demeanour. He is elated. "I don't usually show much emotion," he quips.
Shorten is there to announce what everyone already knows: Labor will vote against the government's proposed plebiscite on same-sex marriage. He reels off the list of objectionable qualities everyone has been hearing for months: The vote will be costly, non-binding, and, most significant of all, harmful to LGBTI people and to their kids.
He's asked if Labor will have failed if blocking the plebiscite doesn't bring on a free vote. Couldn't this mean a several-year delay?
"No, the plebiscite is a bad idea, and us stopping a bad idea is a good thing," Shorten says.
"We don't understand why the government is so keen to stop there being a vote in parliament and a free vote on marriage equality. We'll keep pressing the case. I hope it doesn't take as long as your question said."
After the presser, I see Shelley Argent – the proudest of proud mums, as the face of PFLAG (Parents, Families and Friends of Lesbians and Gays) in Australia – collapsed in a chair, wiping away tears. She's got a black boot brace on her leg and I'm temporarily alarmed. Has she injured herself?
But then I realise I've read it wrong. The plebiscite is gone, and Argent is crying tears of relief.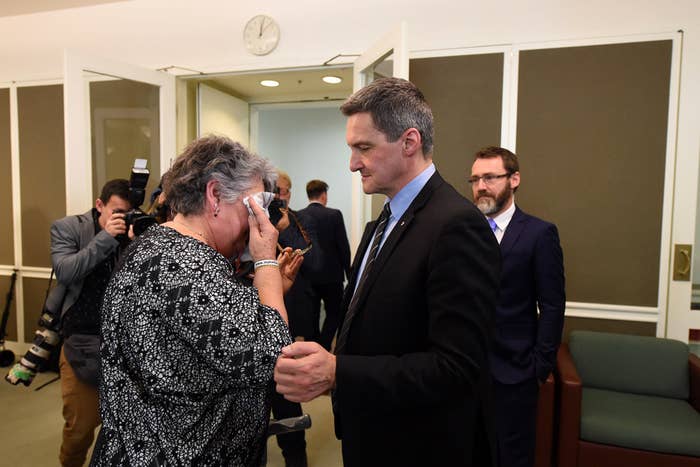 The plebiscite was never meant as a path to marriage equality. Suggested by social conservatives as a delaying tactic, it was reluctantly adopted by the moderate Malcolm Turnbull upon his ascension to prime minister, and taken to the 2016 election as the only way forward for marriage equality.

Now the plebiscite is dead, the LGBTI community is cheering, and many looking on are baffled. How is this a victory? A free vote is unlikely – Malcolm Turnbull would be taking an enormous, even politically fatal, risk if he tries to legislate without a plebiscite. The right-wing delay tactic worked – the issue could be stuck for years.
But the LGBTI community sees it differently. Rejecting the plebiscite was not a rejection of progress; it was a rejection of equality on unequal terms.
A few hours after the Labor presser, I meet Croome in the Parliament House cafeteria.
He's finishing off a sandwich and taking call after call, with Argent, LGBTI rights group Just Equal founder Ivan Hinton-Teoh, and a collection of kids and mums from the Rainbow Families group at the next table. The kids are doodling on pages torn from a notepad and chowing down on hot chips – a treat for the trip away.
The Labor announcement was a "huge relief", Croome tells me once he gets off the phone.
"Hundreds of thousands of LGBTI Australians have been on tenterhooks for months on this issue … I've been getting text messages all day from people who are over the moon."
He opens up his hands in a gentle shrug. "You saw the emotion in the room."
When it was first proposed, advocates initially said "bring it on", thinking a public vote was a foregone conclusion and they had to be prepared. But when divisions appeared in the Coalition over the policy – and then Turnbull became prime minister – their opposition hardened.
Croome has been an LGBTI rights advocate for 28 years. He said the plebiscite debate is the first time he has seen the opinions and the mental health of LGBTI people taken so seriously.
"This is the first time we have been seen not as an issue, but as real people who should have the main say on issues that affect us," he says.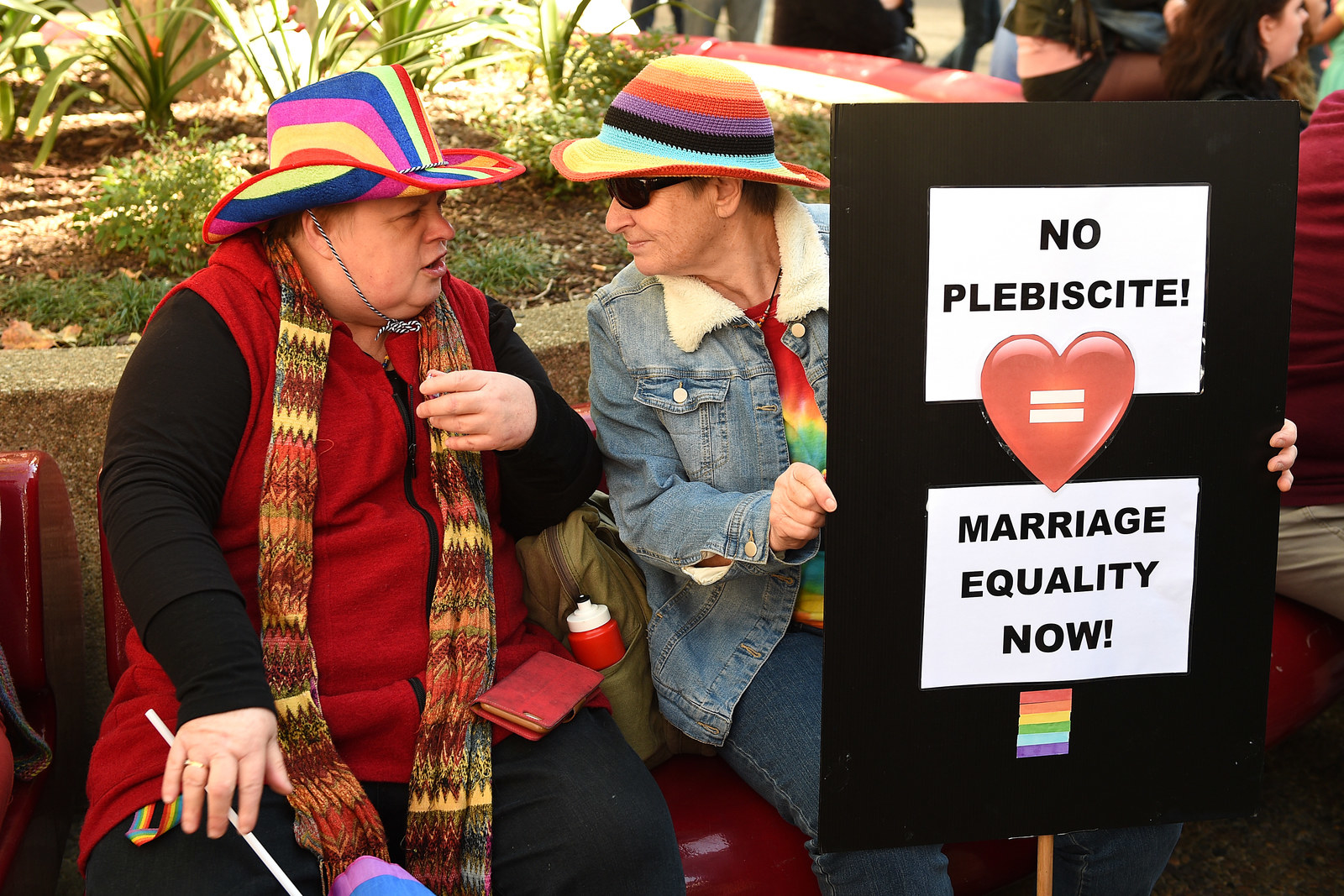 During the months of advocacy to kill the plebiscite, PFLAG and Just Equal commissioned a study of LGBTI Australians on their views on the plebiscite. The results were stunning: Eighty-five per cent did not want a plebiscite on marriage. Australia's complex and vibrant LGBTI community disagrees on many things, but on the plebiscite, the majority mood was clear.

Even so, Croome thought the results would make no difference in the political sphere.
"A part of me was still thinking, They don't care what we think," he says. "It went out into the hands of politicians, and they did care. They looked at it and said, 'OK, the gays don't want [the plebiscite].'"
But the huge anti-plebiscite sentiment came as a shock to some politicians, who were convinced the community would accept a national vote if it was the only way forward. Croome recounts the many conversations he has had with government MPs in recent months:
MP: Are you saying the gay community would prefer to wait than have a plebiscite?
Croome: Yes. That's what the research shows.
MP: So if it doesn't happen in the next three years, they'd rather wait that long?
Croome: Yes. No plebiscite under any conditions.
"For many, particularly older politicians, 'no' is a radical thing to say," says Croome. "They've never heard that before, from the gay community.
"It is new, and it is revolutionary in Australia."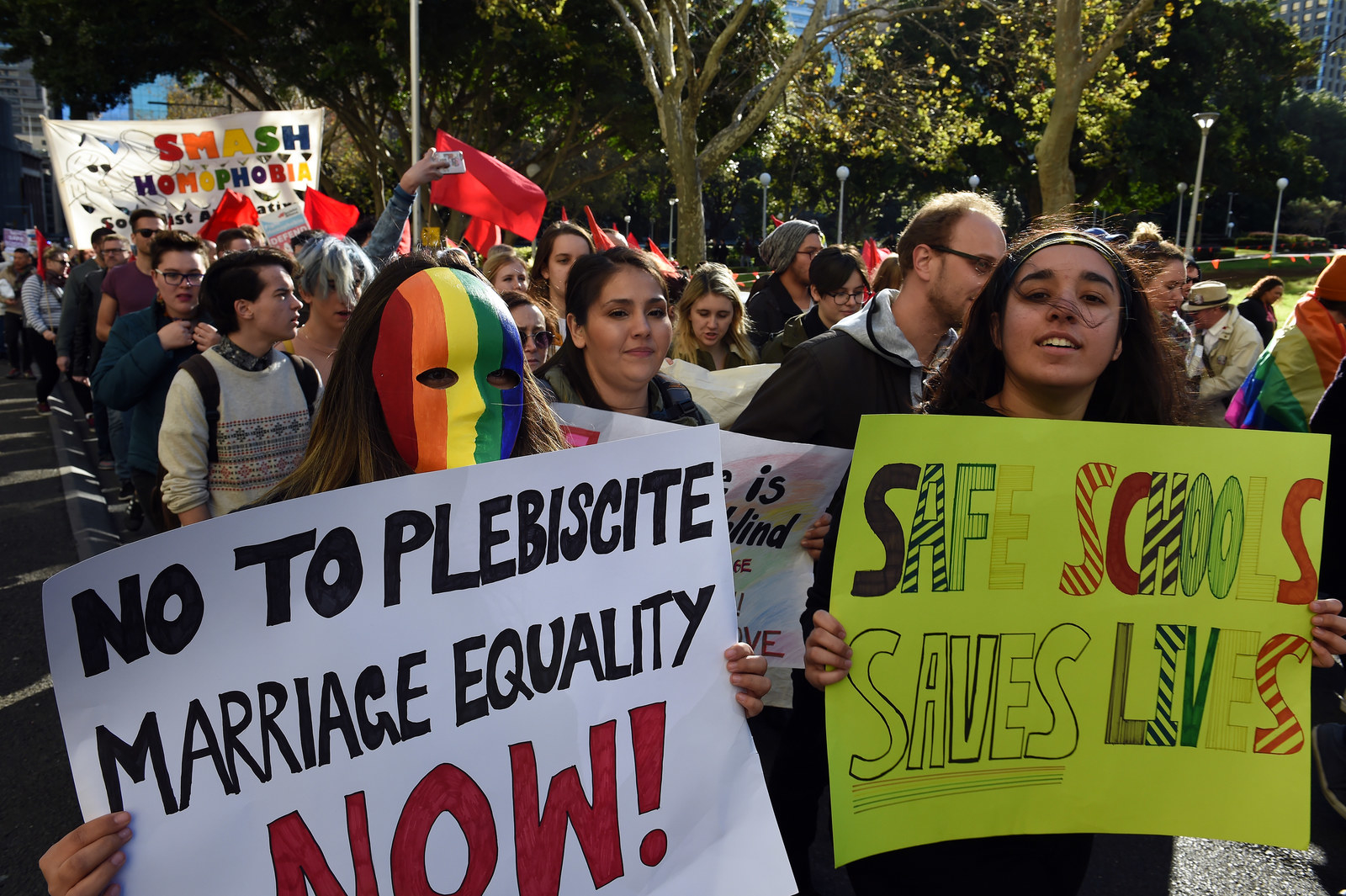 More than 12 years ago, in 2004, Australian Democrat senator Brian Greig was one of a handful of MPs who opposed the amendments to the Marriage Act that defined marriage as between a man and a woman.

In an interview with BuzzFeed News in August this year, Greig pointed out Australia's long history of "holding the gun to the head of the LGBTI community and saying, 'It's this, or nothing.'"
People accepting conditional equality led to many states introducing unequal age of consent laws during decriminalisation, Greig said.
"The same thing happened with anti-discrimination laws in housing, accommodation, goods, and services. They refused to include trans and intersex people. We said, 'You're not being inclusive.' They said, 'It's this or nothing,' and once again the gun was held to our heads. Or the anti-discrimination laws introduced where governments refused to include anti-vilification laws. Only a handful have them, most don't, there's none federally."
In 2008, the Labor government removed discrimination against same-sex couples in 85 laws, making same-sex couples equal to heterosexual couples under federal law – except for the ability to marry.
"Yet again, it was 'this or nothing'," Greig said. "The point I'm trying to get to here … is the way the LGBTI community has always been held under emotional blackmail and told we have to take it or leave it."
Many conservative commentators have characterised the LGBTI community as childish, petulant, and anti-democratic for opposing a national vote on marriage. But Greig sees it differently: he thinks the community has matured.
"We can see full unfettered equality in countries around the world, and we demand the same rights and the same process as everywhere else," he said.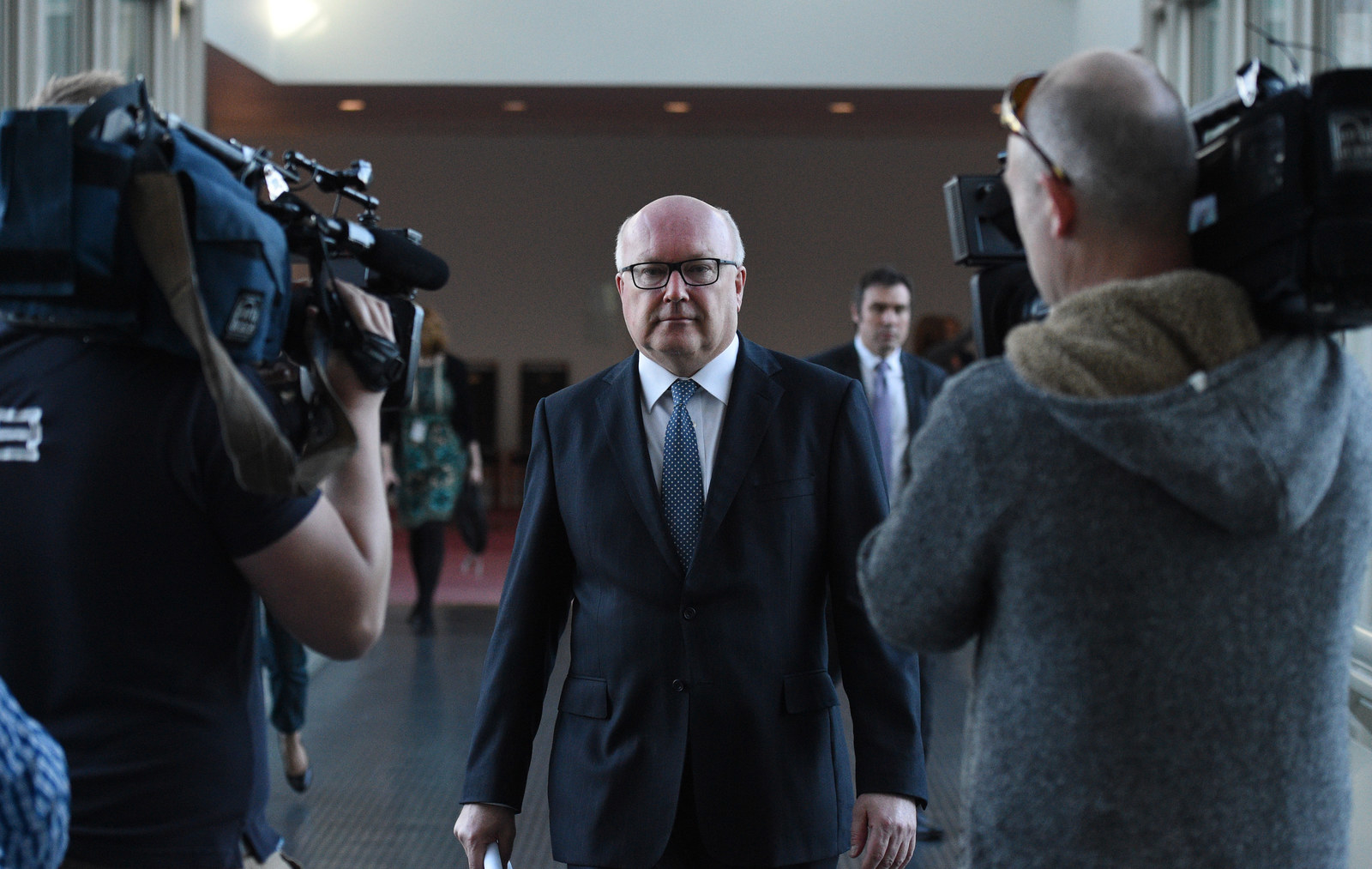 The Greens were the first to announce they would vote against the plebiscite in late August, with the four Nick Xenophon MPs issuing a statement three days later. If Labor joined them, the numbers in the Senate wouldn't be there. Killing off the plebiscite was a real possibility.

But as the LGBTI community doubled down on its opposition, the government was unable to take "no" for an answer. More moderate MPs exerted enormous pressure to try to bring the community around, while conservatives kicked back and enjoyed the fiasco.
Prime minister Malcolm Turnbull constantly popped up on Sky and ABC News 24, repeating the same lines: "The plebiscite is thoroughly democratic"; "We took it to the election"; "I will be voting yes, and so will Lucy." Attorney-general George Brandis warned that blocking the plebiscite would see no same-sex marriage until as late as the 2020s.
But it didn't move anyone. In a last-ditch attempt to bring advocates around, Brandis invited several to a teleconference to discuss the plebiscite with him last week. All used their speaking time to say they did not want a plebiscite.
Brandis, who had expected people to come with compromises and questions, was annoyed. Attendees at the meeting told BuzzFeed News he appeared "angry and frustrated" and said to advocates, "You are fools if you think marriage equality is inevitable. You are fools".
Even the Coalition's biggest supporter of marriage equality, Warren Entsch – a straight, gregarious, former crocodile farmer from Queensland who advocated for LGBTI rights long before it was mainstream – believes a plebiscite is the best way forward.
"If the legislation fails, I will be one of millions of Australians who are profoundly frustrated and disappointed with the Labor party's hypocrisy," Entsch told the parliament on Tuesday.
"Let's not allow this opportunity to be squandered."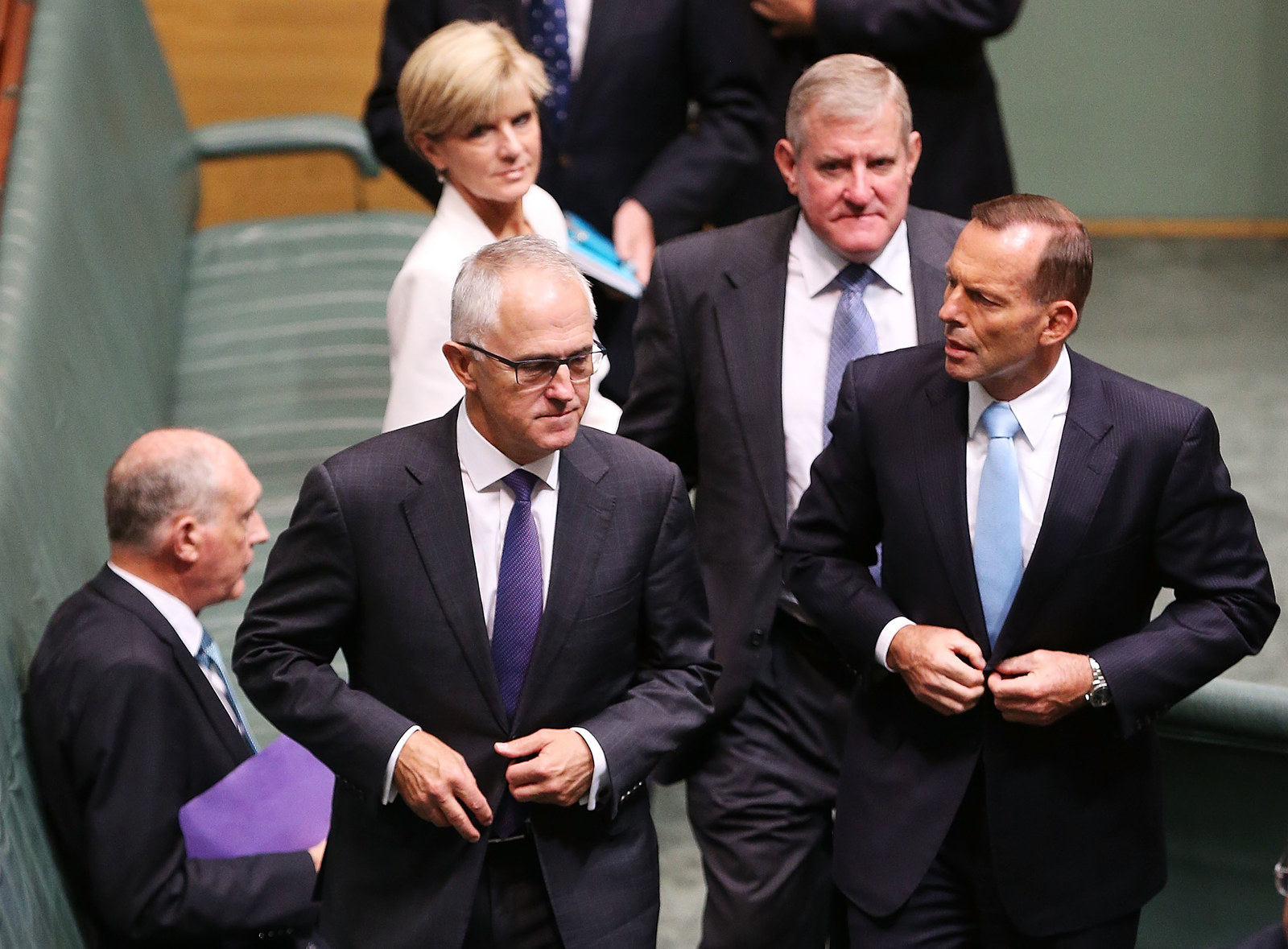 But the community does not see equality delayed as an opportunity squandered. It is a strange victory – one shared with social conservatives, who are in no rush to see same-sex marriage legislated – but a victory all the same.

Sally Rugg, from the left-wing activist group GetUp, told BuzzFeed News that over the past 14 months, the entire marriage equality sector and community has regularly interrogated its anti-plebiscite stance. Was lobbying to block really the right decision?
Rugg says yes.
"When we do achieve marriage equality ... the LGBTI community and all of Australia will know we've done it without putting the most vulnerable members of our community at risk, and that's a beautiful thing."
When Labor confirmed its opposition to the public vote on Tuesday morning, Rugg burst into tears.
"I was crying with pride at our community, and with relief that our community and our country won't have to endure that opinion poll," she said.
"I was also crying with happiness that the marriage equality movement – gay people, straight people – everyone fought for this. It was a win."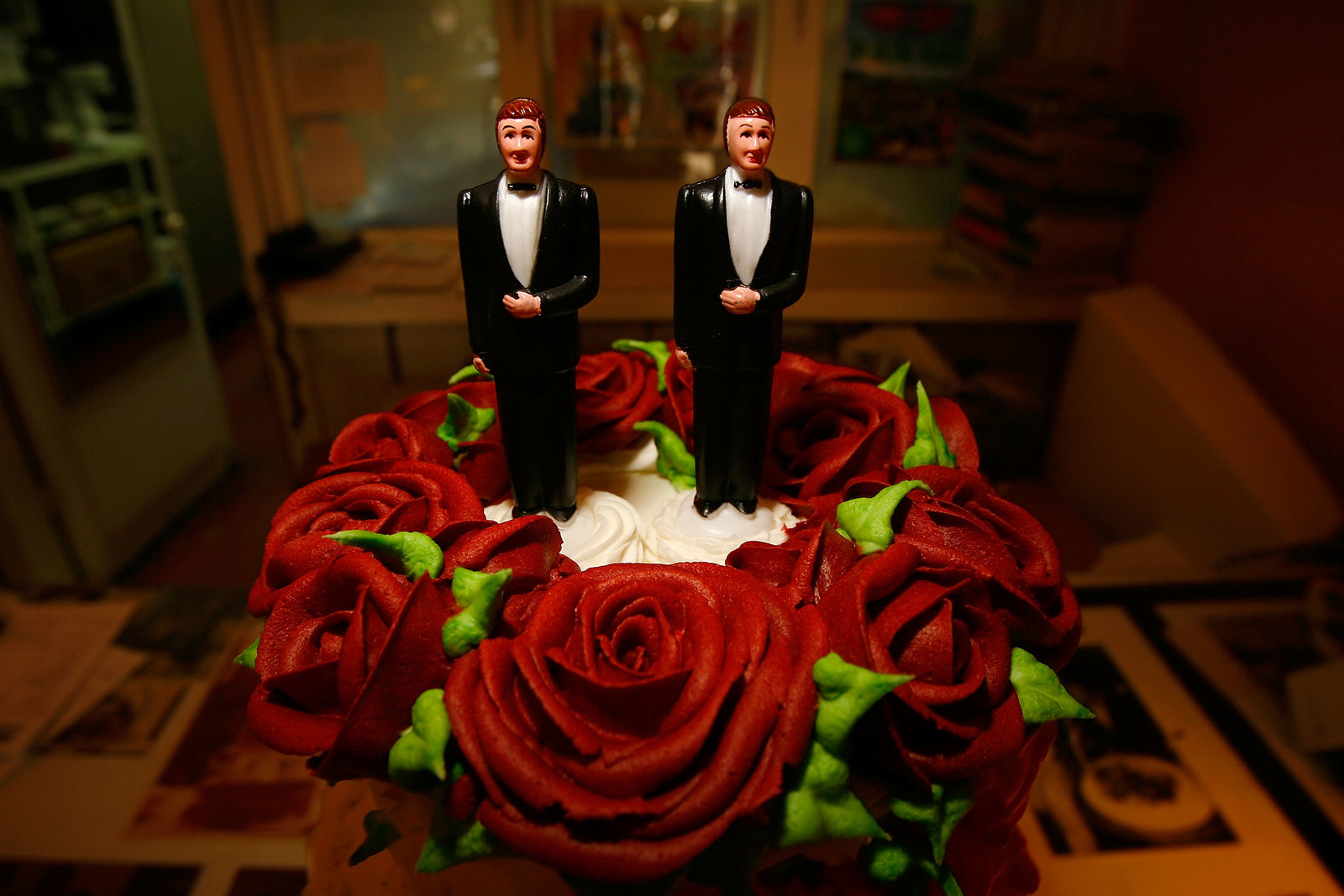 On a question about where advocates will go from here, Croome trips me up for referring to the plebiscite as "dead".

"It's on life support," he corrects. "It's not dead until the final vote."
"Subject to a double bypass?" Hinton-Teoh jokes.
"It's on palliative care," says Croome.
Dead or otherwise, the demise of the plebiscite has almost certainly delayed marriage equality. But no one can say for sure what the public vote might have wrought.
What is certain is that Australia's LGBTI community rejected the plebiscite out of choice – not ignorance. They understood the risks, and still, they said no.
"We do not accept your conditions," Croome says. "We do not accept your path forward. No more caveats. We're equal or we're not.
"We achieve equality through an equal process, or we don't achieve it at all."