This Marriage Equality Campaigner Couldn't Answer The Phone For Two Weeks Due To Abuse
"I think all homosexuals will rot in hell."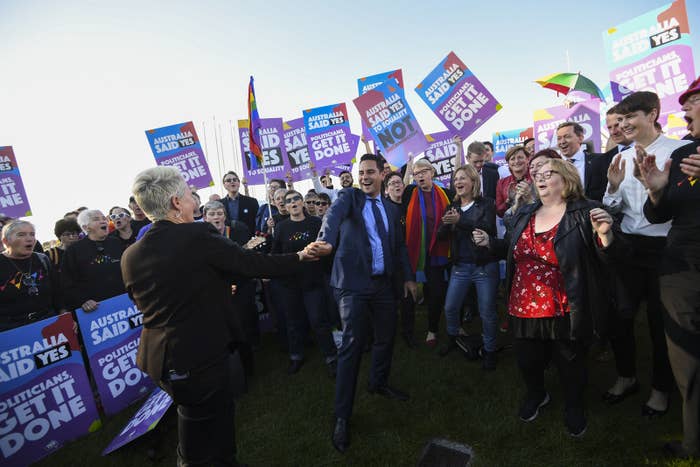 Leading same-sex marriage campaigner and Sydney politician Alex Greenwich has revealed his office staff were unable to answer the phone for two weeks during the same-sex marriage survey, due to the sheer volume of abusive calls.
Multiple death threats, anti-LGBT messages and accusations of spreading AIDS are among the numerous pieces of correspondence sent to leading "yes" campaign group The Equality Campaign, as well as its prominent supporters like Greenwich, over the course of the controversial survey.

The unprecedented survey returned a "yes" vote of 61.6% on November 15, and led the parliament to hold a free vote on same-sex marriage for the first time, which passed in December.
While examples of violent and homophobic attacks in the community were well-documented in the media during the three-month survey process, The Equality Campaign largely stayed mum on the private messages it received.
But now, the group has published some of that correspondence as part of its submission to an ongoing parliamentary inquiry into the survey. Greenwich has also sent in an individual submission.
During the campaign, the "yes" side sent out a mass, unsolicited text to millions of Australians which generated significant controversy. It triggered a large number of abusive messages to the campaign, as well as sparking a targeted social media campaign urging people angered by the message to contact Greenwich specifically.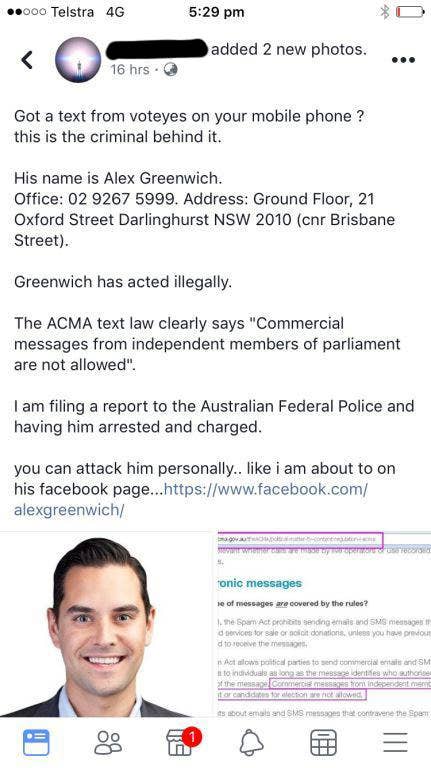 Greenwich told BuzzFeed News that in the fortnight following the mass text, his staff could not answer the phone due to the number of "homophobic and hate-filled" messages, which came via phone and email.

"We left a voicemail directing people to the ABS for inquires relating to the postal survey," he said.

The calls tapered off after two weeks, but continued for more than two months.

"This had both a negative impact on the wellbeing of my staff and my constituents who were unable to call my office directly, with the matter reported to NSW Police," Greenwich wrote.

Greenwich also noted in his personal submission that he has advocated for marriage equality for more than a decade, but that it was only during the postal survey he first received threats of violence.
The Equality Campaign's submission contained numerous examples of messages it received throughout the survey via post, email, text and a website form. Many included threats of death and violence, as well as routinely including abusive language, anti-gay slurs, and containing crude or humiliating language aimed at deriding LGBT people.
"I will personally hunt you down and break your head. You fkn piece of shit faggit kunt. I voted no because you are all a bunch of fkn perverted paedophile mtherfkers. I hope you all die due to aids. Phags."

"GOFUCK YOURSELVES YOU FUCKING POOFTA,DYKE NON HUMAN MORONS…...I FUCKING VOTED NO,NO,NO….FUCKWITS....FREE ROCKET ONE WAY TRIP TO THE MOON FOR ALL YOU QUEERS"
One letter sent in October suggested "yes" campaign paper material was infected with and capable of spreading AIDS.
"I have not left my address so you can reply because I am deeply concerned the paper you use can infect me with the new strain of AIDS virus that is presently being spread in Oxford Street," the person wrote.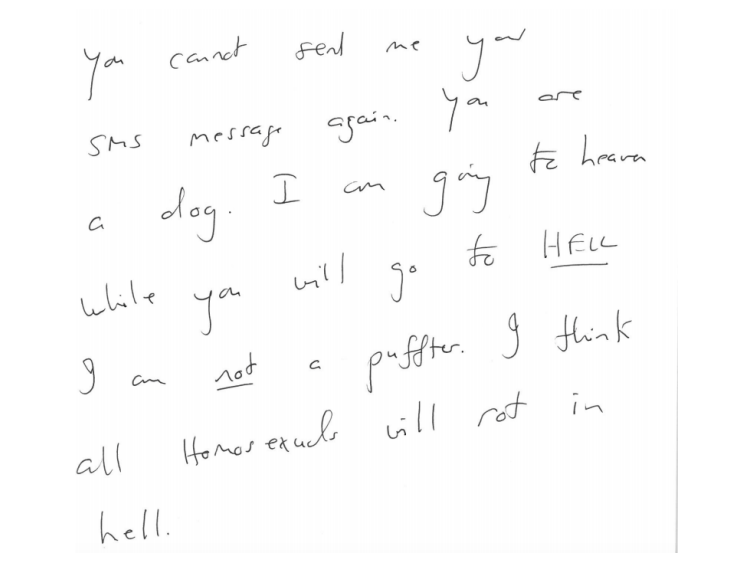 A "yes" voter who appeared in campaign materials received messages suggesting he send his sons to gay conversion therapy.
"When your sons were very young, they needed more emotional support from
you than they apparently got. They were not born 'gay', whatever you may have heard," one person wrote, referring the man to a US-based Christian counselling organisation that advertises "sexual identity affirming therapy".
The "no" campaign group, the Coalition For Marriage, put out a video titled "Love is Love" during the campaign, featuring messages received from "yes" supporters on social media. It included a threat of violence and several instances of name-calling including "bigots" and "utter clowns".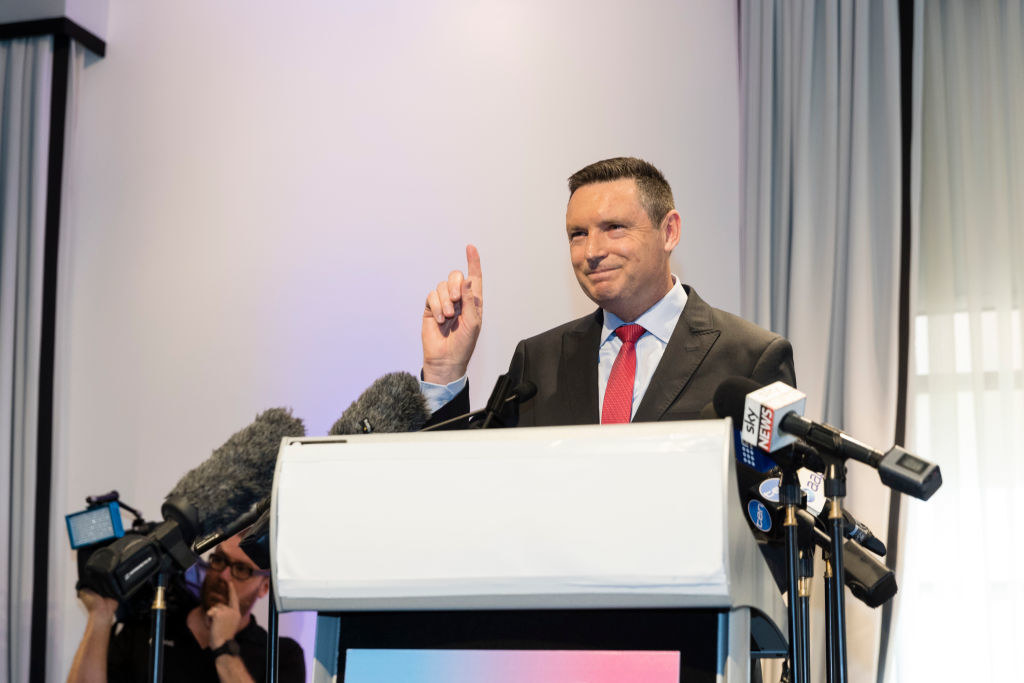 Greenwich told BuzzFeed News The Equality Campaign had remained quiet about the threats it received over the course of the campaign due to police advice that publicising them may encourage others to jump on the bandwagon.

In his submission to the inquiry, Greenwich wrote: "It is my view that the LGBTIQ community would have been spared the severity of attacks they endured during the survey if the federal parliament had done its job and legislated for marriage equality.

"Older LGBTIQ people shared with me the trauma caused by reminding them of the terrible history of assault, discrimination and abuse many faced in the 70s and 80s. For younger LGBTIQ people this was the first time many had been subjected to this treatment, and many found it distressing."
NSW health organisation ACON, which specialises in HIV prevention and LGBTI health, used its submission to hit back at the claim by prime minister Malcolm Turnbull and other government MPs that the "yes" vote and large turnout vindicated the process.

"This is not true," wrote CEO Nicholas Parkhill. "The same result could have been
achieved through a free vote in Parliament, without the associated harms that the survey generated."

Parkhill wrote that older people had been "re-traumatised" as the process brought back memories of violence and abuse from their past. He also note that people felt isolated, that ACON had recorded an increase in people seeking help for anxiety and depression, and that the survey contributed to the triggers and stressors for clients struggling with drug and alcohol problems.
"Clients also expressed anger about the postal survey," he wrote. "In particular, they felt anger at the humiliation of having one's equality at law and human rights subject to popular opinion, anger at the lies told about the LGBTI community by the 'No' vote proponents, anger at feeling powerless in the face of those lies and arguments against the 'Yes' campaign, and anger that LGBTI people have had to wait so long for equality."
Parkhill also briefly outlined some experiences reported to ACON by clients, including a child asking if they would be removed from their dads if the "no" campaign won, and a person who applied to move to a different public housing complex after being taunted with names such as "homo", "faggot" and "pedo" during the survey.
The Tangentyere Council Aboriginal Corporation put in a submission to the inquiry about barriers to access to the postal survey among Alice Springs town camps, where people cannot enrol their home addresses with the Australian Electoral Commission (AEC).
As of Thursday morning, other submissions received and published by the inquiry mostly consisted of people sending in examples of "no" campaign material that they found offensive or misleading.

Among the multiple examples of flyers and ads sent to the inquiry was the "Stop the Fags" poster seen in Melbourne, a flyer comparing seatbelts to gay relationships that went viral on Twitter, and an email from Coalition for Marriage spokesperson Sophie York.
Just one submission appeared to be from somebody who was against same-sex marriage but thought the survey should not have gone ahead.
BuzzFeed News has previously reported on an anonymous submission from a person who said they are an employee at the Australian Bureau of Statistics (ABS) and slammed the survey as "disrespectful" to the history of the organisation.
Government departments including the ABS, the AEC and the departments of human services and finance have also sent submissions.
Wednesday was the final day people could send in a submission. The inquiry is due to report on February 13.