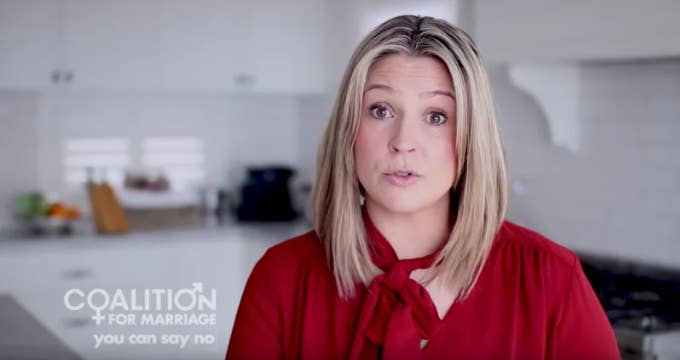 A prominent same-sex marriage "no" campaigner has issued a public apology for comments posted by other people on her Facebook page that falsely implied an LGBTI youth leader had engaged in sexual activity with children.

Melbourne woman Marijke Rancie is facing a defamation lawsuit in the Federal Court over a December 2017 post and comments on her "Political Posting Mumma" page, which is followed by more than 17,000 people.
Rancie, who was elected as a Victorian Liberal party delegate in April 2018, featured prominently in ads for the "no" campaign during Australia's same-sex marriage postal survey in 2017 and has campaigned extensively against the Safe Schools LGBTI anti-bullying program, with one of her videos on the subject going viral.

The lawsuit was filed in Dec. 2018 by Adele Moleta, also known as "Delsi Cat", who runs the queer party organisation "Unicorns" and has previously worked as a schoolteacher and at LGBTI youth charity Minus18.
The post at the centre of the defamation case shared three pictures – two of Moleta – and said it was a "sneak peek" into a "rabbit hole that is pretty sick and twisted to your average Australian family". It named Moleta, who is in her early 30s, as "Delsi Cat" and said that she ran events for Minus18 that are advertised in Victorian high schools.
Moleta alleges she was defamed both by the post and by its 200 comments.
On Jan. 18, 2019 Rancie issued an apology via the "Political Posting Mumma" page over three comments on the 2017 post, written by other people.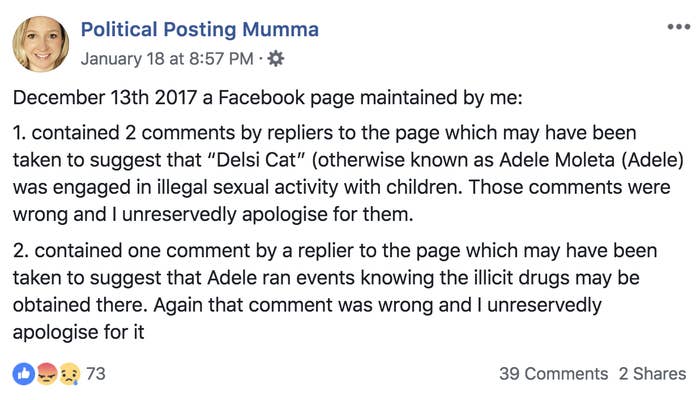 She wrote that on Dec. 13, 2017 the page had contained two comments that "may have been taken to suggest that 'Delsi Cat' (otherwise known as Adele Moleta (Adele) was engaged in illegal sexual activity with children".
"Those comments were wrong and I unreservedly apologise for them," Rancie wrote.
She also unreservedly apologised for a comment that "may have been taken to suggest that Adele ran events knowing the illicit drugs may be obtained there".
The apology post did not specify the comments it was referring to.
Moleta's lawsuit argues that, for legal purposes, Rancie was the publisher of those comments and can be held liable for them. Her statement of claim, filed in the Federal Court and viewed by BuzzFeed News, includes several pages of the comments.
One reads: "Bloody groomer.. too many drugs!! How is this imbecile allowed drag kids down to her level... Bloody hell parents must be so proud! NOT... shows grooming activities to me."
A number of other commenters said the post made them think of Sodom and Gomorrah.

The original post is still up, but comments appear to have been hidden from public view.
Moleta said Rancie's post and the comments on it defamed her by conveying she "is a sick and twisted person who organises events for high school aged children at which she engages in and condones sexually suggestive conduct while nude or semi-nude".

She also alleges the comments suggested she is a paedophile; that she grooms high school aged children; and that she is a shameful person who should not be allowed anywhere near children.
Moleta declined to comment and Rancie did not respond to a request for comment.

The matter is listed for a first case management hearing on Feb. 1, 2019.