Martina Navratilova Slams Margaret Court In Open Letter
"Her vitriol is not just an opinion."
Martina Navratilova has labelled Margaret Court's comments on LGBT people "sick and dangerous" in a forceful letter calling for Melbourne's Margaret Court Arena to be renamed.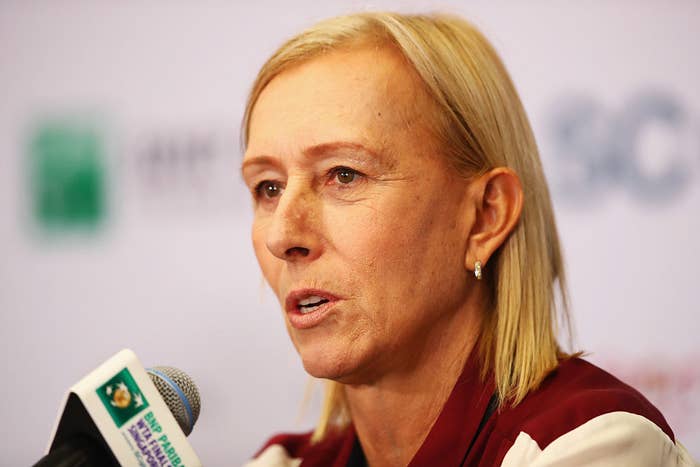 The letter is the latest missive in an enormous spat that has drawn in tennis players past and present from the highest levels of the game – all sparked by a letter Australian tennis legend Court wrote to a newspaper about same-sex marriage.

Navratilova penned the letter to the Margaret Court Arena itself and it was published by Fairfax Media on Thursday.

"Her vitriol is not just an opinion. She is actively trying to keep LGBT people from getting equal rights (note to Court: we are human beings, too). She is demonising trans kids and trans adults everywhere."
So – hang on. How did we get here?
Well, just over a week ago, 24-time Grand Slam champion Margaret Court wrote a letter to The West Australian newspaper saying she would boycott Qantas over the airline's support for same-sex marriage.
The letter came just days after Qantas CEO Alan Joyce had a pie shoved in his face by Tony Overheu, a Perth man affronted by Joyce's marriage advocacy. Overheu has since been charged with assault.

Court, who earned her reputation as a tennis great in the '60s and '70s and now is a Christian pastor in Perth, was immediately slammed for the letter.
Navratilova was one of the first to float the idea that the name of Margaret Court Arena should be changed – and many people joined in.
Tennis Australia and Margaret Court Arena issued statements saying they did not agree with Court's comments, but stopped short of saying the arena should be renamed.

The Australian prime minister Malcolm Turnbull even weighed in. He rejected a name change: "Whatever people may think about Margaret Court's views about gay marriage... she is one of the all time greats and the Margaret Court Arena celebrates Margaret Court the tennis player."
Australian tennis player Casey Dellacqua tweeted a previous letter written by Court targeting Dellacqua and her partner Amanda Judd shortly after the birth of their son in 2013.
Things continued to spiral. Court appeared on Channel 10's The Project and accused her detractors of persecuting and bullying her: "At the moment it's like nobody can say anything. We're getting persecuted, we're getting bullied."
Other professional tennis players joined the fray – most of them roundly rejecting Court's views. Andy Murray said that the issues over Margaret Court Arena should be resolved well before the next Australian Open in January.
Court also gave an interview – first reported by BuzzFeed News yesterday – to Vision Christian Radio this week, during which she claimed that "tennis is full of lesbians".
"Even when I was playing there was only a couple there, but those couple that led, that took young ones into parties and things... because they like to be around heroes," Court said.

In the same interview, she said the idea of being transgender or non-binary is "all the devil" and part of a Hitler or Communist-style plot to "get the minds of the children".
And that brings us back to Navratilova, who labelled Court's comments about lesbians in tennis "ridiculous" and those about the devil and Hitler "sick and dangerous".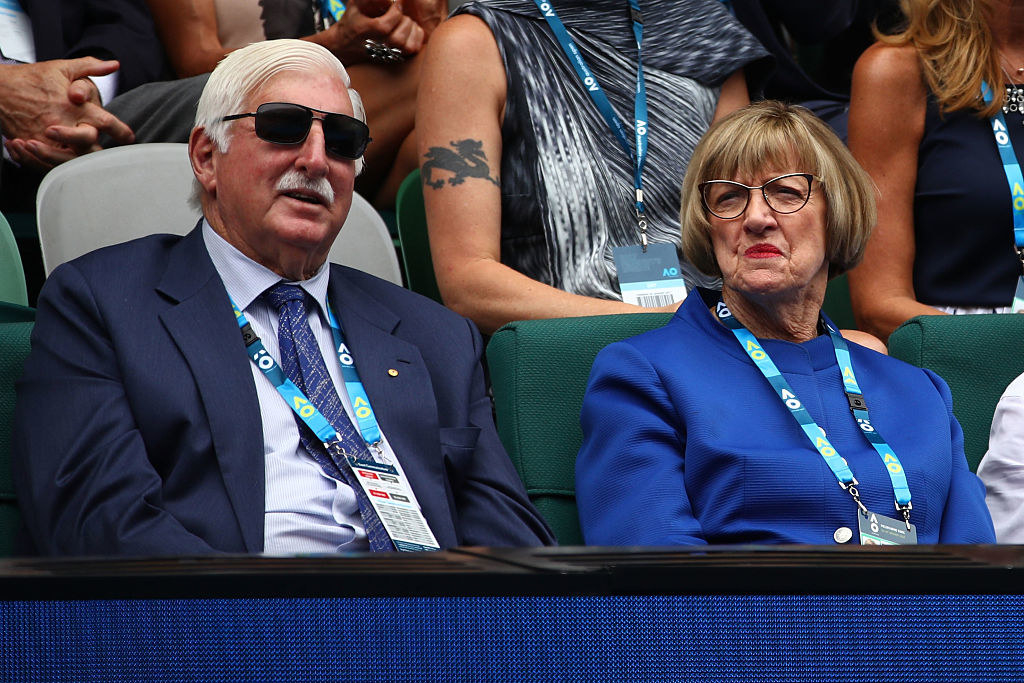 "Now she is doubling down with her ridiculous comments about older women luring young girls on the tour to parties to turn them into lesbians," she wrote.

"It's a good thing she didn't name anyone as I am pretty sure she would be sued for defamation."
"And now, linking LGBT to Nazis, communists, the devil? This is not OK. This is in fact sick and it is dangerous. Kids will suffer more because of this continuous bashing and stigmatising of our LGBT community."

Navratilova argued that the arena should be renamed as the honour is a reflection of Margaret Court as a whole person, not just a tennis player.
She said the platform given to Court needed to be "made smaller, not bigger".

"Which is why I think it's time to change your name. And I think the Evonne Goolagong Arena has a great ring to it. Now there is a person we can all celebrate. On every level."
Evonne Goolagong Cawley is an Australian tennis champion who won 14 Grand Slams between 1971 and 1980. She now runs tennis camps and programs for Indigenous youth through the Evonne Goolagong Foundation.