Jim Obergefell, the lead plaintiff in the historic 2015 Supreme Court decision that saw marriage equality legalised across the United States, says blocking the plebiscite was the right call from the Australian parliament.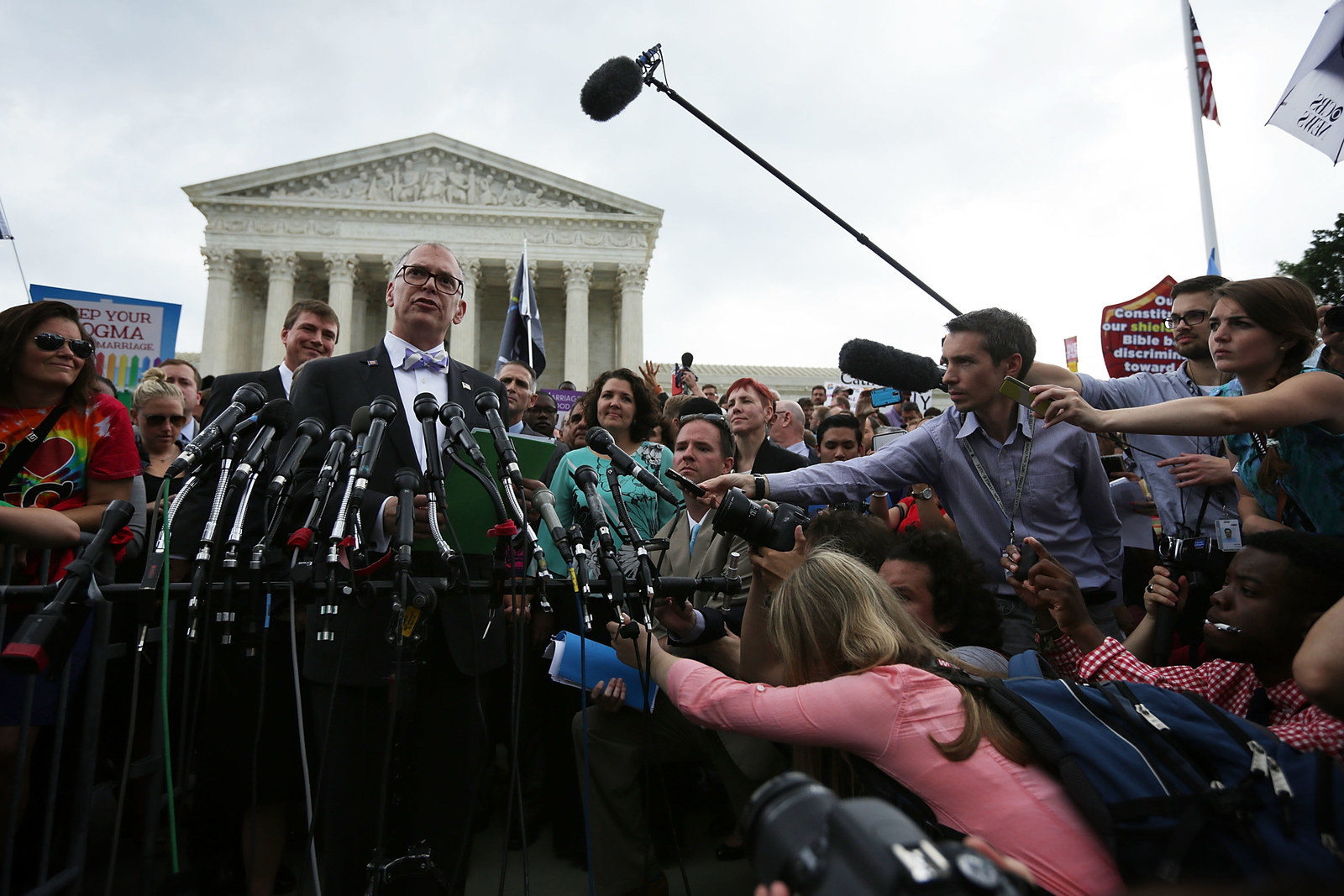 Obergefell and his late husband, John Arthur, were together for more than two decades before marrying in a medical plane on the tarmac of a Maryland airport in 2013.

Arthur, diagnosed with amyotrophic lateral sclerosis (ALS) in 2011, was too ill to travel any other way – or, really, at all. But same-sex marriage was banned in their home state of Ohio, and they wanted to be able to call each other "husband" before Arthur died.
Obergefell and Arthur then sued the state of Ohio to have their marriage recognised on Arthur's death certificate. In October 2013, three months after their wedding, Arthur died, and Obergefell's fight for recognition went all the way to the Supreme Court.
Obergefell is currently in Australia promoting his book about the Supreme Court victory, Love Wins, and advocating for marriage equality.
In Australia, a national vote was touted by the government as the only way to achieve marriage equality in this term of parliament. But the proposed plebiscite was voted down by a combination of opposition and crossbench MPs in the upper house last Monday.
The decision was supported by a majority of LGBTI Australians, who said they would rather wait than have the plebiscite.
Obergefell told BuzzFeed News he can see both sides of the plebiscite argument, and sympathises with the idea that it's an opportunity to move on with the debate. However, while he well understands the pain of not wanting to wait – but he thinks the plebiscite was the wrong way forward.
"For me, it comes down to the fact that I think putting the rights of any group up to a public vote is the wrong thing to do," he said.

"I would really worry about a plebiscite creating a contentious atmosphere in the country and causing more problems than it would solve. I think cancelling the plebiscite was the right thing to do."
Obergefell also warned marriage equality is not inevitable, and expressed fear that the recent US election could see an undoing of LGBT rights victories.

"In the States, there was such a tidal wave of marriage equality rulings across the country ... There was such a huge amount of change in a relatively short amount of time that it felt almost inevitable. We knew it wasn't, but in some ways it felt that way," he said.
"I understand why some people here might feel like stopping the plebiscite stopped that momentum. But I think it gives those fighting for marriage a chance to regroup, to continue making changes in hearts and minds and attitudes across the country."
Obergefell spoke alongside Australia's most decorated Olympic swimmer, Ian Thorpe, on Tuesday evening. Thorpe came out in 2014 after struggling with his sexuality for years, and has recently joined the campaign for marriage equality.
Wearing a t-shirt featuring a rainbow Australia and the word "EQUALITY" emblazoned across the front, Thorpe told young Australians to bridge the generational divide when talking about marriage equality.
"It's not about going out there and speaking to other young people about this. Go one step better – speak to your parents. Speak to your grandparents about why this is important to you."
Thorpe agreed with Obergefell that blocking the plebiscite was the right decision from the Australian parliament.

"For the first time in Australia, the LGBTIQ community said 'You know what? That isn't good enough for us. We expect more.' People stood up and said, we want a parliamentary vote on this issue, as there has been on every other human rights issue in this country," he said.

However, Thorpe rejected the government's line that stopping the plebiscite must mean no marriage equality until at least after the next election.
"It is fundamentally important to keep the pressure on our politicians," he said.