A Tale Of Two Bills: SA Passes Trans Reform, Victoria Cans It
Significant transgender reforms were debated in two Australian states and met very different ends.
Transgender South Australians will be able to change the sex on their birth certificate without having surgery or going to court after a bill passed the state's upper house on Tuesday afternoon.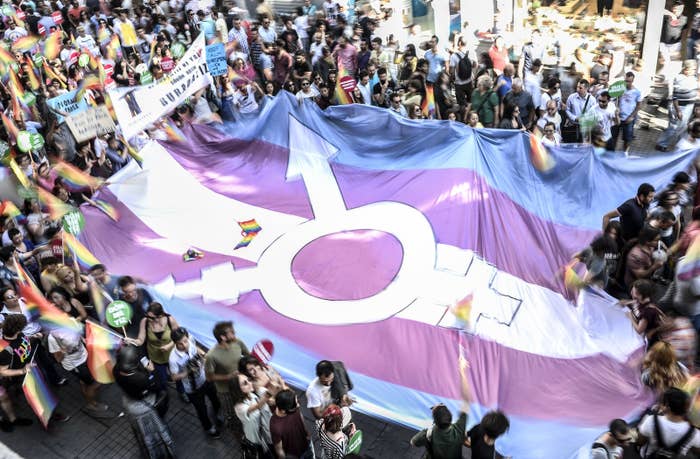 But transgender Victorians have missed out on similar changes to make the process easier, after a bill was voted down 19-19 just hours after the South Australian one passed.
The passage of the SA bill is a significant moment for transgender people in Australia, where surgery, forced divorce, and bureaucratic wrangling before correct documentation can be granted is common across most states.
The bill, which passed 10-7, overturns the current requirement for transgender South Australians to submit a court application and prove they have had sexual reassignment surgery in order to change the sex on their birth certificate.

Under the new law, transgender adults just need to provide a statement from a doctor or psychologist saying they have "undertaken a sufficient amount of appropriate clinical treatment in relation to the person's sex or gender identity".
Transgender people under 18 will still have to get a court order to officially change their sex.
The bill also repeals South Australia's forced divorce requirement. Previously, a married transgender person could only change the sex on their birth certificate after divorcing their partner.
South Australia is the second Australian jurisdiction to pass such legislation. The Australian Capital Territory removed the surgery requirement in 2014. In 2011, a High Court decision in Western Australia found no surgery was required for a legal sex change.
In every other state, the surgery requirement stands.
The gender identity bill is the second to pass the SA parliament as part of a bumper week in LGBTI reform for the state.

Earlier on Tuesday, a bill for better relationship recognition of both same-sex and opposite sex couples – including recognising overseas same-sex marriages – passed the upper house. The bill also introduced better discrimination protections for intersex people.
Later this week, the upper house is expected to debate bills on adoption, altruistic surrogacy, and artificial reproductive technology for same-sex couples.
The reforms come after Labor premier Jay Weatherill delivered an apology to the LGBTI community last week for the state's historic discriminatory laws.
"There's a lot of harm and pain caused by this discrimination," he told BuzzFeed News prior to the apology. "We thought it was an appropriate time to apologise to people who have been affected by it."
But as South Australian transgender people and advocates celebrated, transgender Victorians watched on with frustration as a similar bill failed 19-19.
Like the SA bill, the Victorian bill would have removed the surgery requirement and the forced divorce provision for transgender people. Instead, transgender people would have to provide a statutory declaration to change their sex.
The Labor government, the Greens and the Sex Party voted in favour, while the Coalition and other crossbenchers opposed the bill.
Liberal MLC Gordon Rich-Phillips told the upper house the reform, which the Andrews Labor government took to the last election, does not "accord with the expectations and values of the Victorian community".
"This is a step too far," he said. "We believe allowing people to change their sex every 12 months on a self-selecting basis ... is inappropriate."
Liberal MLC Bernie Finn went further, expressing significant derision towards the provisions in the bill and towards transgender people in general.
"This legislation is nonsense. It is nutbag central," he said.
Minister for agriculture Jaala Pulford hit back at the bill's critics.
"They think people will start filling out their gender as 'Jedi'," she said. "It is an absurdity and it is completely offensive. Completely offensive."
Transgender Victorians and advocates are deeply disappointed by the bill's failure.

Federal Greens senator for Victoria Janet Rice is married to a transgender woman. If her wife, Penny, wanted to change the sex on her birth certificate, which currently reads "male", the couple, who have two sons, would have to divorce.
"Penny's birth certificate will stay sitting in her bottom drawer for a bit longer!" Rice told BuzzFeed News.
Rice added that opposition to the bill seemed to be rooted in a lack of acceptance of transgender people.
"It only affects trans people, and it is important to give trans people the same rights of others," she said. "It underlines for me that there's some really nasty politics against trans people going on. I really hope that's not the case, I hope there's some other reason."
Grey McGowan, a 21-year-old transgender Victorian, told BuzzFeed News the failure of the bill sent a clear message that the parliament did not trust transgender people.
"We don't trust you to understand your own identity. We think you are a criminal. We don't believe it is real that you are trans ... that is what they are saying," he told BuzzFeed News.
McGowan, who has a proof of age card with the incorrect sex on it, said it is infuriating that "people trust that card over what I say".
"People will listen to that card, to the government, to other organisations," he said. "They trust it more than they trust me, on my own identity."