Labor To Introduce Marriage Equality Bill With The Slimmest Chances Of Passing
The plebiscite is already being planned.
Labor will introduce a bill for marriage equality into the new parliament, shadow attorney general Mark Dreyfus says, but the chance of it ever coming to a vote is extraordinarily slim.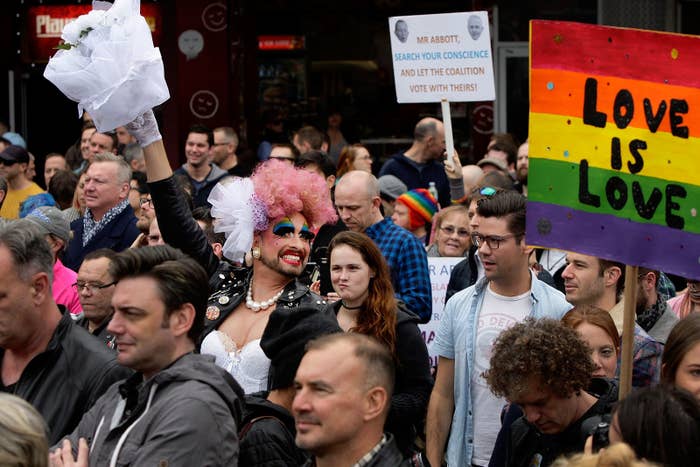 In an opinion piece for Guardian Australia, Dreyfus wrote "Labor will put forward a private members bill in the first weeks of the 45th parliament to change the marriage act and make same-sex marriage legal in Australia, because we believe the parliament is where this decision should be made."

However, the move is likely to constitute little more than a gesture as the government presses on with plans to hold a national plebiscite on marriage.

Attorney general George Brandis is expected to present a proposal for the plebiscite to Cabinet next week.


A BuzzFeed News analysis found the new parliament has a clear majority in favour of same-sex marriage for the first time. However, prime minister Malcolm Turnbull would have to allow his MPs a conscience vote for Labor's bill to pass.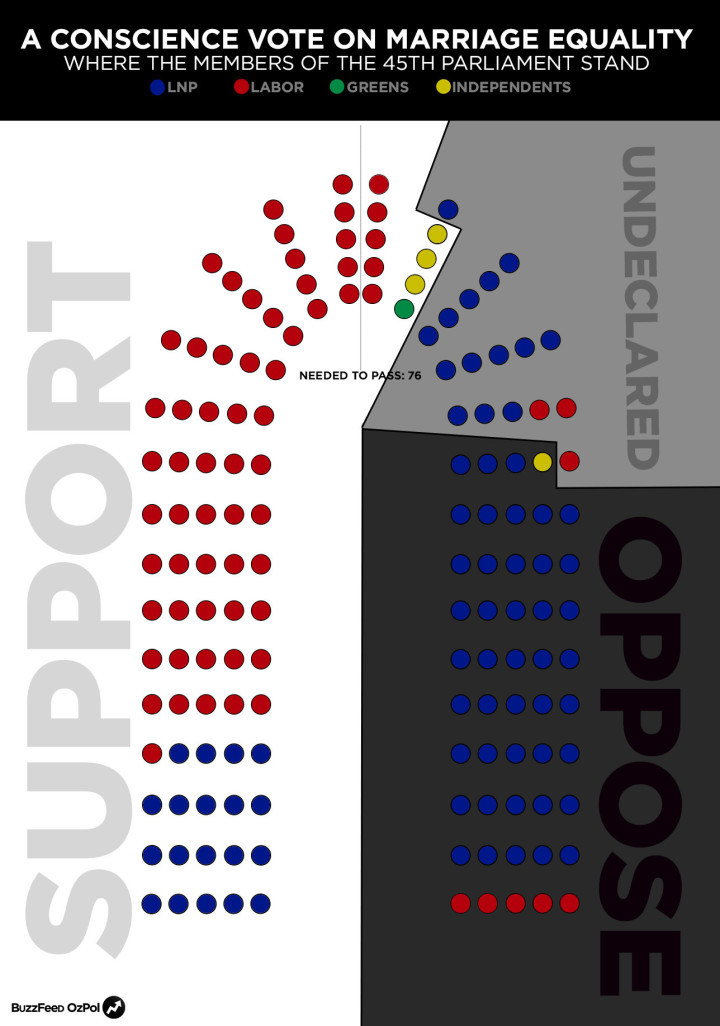 Of the 84 MPs who support a change to the Marriage Act, 65 are Labor and crossbenchers, and 19 are Coalition MPs – many of whom are on the frontbench.
While Coalition backbenchers are free to cross the floor on any bill without ramifications, Coalition frontbenchers face losing their position in the ministry. Even if some backbenchers crossed the floor, the numbers would not be there for a bill to pass.
The exact makeup of the senate is yet to be finalised, and it is unknown how a marriage equality bill would fare without a conscience vote for Coalition senators. However, it is likely that the numbers will be closer than in the house of representatives.

A Greens spokesperson told BuzzFeed News the party would likely support the bill, given it was procedurally fine.
In the 44th parliament, a number of marriage equality bills were introduced that never came to a vote.
The last time the house of representatives voted on the issue was in 2012.