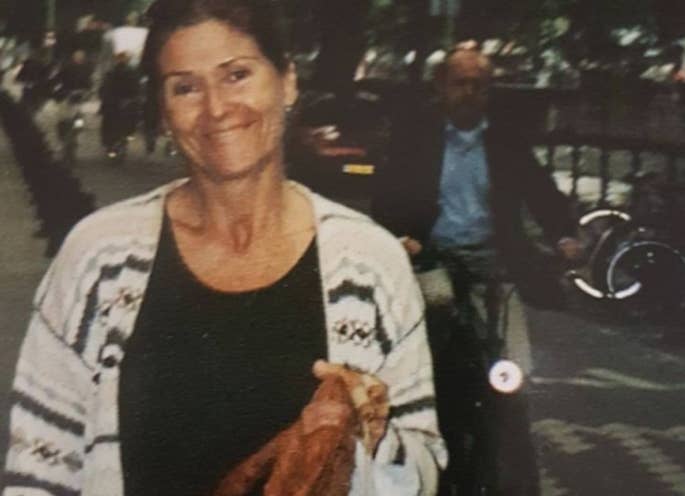 A grieving daughter says she lost her entire family "in one way or another" when her father killed her mother in front of her sister in a horrific shooting in 2016.
Keith Owen Goodbun, 62, pleaded guilty last year to the murder of his estranged wife Molly Goodbun. He shot her multiple times in front of their daughter Bionca at the former family home in Maitland in the lower Hunter Valley, north of Sydney.

At a sentencing hearing on Friday morning, daughter Rachel Goodbun remembered her mother as a "warm, caring" woman whose husband was the thing "she loved most in the world".
"My mum did not pass away peacefully," she said in a statement read out by Molly Goodbun's friend Rosienne Johnson. "She was murdered.
"I don't know how much she was aware of in her last moments. That is still one thing I struggle the most about with her death, physical pain aside. Did she know she was dying? Did she understand that the person she had spent a lifetime loving wanted to see her dead?

"Death and grieving are a natural part of life and I imagine that if she had died from cancer or a car accident I could have told myself it was just one of those unavoidable things that happen to people.

"There was nothing natural about my mum's death. And for all of us who loved her, there is nothing natural about the way we have been forced to grieve and tried to go on with our lives."
Rachel also spoke of the drastic effect witnessing the horrific crime had had on her sister Bionca, who suffers ongoing extreme emotional distress.
"I didn't just lose a loved one, I lost my whole family in one way or another. I haven't seen or spoken to my dad since my mother's death.
"I lost my sister too that night ... I can't imagine how she copes at all. The things she went through that night. The things she saw and felt. I don't know what to expect for her."
Johnson broke down and sobbed at points as she read out the statement in court.
Defence lawyer Richard Wilson said Keith Goodbun's mental health had deteriorated after his marriage split up in 2015 and he had brain damage due to alcohol abuse.
"This is a man who was mentally unstable, suffering from severe depression, being treated with all kinds of medications to try and deal with it, and this offence occurs at the culmination of a period of extreme deterioration," he said.

Molly Goodbun had taken out an AVO against Keith Goodbun after a domestic violence incident in mid-2016.
On October 6, the day of the murder, he burned down the caravan where he was living and drove 250km to the Maitland house where he killed Molly Goodbun.
Justice Helen Wilson remarked that this conduct appeared to have been "rationally prepared" rather than the act of somebody who was impaired, and the facts suggested committing the crime was an act of "vengeance" against his estranged wife.
"He's not a healthy, sane non-depressed person coming up with an evil plot," Richard Wilson said. "He's someone who is severely disturbed who has been deteriorating and who has been seeking help for it.
"His impairment does not justify his actions in any way. That's not my submission. But it does go a long way to explaining how this loving father and husband of 40 years could go on to commit this terrible crime.

"The offender managed to effectively end his world. He's destroyed his family. His wife is gone. His daughters quite understandably want nothing to do with him."
Richard Wilson said due to Goodbun's mentally disturbed state he was not someone to which general deterrence – the concept that prison terms are used to dissuade people in the community from committing crimes – should apply.
Justice Wilson said: "Something like one woman a week in Australia is killed by her partner. Is it not open to the court to conclude there is a very significant need here, in a planned and very violent execution of a woman protected by a court order, for general deterrence?"
Crown prosecutor Brian Costello told the court that while Goodbun may be remorseful for the consequences the murder inflicted on his wider family, he is not sufficiently remorseful for actually killing his former wife.
Costello also argued that Goodbun's mental state "may have contributed in some small way" to his actions, but not enough to lead to a significant reduction.
Goodbun will be sentenced on July 4.