Gillian Triggs Says It's Ironic That Conservatives Are Trying To Write Human Rights Into Law
"It's a very odd thing to do."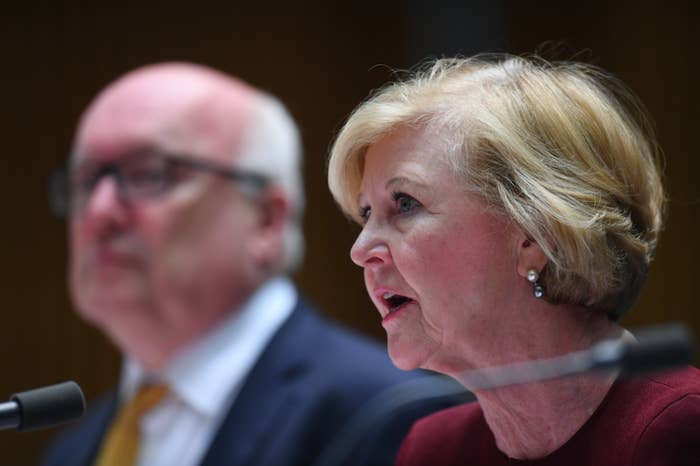 Former Australian Human Rights Commission president Gillian Triggs says it is "ironic" to see some conservative politicians advocating for international human rights law to be written into legislation as part of the same-sex marriage debate, after watching them argue against that very proposition for years.

Triggs, who clashed spectacularly with the government during her tenure over refugee policy and Section 18C of the Racial Discrimination Act, described the push as a "political compromise" designed to bring "no" voters into the tent — but added it was "probably on balance a good thing" that politicians had started considering the implementation of international law in Australia.
The government is divided over what provisions should be included in the bill for same-sex marriage currently being debated in the parliament.
Attorney-general George Brandis has proposed inserting some words from the International Covenant of Civil and Political Rights (ICCPR), which Australia has ratified, into the bill.
Brandis, a moderate Liberal and same-sex marriage supporter, said the words would make "no difference whatsoever" to the right of same-sex couples to marry, but would reassure "no" voters.
"I think it will do no harm to have a declaratory statement in the bill, based on the language of Article 18 of the ICCPR, to the effect that nothing in the bill can limit or take away from a person's right to manifest their religious faith by worship, practise, observance or teaching," he told ABC's Q&A on Monday night.
Article 18 of the ICCPR states that everyone shall have the right to freedom of thought, conscience and religion, and can only be limited by legislation to protect public safety, order, health or morals, or the fundamental rights and freedoms of others.
Conservative MPs who campaigned heavily for "no", including Andrew Hastie, Eric Abetz, and Matthew Canavan have backed the Brandis proposal as a starting point, but say it should go beyond a statement to a legal protection.

Triggs told BuzzFeed News her initial reaction to the sudden interest in adopting international human rights law was "astonishment".
"It's an ironic suggestion, because the conservatives are the very people who for years argued against ever getting domestic legislative implementation of the ICCPR," she said.
"We have been exceptional among Western democracies in not giving greater implementation to the ICCPR. There has been a deep resistance to this for a number of reasons, and it's very, very interesting that in this extraordinary context of marriage equality, the conservatives see, or believe, that religious freedoms are not adequately protected in Australia.
"My emotional reaction is to say that at least in this very singular example we are reaching out to international treaties of which we are party."

Australia sits apart from most similar liberal democracies in its refusal to implement a bill or charter of rights.

The Coalition has been historically reluctant for such a move, while several religious groups who heavily backed the "no" campaign, including the Australian Christian Lobby, the Anglican Diocese of Sydney and the Catholic Archdiocese of Sydney, have also previously opposed an Australian charter of rights.
Triggs said the suggestion to incorporate Article 18 is made stranger still by the fact there are often complaints about religious freedom being protected via piecemeal exemptions in Australia.
"If we were to give a wider legislative implementation of Article 18 of the ICCPR, then that would be a much more positive statement to protect religious freedom than anything else," she said.

"It's a very odd thing to do, to take a single provision from an international covenant to which we're a party, and insert it into one very singular piece of legislation.
"But it's possible to do it, and it may meet the political need to bring the conservative vote into acceptance of the proposed legislation. If that's the price to pay, then that's the way a democracy works sometimes — achieving an outcome, but doing so in a way that's not really a pure legal approach.
"It's a bit of a bandaid, but if it works politically, well, you've achieved something."
The Coalition has not uniformly lined up behind the Article 18 proposal. Prominent "yes" supporter and former Human Rights Commissioner Tim Wilson told the ABC on Sunday that it is akin to moving towards a charter of rights, which he opposes.
"It's an oddity to see many people who identify as conservative or socially conservative who have traditionally opposed a bill of rights or charter of rights now prosecuting this cause," said Wilson.
Fellow "yes" voter and author of the bill under discussion in the parliament, senator Dean Smith, has also stated his opposition.
Immigration minister Peter Dutton, who voted "no", has suggested the discussion on religious protections be pushed back to next year rather than conducted as part of the marriage bill.
Over the weekend, opposition leader in the Senate, Penny Wong, said Labor had previously supported measured to incorporate human rights standards into Australian law, but warned against the proposal being wielded to confuse people and delay reform.
"Parliament must legislate for marriage equality in the next sitting period and not be diverted by complex debates 'to placate conservative MPs' opposed to same-sex marriage," she said.

Greens senator Janet Rice said on Q&A that the proposal was not necessary, adding that the Greens would like to see a comprehensive charter of rights, and religious freedom ought to be discussed in that context.

Brandis has also proposed an amendment that would extend an exemption to civil celebrants, while others in the Coalition — notably liberty advocate James Paterson — have argued businesses such as bakers and florists should be allowed to reject gay couples seeking wedding services.
Triggs believes such exemptions would be a "retrograde step".
"There is no basis whatsoever for a wider exclusion of any person in Australia who happens to say, well, I have a conscientious objection to providing flowers to a gay man for his wedding," she said.
"It just makes no sense whatsoever. At the moment it is illegal to discriminate on these grounds."

Prime minister Malcolm Turnbull announced on Wednesday that ahead of the debate of any amendments to the Smith bill on religious freedom, he had also appointed former attorney-general Philip Ruddock — who as attorney-general in 2004 introduced the legislation banning same-sex marriage in Australia — to review whether Australian law adequately protects the human right to religious freedom.
Ruddock will have the help of an expert panel including the new Australian Human Rights Commission president Rosalind Croucher, former Federal Court judge Annabelle Bennett, and human rights lawyer and Jesuit priest father Frank Brennan.
Ruddock has been asked to report back to the government by the end of March next year, but the government has remained committed to getting marriage equality legislation passed through the parliament by Christmas.