On Wednesday, Australia will find out the result of the national survey on same-sex marriage. Here's all the details you need to follow along.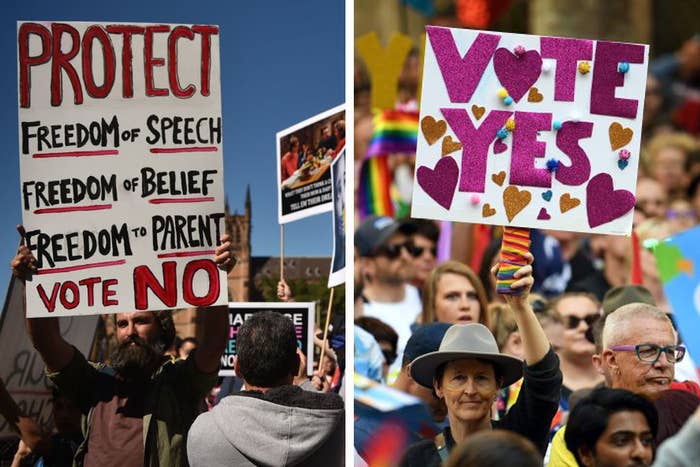 When and where is it?
The announcement will be at ABS House in the Canberra suburb of Belconnen. It will be at 10am AEDT, which means 9.30am in South Australia, 9am in Queensland, 8.30am in the Northern Territory, and an early 7am for Western Australia.
Who will announce the results?
The Australian Statistician David Kalisch and his deputy, Jonathon Palmer. Palmer has been in charge of administering the survey. The pair will deliver a statement, and shortly thereafter, the results of the survey will be posted online HERE.
What information will we get?
We will find out how many people voted "yes", "no", and "response not clear" (aka an informal vote) by: national, state/territory, and federal electorate.

We will also get participation figures by age and gender for national, state/territory, and federal electorate. (However, we won't get a yes/no/informal count by age and gender.)
How can I watch it?
The ABS press conference will be broadcast live on major television networks.
Will there be public events to watch the results/celebrate?
The "yes" campaign has several events planned both for watching the actual result, and celebrating the end of the survey in cities and towns across Australia. You can see the list of events HERE.
There are also plans for street parties in some capital cities. A section of Canberra's Lonsdale Street will be closed for the occasion, a party will be held at the Victoria Trades Hall in Melbourne, and Sydney organisers yesterday won a battle with police in the Supreme Court to hold a party in the gay hub of Taylor Square.
The "no" campaign hasn't responded to questions from BuzzFeed News about results events. However, spokesperson Monica Doumit told Crikey they would not hold any official public events for the result, and instead have a small event for campaign staff and volunteers.
If it's a "yes" vote... does this mean same-sex marriage is legal now?
No, it doesn't. To quote deputy statistician Jonathon Palmer: "The outcome of a survey is the publication of survey results, which people then use in all manner of ways."
If it's a "yes" vote, the government has promised to allow its MPs a conscience vote on a private member's bill.
Presently, there is a fight shaping up between two bills. One is sponsored by Liberal senator Dean Smith and co-signed by lower house MPs Tim Wilson, Trent Zimmerman, Warren Entsch and Trevor Evans. It was made public in August, and has won the backing of Labor and The Equality Campaign as well as qualified support from the Greens and some other Liberal moderates.
The other is sponsored by Liberal senator James Paterson. Released just this week, the bill has received the support of former prime minister Tony Abbott, ministers Matthew Canavan and Michael Sukkar, some backbench conservatives and prominent figures in the "no" campaign. (Although Paterson is a "yes" voter, the other politicians behind the bill are hardline "no" voters.)
You can read more about the bills HERE. It is extremely likely that a bill would pass the parliament if Australia votes "yes", but it is not guaranteed. The prime minister has suggested it could be passed by Christmas, but the timeline is also not guaranteed.
If it's a "no" vote, the government will continue to block any legislation for same-sex marriage. Labor has pledged to legalise same-sex marriage within 100 days of coming to government regardless of the result of the survey, so in the event a "no" vote, it's likely there will be no progress on the issue until a Labor government is elected.
Can I challenge the result if I don't like it/think the process sucks/have some other issue?
The short answer is no. This is again partly because the result of a survey is publishing survey results, as opposed to the result of an election, plebiscite, or referendum. Palmer told a senate committee earlier this year that he was not aware of any legal mechanism by which someone could launch a challenge to the validity of ABS statistics.
Instead, he said, the statistics will be accompanied with a quality statement that includes feedback from observers who have been able to look at a sample of survey responses:
"If, for example, our quality statement said that the observers contested, if you like, or disagreed, with a very large proportion of the marks that they saw then people would be able to credibly run an argument that perhaps the statistics can't be used with confidence – particularly if there were a narrow margin in the results. So you sort of enter the court of public opinion around the uses to which these statistics might reasonably be put."

So disgruntled people could draw on this quality statement to argue that the results should not be used in one way or another, but according to the ABS, they can't change what the statistics say.
CORRECTION: A previous version of this post misstated the location of the results event on Lonsdale Street. It is in Canberra, not Melbourne.