They were worried about not getting a seat.

For more than an hour before cardinal George Pell's sentencing began, people had congregated at the door of Courtroom 3.3 at the Victorian County Court building in Melbourne. When a court officer unlocked the door at 9.30am, the crowd surged.
"There's a spillover court," she said, as people poured with purpose into the courtroom. But of course, the earlybirds were here to be in the room. To see Pell.
He entered bang on 10am, leaning on his walking stick, and took a seat at the back of the court, flanked by security officers. He wore a black shirt and beige jacket, in a more crumpled state than usual. But it was his clerical collar – or more precisely the lack of it – that struck people.
Journalist Lucie Morris-Marr, who broke the news that Pell was under investigation by Victoria Police in February 2016 and who attended each day of the trial, said the sight of a collarless Pell shocked her.
"The first time in 50 years he's been seen in public without a clerical collar. I mean, what a humiliating moment for a man of the cloth who has devoted his life to the church," she said.
"He looked thin, he looked terrible. What a fall."
Seconds after Pell sat down, the man who would determine his fate, Chief Judge Peter Kidd, entered briskly. Heads turned to the front of the courtroom. A lone camera, set to broadcast the sentence to the world, was set up in the jury box, fixated on Kidd. It was not permitted to swivel.
All in all, it took 70 minutes. Kidd outlined in some detail the sexual abuse Pell inflicted on two 13-year-olds, known only as J and R, in 1996 and 1997 at St Patrick's Cathedral in Melbourne.
He said the then archbishop had abused his power, acting with "staggering arrogance" as he launched a "brazen and forceful" sexual attack on the choirboys, who sat on the lowest rung of the strict church hierarchy.
Kidd concluded with a message about sentencing in general. It is, he said, portrayed as uncomplicated, but in reality, is far from that.
"It is not a mathematical exercise," he said, telling Pell there were factors in his case that favoured a more lenient sentence, and others that favoured a harsher one.
"In your case this complexity is exemplified by the fact that on the one hand I must punish and denounce you for this appalling offending," he said.
"Yet, on the other hand, I am conscious of the heavy reality that I am about to sentence you, a man of advanced years, who has led an otherwise blameless life, to a significant period of imprisonment, which will account for a good portion of the balance of your life."
That heavy reality hung in the silent courtroom as Pell stood and was sentenced to six years in prison, three years and eight months of it to be served before the chance of parole.
His face remained emotionless as Kidd ran through the numbers. Then it was over.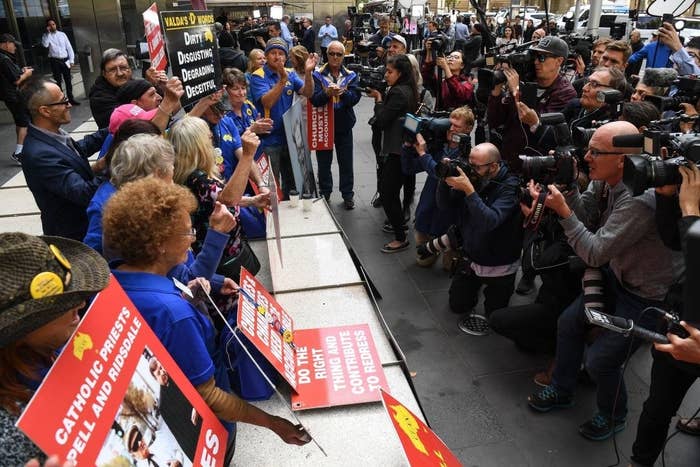 Leonie Sheedy is the head of CLAN, a network for people who were brought up in out of home care. She had risen at 4am on Wednesday, driving about 75km from Geelong to the Melbourne CBD to make sure she had a seat in court.

She sat in the back row deliberately so she had a clear view of Pell's reaction as he was sentenced.
"He showed no reaction," she said. "He was devoid of any reaction."
As Pell signed the sex offender registry, the entire court turned around to watch him.
"That [registration] lasts a lifetime. How wonderful was that to witness," Sheedy said. "It was wonderful to see how justice has prevailed."
Alando Chia, a Catholic Christian from Cameroon who is studying in Japan, came to Australia to witness the sentencing.
"I wanted to be in court when that sentence was read out so I could look at the cardinal to see his expression, you know?" he told BuzzFeed News. "To see the look in his eyes. To feel the atmosphere. And to judge for myself, somehow, unscientifically, if this cardinal is capable of despicable crimes."
Chia said he is confounded by the verdict. He has doubts based on his experience of church processes, but freely admits he did not hear all the evidence and said he feels he can't make an informed decision.
"Did the archbishop commit such an act? Maybe, maybe not. Did he commit it in that sacristy? I have my doubts. But we must respect the verdict of the court. He was convicted by a jury of his peers who went through the evidence and unanimously agreed that he is guilty of what he was accused of, so we must not impugn the reputation of the jury of the court."
Pressed on whether he believes Pell has been falsely convicted, Chia said he is waiting for the appeal.
Outside, journalists and onlookers waited at the revolving door of the County Court building for Pell's barrister Robert Richter.

Emotions were running high. An argument broke out between a Pell supporter and a member of CLAN, over whether Pell came to Australia to face the charges of his own free will. It quickly escalated, fingers jabbing back and forth as barbs flew. "You are full of nonsense"; "You're saying the kids are lying, are you?"; "You're low. Look at you, grinning with stupidity".
As Richter emerged and walked from the court building, encircled by police, he faced screams of "Dirty money!" and "How does it feel to defend a pedophile?"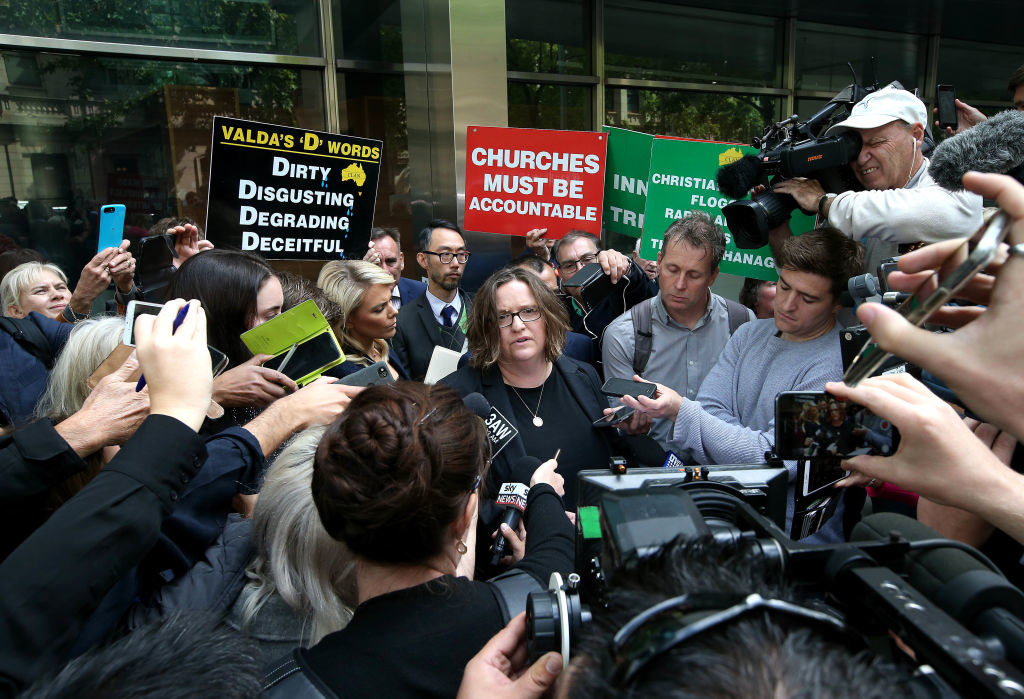 For J, one of the boys abused by Pell, the day did not bring much comfort.
In a statement read outside court by his lawyer Vivian Waller, the man, now aged in his thirties, said: "It is hard for me to allow myself to feel the gravity of this moment.

"It is hard for me, for the time being, to take comfort in this outcome. I appreciate that the court has acknowledged what was inflicted upon me as a child. However, there is no rest for me. Everything is overshadowed by the forthcoming appeal."
Regardless of what that appeal finds, J said, a few facts will always remain: he took the stand for several days, he was cross-examined, and a jury unanimously believed him.
He noted that Pell did not give evidence.
"I took the difficult step of reporting to police about a high-profile person and I stood up to give my evidence," J said. "I have played my part as best I can."