Last year on November 20, the Transgender Day of Remembrance, Shinta Ratri and her students set up a charity stall offering free hair cuts and selling cheap rice to the people of Yogyakarta, Indonesia.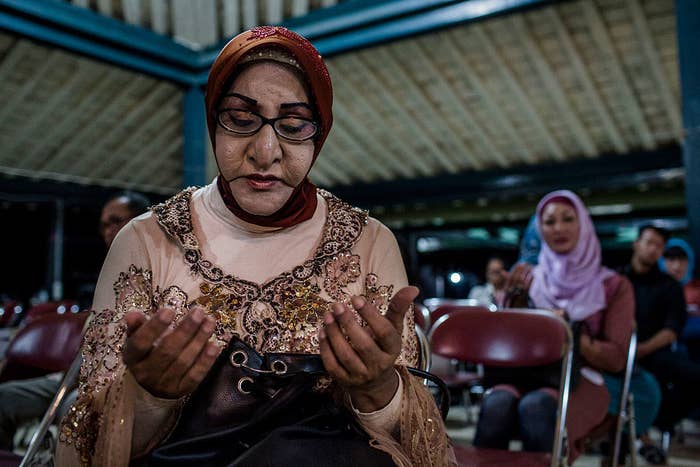 Ibu Shinta, as she is known – Ibu is the Indonesian equivalent of ma'am, or lady – runs Al Fatah, an Islamic boarding school for Indonesian transgender women known as waria.
At the school, waria, who are often excluded from mainstream places of Islamic worship, come together to pray, and grapple with how their identity fits into Islam.
"We study Islam, and pray together, and share our lives," Shinta told BuzzFeed News. "We do not choose to be transgender people, this is given by God."
The Yogyakarta community is used to the school, which runs community activities such as the free haircuts. "They accept us," Shinta said.
But the show of visibility came at the end of a difficult year in which Al Fatah was forced to close its doors from February to June after threats from the Islamic Jihadist Front.
Starting in January 2016, a series of derogatory comments from government officials unleashed an unprecedented wave of violence and hate against LGBT Indonesians.
Violent acts were committed with impunity; demonstrations were shut down by Islamic fundamentalists; and LGBT organisations were forced to moved premises out of fear.
"We don't have time to breathe," an Indonesian activist told BuzzFeed News at the time.

Shinta and Al Fatah were casualties.

"At that moment, all of Indonesian society had hate issues with LGBT people," she said.
Now, the furore has subsided and the daily attacks in the media halted. The national attention has been averted elsewhere. But there are lingering ramifications.
"Life is more difficult for LGBT people," one Indonesian man, who lives in Jakarta and asked only to be identified as TI, told BuzzFeed News.
"Many LGBT people are living in constant fear, thinking of what could happen next. For many others, this is the reason why they should conceal their identity."
The government's silence in the face of attacks, or even its participation in them, lent legitimacy to anti-LGBT sentiment sweeping the country, TI said.
"[LGBT people] saw the state, instead of protecting their rights, become sources of hate and discrimination through statements made by public officials."
In January, the Research, Technology, and Higher Education Minister, Muhammad Nasir, said LGBT groups should be barred from university campuses: "There are
standards of values and morals to uphold. A university is a moral safeguard."
He later backtracked on social media, but the comments had already spread, and other senior officials chimed in.
Social Affairs Minister Khofifah Indar Parawansa said LGBT groups were "converting" poor middle school kids; Defense Minister Ryamizard Ryacudu used the analogy of war to say LGBT people were a threat; and the Administrative and Bureaucratic Reform Minister Yuddy Chrisnandi said it was "inappropriate" for civil servants to be gay: "Having more than one wife for a man is still normal…but LGBT is another issue."
"It opened the eyes of more LGBT people that they are living in a homophobic society and it has become worse," TI said.

Dede Oetomo, the founder of Indonesia's first LGBT rights group Gaya Nusantara, told BuzzFeed News that LGBT activism in Indonesia was largely underground.
"Last year at this time, every day, there was an attack, a verbal attack from this politician or this cleric, and that has actually calmed down," he said.
"But for activists, when we organise an event, it has to be clandestine. Usually what people do is they announce there is going to be a film screening or this or that, but the venue is not mentioned.
"There's usually a WhatsApp number or something that people can check, and people are screened. Of course it means that fewer people know about these things."
Event screening is not new for LGBT Indonesians, but it has now become standard practice. Venue bookings are another source of worry – LGBT groups try not to give their names to hotels and function rooms.
In Aceh, where same-sex intimacy is criminalised and punishable by 100 public lashings, the situation is even worse.
Tama, a transgender man in Yogyakarta, is part of People Like Us Satu Hati (PLUSH), an organisation that keeps a record of violent incidents against LGBT people.

Prior to the 2016 backlash PLUSH recorded an average of one a month. The number now sits between three and five.
"We know threats will come again and again," Tama told BuzzFeed News. "We want to make sure that people know what to do when they get threatened or attacked. Strengthening the community is our main strategy."
To this end, PLUSH distributes information to the community on what to do if they are threatened or attacked. The flyers outline basic rights and provide numbers for PLUSH and a legal aid service.
However, at a time when it is critical to increase understanding about what being LGBT actually means, PLUSH is seeing some mainstream human rights groups back away from the community, fearing retribution from fundamentalists and the loss of government funds.
"Before the crackdown we have a lot of networks in Yogyakarta working for human rights, LGBT rights," Tama said. "Now more than half of them do not invite us any more."
TI called for more allies to speak up about LGBT rights – particularly those in religious institutions and the media.

"Media played a significant role in spreading the hate to LGBT people in last year's backlash," he said.

One opportunity for LGBT people to gather is on Car Free Day – a Sunday morning tradition where major streets close to all motor vehicles.
"You just say, meet on Car Free Day, near this building, wearing your rainbow flag, sometimes even placards and stuff," Oetomo said. "But it has to be really impromptu."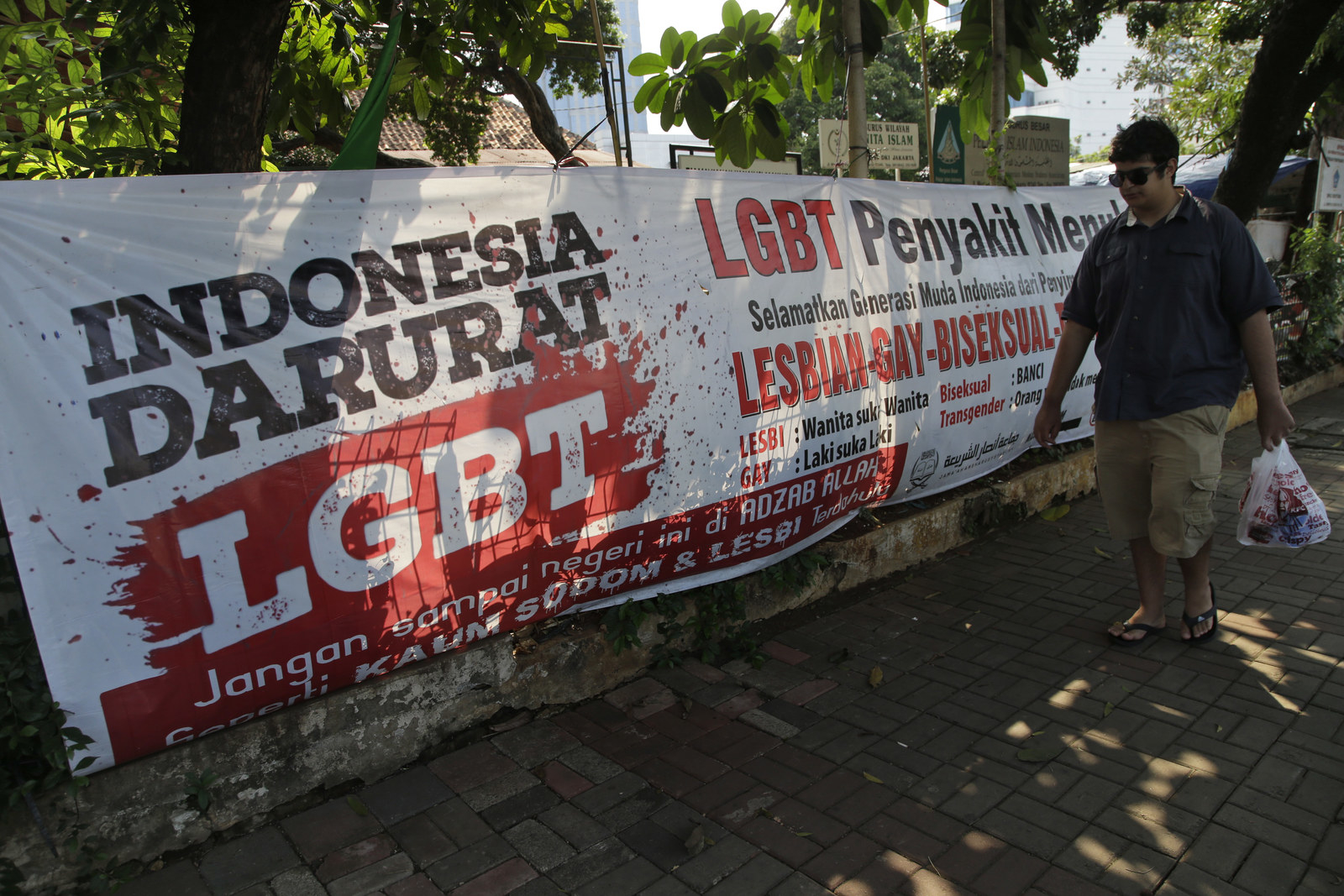 There is another threat "hanging over our heads right now", says Oetomo: criminalisation.

Two separate processes could see gay sex criminalised for the first time in Indonesia. One is a proposal to the Constitutional Court from the anti-gay Family Love Alliance, and the other, the drafting of Indonesia's new Criminal Code in the parliament.
Yuli Rustinawati, from the LGBT group Arus Pelangi, told BuzzFeed News she is concerned the court's decision will be a green light for violence against LGBT people.
"The proposal is to criminalise consensual sex [outside of marriage], including LGBT sex," she said.
"If the judges say yes to the proposal, we predict there will be more violence, because the intolerant groups will use the decision of the court."
A Human Rights Watch report from August 2016 documented numerous instances of police interactions with LGBT persecution and found, at best, a blasé, blind-eye, attitude, and at worst, active cooperation.
When Shinta initially reported harassment from the Islamic Jihadist Front to the Yogyakarta police she was told: "Oh you can go home, the people who came this morning were just visiting you. You should treat them like a good Javanese person welcomes guests."
In one incident in Medan, activists reported a policeman standing and watching as a group of religious men harassed a lesbian couple at their home. "If you don't let us in the room, we will force our way in and rape you," the men reportedly said, as the officer stood by.
TI and Tama are fearful that a court decision would embolden this relationship between Islamic fundamentalists and the Indonesian police.
"It's totally obvious in Yogyakarta that the police and the fundamentalists are working together," Tama said.
"When society hears that the government is planning to criminalise us, society will really think we are criminals, and it's OK to do bad things to criminals."
"It's not the criminalisation we are afraid of... it's the influence of hate."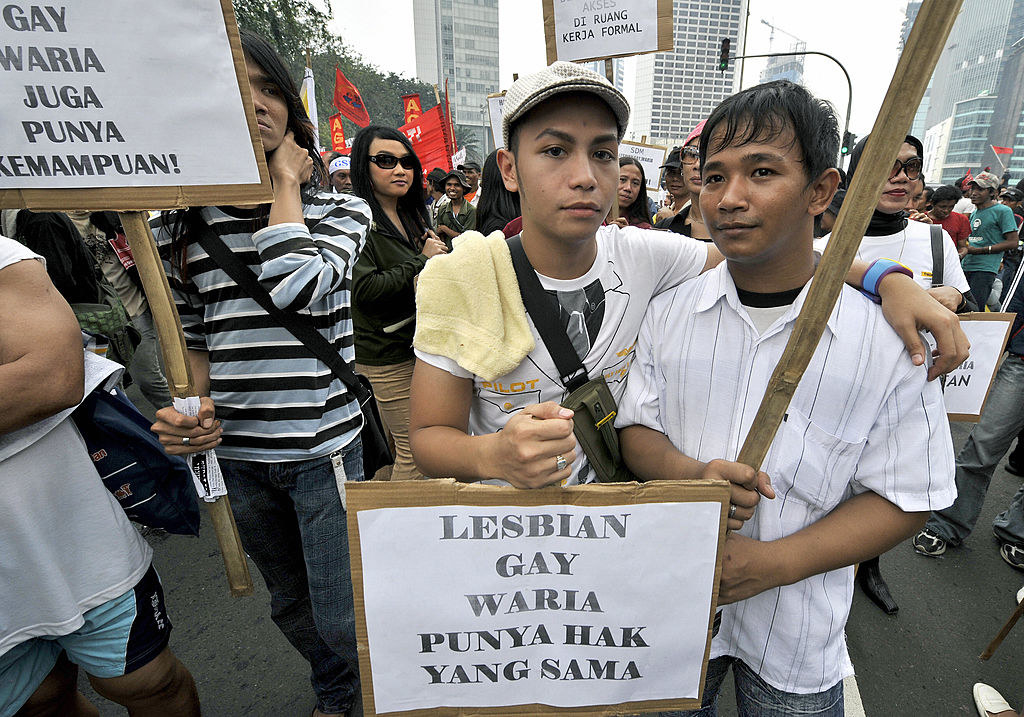 All of it – the backlash, the government silence, the threat of criminalisation – has set back the Indonesian LGBT rights movement.
According to TI there was one shard of light in the darkness of 2016: the galvanising effect of widespread discrimination.
"More LGBT people became aware that unless they fight for their rights, the situation will not change," he said. "I see more new people, particularly young ones, become more interested in joining the LGBT causes, or at least take part in events promoting diversity."
Oetomo said activists now have a more longterm view of LGBT rights.
"[We] used to think that with government democratisation, things could move ahead. Now, people think maybe ten years from now we can start again," he said.
"If you ask me what's going to happen in the next 20 years, we don't know. It's going to take a lot more work at the grassroots level, and education, and work with politicians eventually. But it's going to be a long haul."

Shinta hopes education will eventually lead to the peaceful co-existence of LGBT people and those of faith.

"I dream that in the future all Indonesians will accept LGBT people, that the people are well [educated] about gender and sexuality," she told BuzzFeed News. "That they have their religion, but do not leave their humanity."