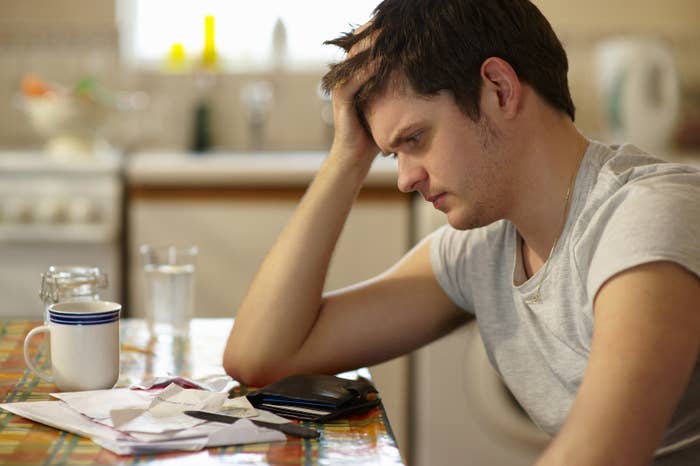 Superannuation! The vast majority of us have it — and a lot of us, especially young people, also have it sitting in multiple accounts.
If you, like me, did not pay attention to whatever super fund was on the piece of paper you had to sign before you started working at a café/shop/call centre in your youth, you, also like me, probably ended up with multiple super accounts with fairly small amounts of money in each one.

But now, the government has decided it's had enough of all these inactive super accounts that everyone has floating around in the ether.
In the 2018 budget, the government announced a plan to "reunite Australians with lost super".
Here's how it'll work: The Australian Taxation Office (ATO) will effectively take control of the money in your inactive (no contributions for 13 months) super accounts.
All inactive accounts with balances below $6,000 will be transferred straight to the ATO. Then they'll use data-matching to try and put the money from those inactive accounts into the person's active account.
Right now, you can either manually contact all your super funds to roll the money into one fund, or you can use the MyGov website to consolidate all your super funds into one.
But from July 1, 2019, you simply won't be able to do this. If you have less than $6,000 in your account and you don't use it anymore, it goes to the ATO and (hopefully) lands in your active account.
If the ATO can't data-match the money – for instance, if it doesn't have enough details, or if someone simply stopped working and doesn't have an active account – the ATO holds onto the money and returns it when it can, according to a Treasury official.
The rationale for this is to avoid paying fees and insurance premiums on multiple accounts and ultimately depleting your super … because the whole point of super is to fund your retirement.
The budget papers use the example of Max, a guy who for some reason I don't understand doesn't start working until he is 25. By the age of 31 he has had four jobs – and is deeply disorganised with his super. Oh Max!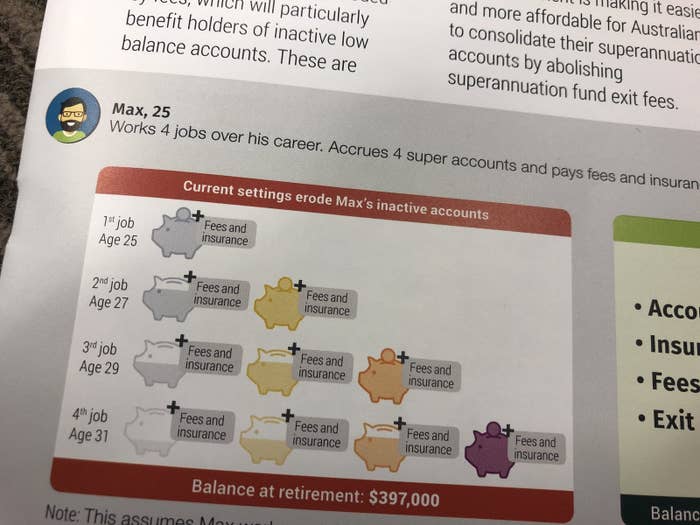 So Max is paying fees and insurance premiums on four different accounts – even though he's only using one.

According to the government's calculations, Max's retirement super balance would have been $397,000 if he had kept all four accounts going, with ongoing fees and insurance payments. But with the government's changes – effectively forcing Max into a single account – it would be $454,000.
The government reckons three million people will get lost super back out of this. That's three million of you with inactive super accounts!
According to a Treasury official, more than 40% of people have more than one super account. The really sloppy people (me before I consolidated my super) are a smaller bunch — 1.7% of people have five or more super accounts.
People with heaps of inactive super accounts are likely to be young, or not earning much, or working seasonally (or all of the above).
Women also tend to have much less super for a variety of reasons, including lower incomes and time spent away from work having kids.
The ATO currently holds about $3.7 billion in unclaimed super, but it can't return it unless people approach it and say, "Hey, I think you have my super", which, let's be honest, almost no-one does.
Other super changes in the budget include banning exit fees when you change funds, introducing a 3% fee cap on low balance accounts, and preventing super funds from automatically charging young people for life insurance policies they may not need.

The budget papers also reveal how much money the government gives away in the form of various concessions related to super.
The government projected that tax concessions on super earnings would cost Australians $21 billion last year — but the figure was actually $23 billion.