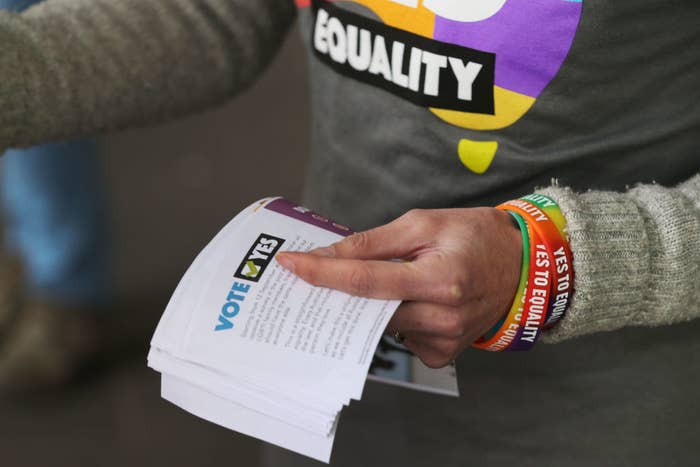 A national survey of thousands of LGBTI people across Australia has backed up the widespread reports of anguish, worry, and discrimination experienced during the same-sex marriage vote, with four in five respondents saying they had been adversely affected by the process.

The survey, which was conducted prior to the result announcement, also found that over half of respondents thought the process wasn't worthwhile even if the "yes" vote was successful, with 25% saying "definitely not" and 30% "probably not". Two thirds reported the survey was worse than they thought it would be.

The figures come as Australia takes in the overwhelming 61.6% vote in favour of same-sex marriage, announced on Wednesday by the Australian Bureau of Statistics (ABS). The announcement unleashed a wave of celebrations across the country, and prompted the introduction of a bill to the parliament, that prime minister Malcolm Turnbull has suggested will pass before Christmas.
But the euphoria has also been met with LGBTI people pointing out how harmful the national vote on their rights has been.
The self-selecting survey canvassed 3,300 LGBTI people across Australia from November 8-15. It was auspiced by advocacy groups PFLAG and just.equal, and designed by social scientist Dr Sharon Dane, who has previously published a study on the impacts of the Irish marriage referendum on the LGBTI community.
"The experience in Australia very much mirrors [Ireland]," she told BuzzFeed News. "The big issue is when you find out people who are close to you are not supportive. Even those people who felt they were fairly hardy weren't prepared for how it was going to impact them when people started verbalising their opposition."
Dane added that the closing of the survey one hour prior to the result was deliberate.

"When we did the research in Ireland, it was a full year after the 'yes'," she said. "When you get a 'yes', there's a temporary euphoria ... if you do a survey at that time, it'll bias in the other direction."
An Essential poll from November 14 found 45% of people thought the non-binding same-sex marriage survey was a bad process that should not be repeated, 27% a good process that should be used again, and 19% a good process that should, nevertheless, not be repeated.

Several mental health groups and charities have also raised concerns over the wellbeing of the LGBTI community over the course of the marriage vote.
Mental health service ReachOut had a 40% increase in requests from young LGBTI people asking for help, while Jo Ball, the CEO of Switchboard Victoria, told BuzzFeed News the LGBTI support service had experienced an increase of up to 35% in requests for support during the survey.
In response, Greens leader Richard Di Natale has called for the $20 million saved by the ABS going under its $122 million budget to be spent on mental health and counselling services.
Brian Greig, a former senator and just.equal spokesperson, echoed the call, saying the survey "shows that despite a strong 'yes' vote the postal survey caused widespread harm and that nothing like this should be attempted again."

Labor senator Louise Pratt said at a press conference on Thursday that "whilst there was much joy and happiness yesterday, the messages of the past few months including the stigma and discrimination that we have endured have really taken its toll."
"Now I have been an LGBTI activist for 22 years and a politician for more than 10 years. So I have got a pretty thick skin," she said.
"But the debates of the past two months hurt me and hurt my family. I want to say to young people out there, as we all put ourselves back together after the last few months, I want to send a message to you to say you are okay and thank you for enduring this, thank you for staying strong."
The just.equal and PFLAG survey also asked LGBTI people for their view on various examples of religious exemptions that are likely to be debated in the parliament.
63% of respondents opposed civil celebrants having the right to refuse to marry same-sex couples for religious reasons, and 87% opposed commercial businesses "connected in any way to a religion" being able to refuse wedding services
It is expected people from all sides of politics will attempt to make several amendments to the exemptions contained in a bill penned by Liberal senator Dean Smith as it travels through the Senate later this month.
The Smith bill provides a three-month grandfather clause for current civil celebrants with religious beliefs about marriage to move to a religious celebrant category, which would have the same broad exemption as religious ministers to refuse to marry any couple. Ministers of non-recognised religious denominations would also join this category. It also exempts religious bodies – such as churches and religious schools – from providing services to any wedding that goes against its religious beliefs.
Attorney general George Brandis has flagged he will move amendments to extend a conscientious objection to civil celebrants and add a clause stating that the bill does not make it unlawful to express a religious view on marriage.

Greig said any further religious exemptions added to the Smith bill would "be a definite deal breaker".
"Other countries, including Britain, Canada, New Zealand and Ireland, did not attached spurious religious protections to marriage equality and neither should Australia," he said.
If you or someone you know needs help, you can contact Lifeline on 13 11 14 or Beyond Blue on 1300 22 4636.