Here's The "Safe Schools" Of The 1970s
The revolutionary Australian book Young, Gay, and Proud made waves in the late '70s, and the coverage should look awfully familiar.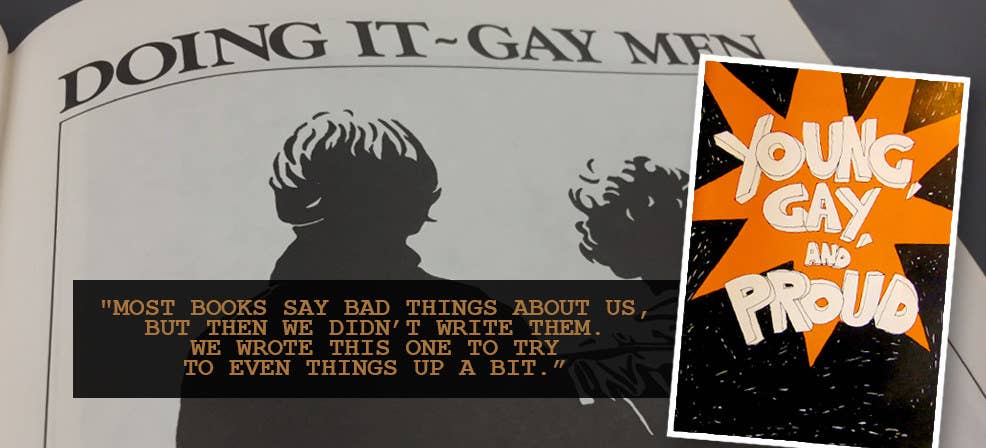 In 2016, some Australians spent a great deal of time working to destroy a program called the Safe Schools Coalition.
The anti-bullying program – aimed at helping school students who are lesbian, gay, bisexual, transgender, and intersex – was labelled "child indoctrination" and "social engineering". Safe Schools staff were accused in the federal parliament of child grooming. Transgender children were denigrated in the national media. There was an uptick in young LGBTI people seeking help from community and mental health organisations.
The attacks were targeted and relentless. But what many of those affected did not realise is that it had all happened before.
"They call us queers; the women lezzos and the men poofters. They try to insult us with these words, but we're not easily put down. Most books say bad things about us, but then we didn't write them. We wrote this one to try to even things up a bit."
In 1977, six gay men and one lesbian in Melbourne banded together with a common goal: to "even things up a bit" for gay youth.
The seven were all members of the Melbourne Gay Teachers Group, founded in 1975. At the time, sex between men was illegal in all Australian jurisdictions except for South Australia. The first Mardi Gras parade in Sydney wasn't going to happen for three years, and the gay liberation movement – while slowly bleeding into Australia after New York City's Stonewall riots in 1969 – was yet to reach full swing.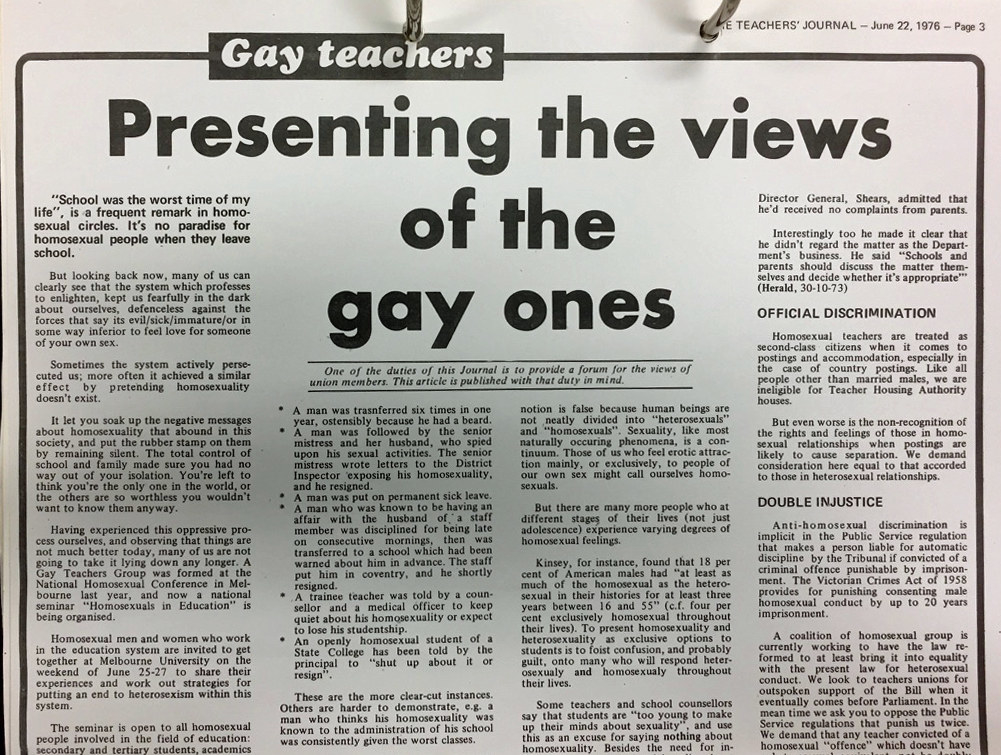 The mere founding of Melbourne Gay Teachers ruffled feathers. The group published a manifesto in the Victorian Teachers Union Journal in June 1976 called "Presenting the views of the gay ones", which railed against discrimination towards homosexual teachers and suggested gay students needed support against "bullying and ostracism".
"Sometimes the system actively persecuted us; more often it achieved a similar effect by pretending homosexuality doesn't exist," part of this early manifesto read.
Unsurprisingly, it sparked a backlash.
Catholic Bishop B. D. Stewart released a statement saying "To mislead very young children in such a matter is an especially heinous act of aggression... It is fundamentally wrong to present homosexual acts as being essentially the same as heterosexual acts."

In 1977, the group set about to counter that narrative – or at least, how it was heard by gay youth. The aim was to write a book that they would have liked to read when they were first coming out: a companion of sorts, to soothe the anti-gay tones of late 1970s Australia.
After months of studious writing and re-writing, Young, Gay, and Proud was born.

One of the teachers involved, Gary Jaynes, now volunteers at the Australian Lesbian and Gay Archives. He told BuzzFeed News the group had struggled to find a name for the book until seeing a photograph of a young man at a protest, holding a sign brandishing the words "Young, Gay, and Proud". It was perfect.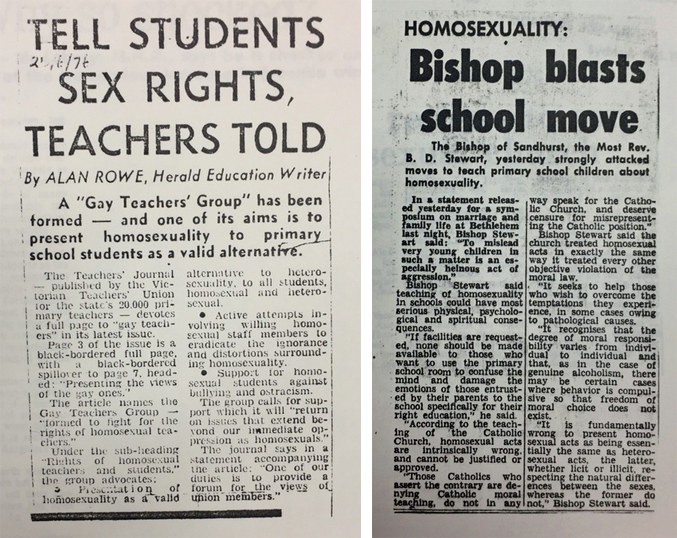 In a 20-year retrospective on the revolutionary book, published in 1998, Jaynes laid out the intentions of the seven authors:

"We wanted its underlying message to be that 'Gay is OK', we wanted it to speak to the reader as though the reader is gay; we wanted it to be written in straight forward language, and we wanted it to be practical, not just a political rave."
In short, they wanted to "even things up a bit". There was an unrelenting torrent of negativity around being gay, and the authors wanted to say to young people: hey, it's going to be alright.
"Some people will tell you that you're too young to know your mind. They might even say your gay feelings will go away as you get older," the introduction of Young, Gay, and Proud reads.
"That might be true for some people, but so what! For gay people they do not go away. This is just one of the ways that some ignorant people try to talk us out of being who we really are. No one would ever dream of telling heterosexual kids they might not be on the right track."
The rest of the book included coming out advice, letters from young people, an article on the specific challenges faced by lesbians, and a list of LGBTI organisations. But in one way, it was considerably more radical than the Safe Schools Coalition.
Conservatives aghast over the innocent references to same-sex attraction in Safe Schools in 2016 would be truly beside themselves reading Young, Gay, and Proud. Two sections, each titled "Doing It", spoke specifically to lesbians and gay men about how to have sex.
"First, fingers," began the advice to lesbians. "Using your fingers, try caressing the labia, running them around the whole area, inside the vagina, out again and up to the clitoris until sexual excitation or orgasm happens. You can do this to each other at the same time or take turns."

"Because mouths are soft and warm, having your penis sucked feels really good," read the "Doing It" section for gay men. "If you are doing the sucking, hold the other person's penis with one hand and put it gently into your mouth. It feels nice and smooth. Run your tongue up and down it towards the tip, and try and watch out your teeth don't get in the way too much… they're hard."
"Don't worry about swallowing the semen," the section continued. "It just tastes salty. And it's perfectly harmless."
Needless to say, the authors had anticipated pushback.
They engaged a friendly barrister to offer advice on whether the book would violate Victoria's obscenity laws, or be seen as promoting gay sex – then a crime. The legal outlook was grim. "Opposition to [Young, Gay, and Proud] is virtually a foregone conclusion, and the concomitant likelihood of prosecution is quite high," the lawyer told them.
As a weak safeguard against prosecution, the group elected to not put their names on the book. "Once it did get into the public domain, we did get people who put their names out defending it," he said. "But the book itself looked anonymous."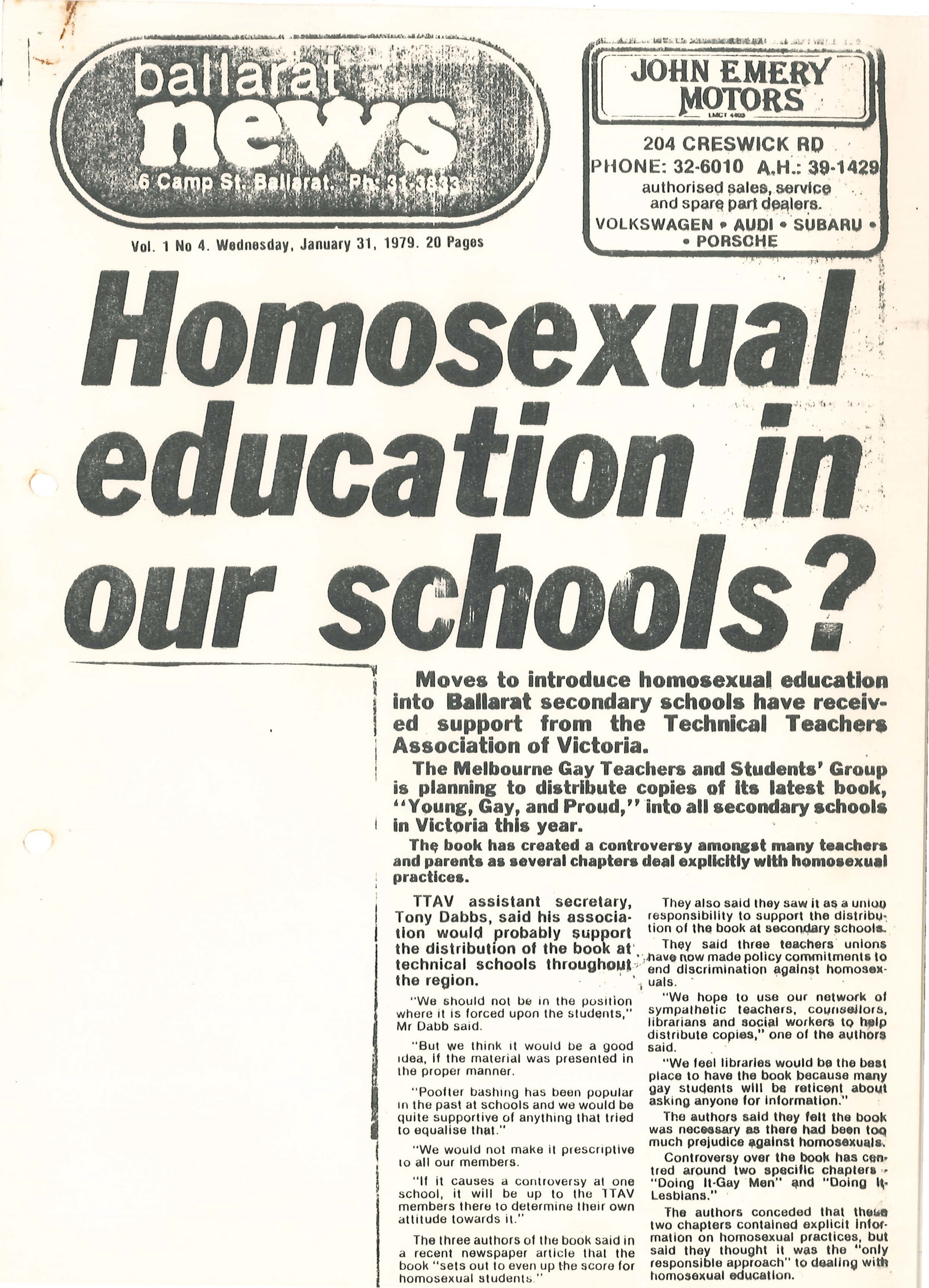 In a short article in Secret Histories of Queer Melbourne, Jaynes wrote "By late 1978 it appeared that our fears of organised opposition had been misplaced… but that perception changed abruptly in late January 1979."
On January 26, the Geelong News ran a front page story titled "Homosexual education in our schools". A near-identical story ran on the front page of the The Ballarat News on January 31.
In effect, the articles were akin to the front page of The Australian on February 10, 2016, which picked up a long-running campaign against Safe Schools from the far-right Australian Christian Lobby, and slapped an exclusive on it.
Prior to the Australian article, Safe Schools had been running uninterrupted for years. The All Of Us lesson guide the article homed in on had been released, and reported on, months earlier.
The Australian was quickly joined by other media outlets, politicians, and anti-LGBTI groups. The powerful coalition led an effective scare campaign, triggering a government review into Safe Schools.
Rewind back to January 1979. The pushback to Young, Gay, and Proud in Victoria was slower burning, but just as fierce. A week after The Geelong News front page, a follow up story documented the community backlash.

"There has not been one single call
or letter of support."
"Since the first story on the plans appeared in The News on January 26, the paper has received a non-stop flow of mail and phone calls protesting against the introduction of homosexual education," the article read. "There has not been one single call or letter of support."
Letters about the program were as numerous as they were scathing. The collection printed in the Geelong News on February 2, 1979, go some way in showing just how hostile the reaction was.
"It is not a difficult task to convince a pig that he loves to wallow in the filthy conditions in which he is frequently found," wrote Trevor Noller, of Norlane.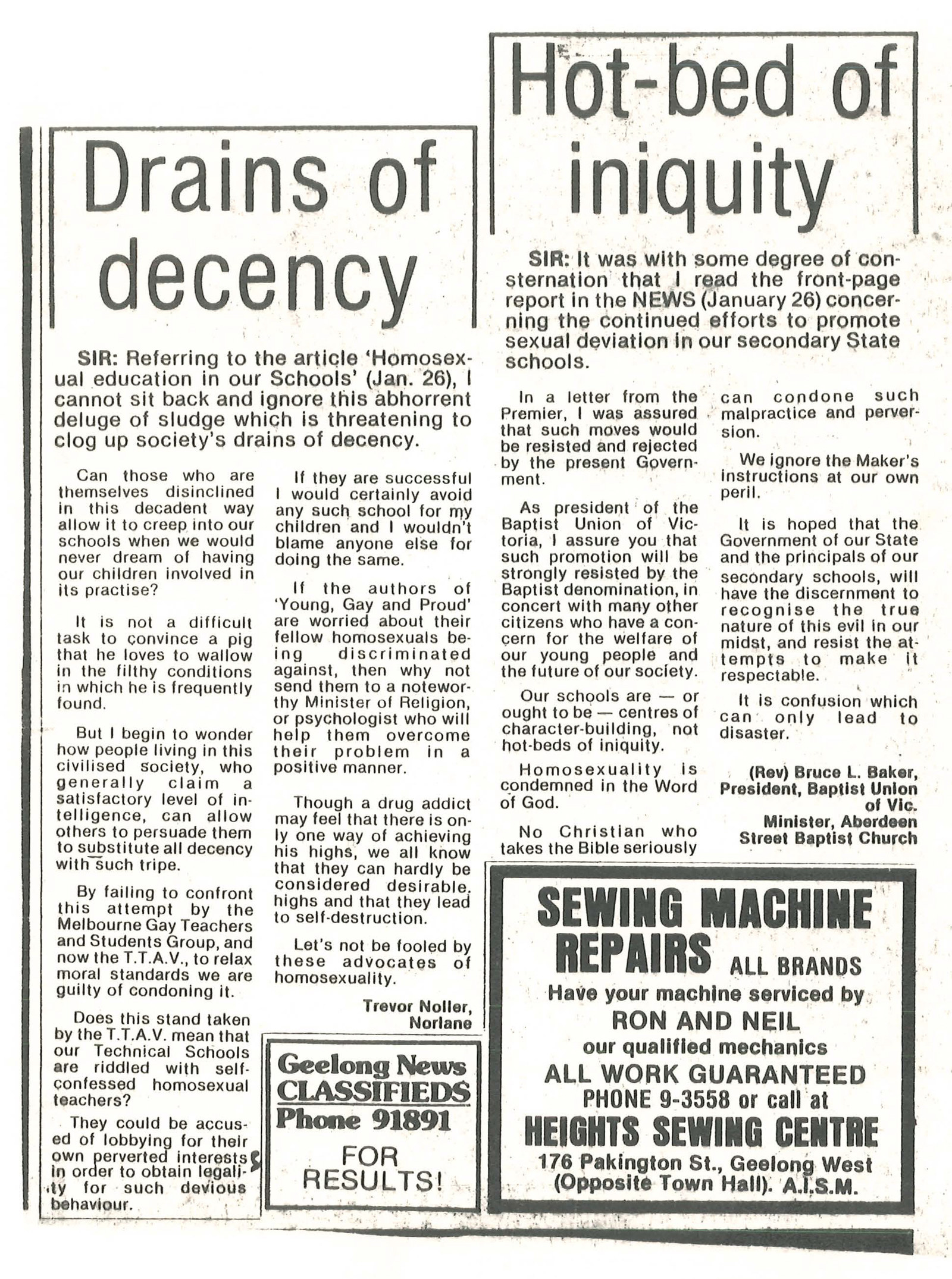 Reverend Bruce L. Baker, then-president of the Baptists Union of Victoria, wrote "Our schools are – or ought to be – centres of character-building, not hotbeds of iniquity,"
"If these homosexuals choose to flout the rules of decent society, performing their unnatural acts, that is their concern," wrote M. Brown of Drumcondra. "But they must not be let loose in schools, perverting the impressionable minds of our sons and daughters."
Within days of the two front-page articles, Victorian premier Rupert Hamer ordered an "immediate halt" to the rollout of any gay literature in schools, and said he was "very concerned" by the booklet.

The ruling effectively stopped many young gay people from accessing Young, Gay, and Proud.
"[There was] a chilling effect on distribution in schools because of that ruling," Jaynes said. "In the early stages there were some bulk sales to the schools. Those were affected."
In mid-July 1981, the booklet was classified as restricted under the NSW Indecent Articles and Classified Publications Act, meaning it could only be sold to or displayed near people over the age of 18.
By October 1981, the NSW director-general of education sent a letter to all principals, acknowledging the media storm around Young, Gay and Proud and reminding them that it was restricted.
A year later, Young, Gay and Proud was again on the receiving end of conservative ire when it was included in a list of recommended books for school libraries. The list was part of the 1982 NSW Anti-Discrimination Board report on Discrimination and Homosexuality.

Conservative Christian politician Fred Nile, who had been nominated to the NSW Legislative Council a year earlier, was not impressed. In a September issue of his newspaper, Christian Solidarity, he devoted an eight-page pullout to the report.
"To hell with the report!" Nile wrote. "The Gay Liberation Movement has successfully manipulated the Anti-Discrimination Board to do its evil work…"
Nile had problems with many of the report's recommendations, including one to decriminalise sex between men and another to make it unlawful to discriminate against gay people in employment, goods and services, and other areas.
But, he wrote, the "most irresponsible recommendation" which had "completely destroyed the Board's credibility" was the inclusion of Young, Gay, and Proud.
Nile, who remains in NSW parliament today, has spoken out against the Safe Schools program. Earlier in 2016, he described the program as "government sponsored promotion of the pro-homosexual lobby agenda".
"The program aims to indoctrinate and confuse our young, innocent and vulnerable students during their adolescent years," he said.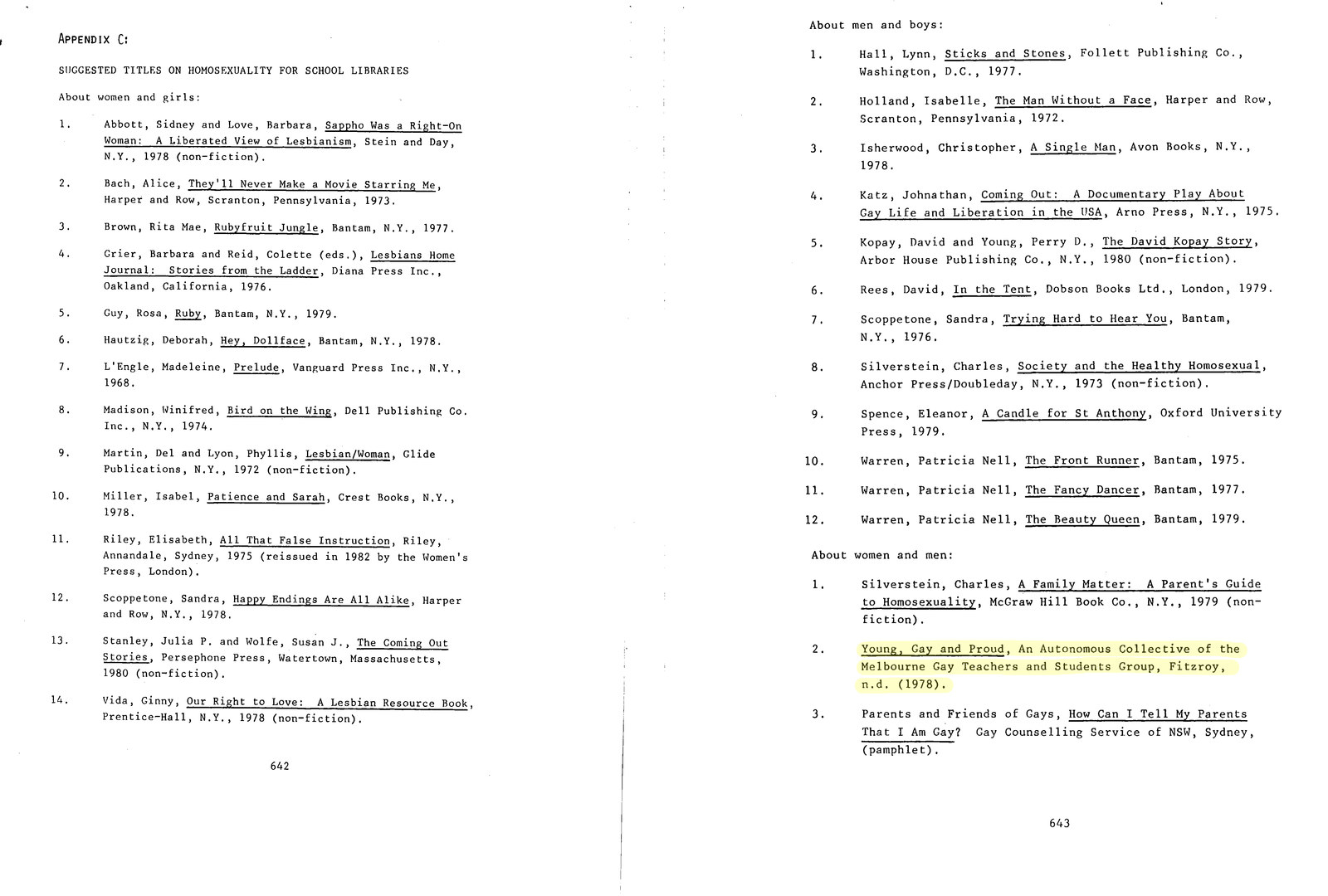 In the end, all 10,000 copies of Young, Gay, and Proud from the original print run were sold. In one way, it was a brave step forward for LGBTI young people. In another, Jaynes said, it was difficult to feel empowered by progress when it was accompanied by so much pain.
You don't have to look far to find a young person who has suffered under the campaign against Safe Schools. One 11-year-old girl in South Australia was so rattled by the rhetoric she began to believe that if people found out she was transgender, they would kill her. Her heartbroken mother had to console her daughter: "No, that will never happen."
On the backlash to Young, Gay, and Proud in 1979, Jaynes said ruefully, "You couldn't describe it as empowering".
"We felt as though we had done all we could, but they wouldn't take it much further in Victoria at the time."
Similarly, Safe Schools will cease to function when funding runs out mid-next year. The program has become such a political liability that the government has no intention of continuing.
"Its detractors saw its very existence
as a bad thing."
And as the program is set to die, the virulently anti-LGBTI sections of Australia who rallied around to condemn it are newly empowered. In fact, mid-2017 cannot come soon enough. Despite the government review, despite widespread condemnation, despite 11-year-old girls afraid of being murdered, they want Safe Schools canned now.

Jaynes said there was no reasoning with those who wanted to ban Young, Gay, and Proud.
"It got attacked for a pretty base political purpose... It was misrepresented by those who opposed it, but they also didn't go into too much content analysis," he said.
"Its detractors saw its very existence as a bad thing."