This Musician Slammed H&M For Using His Track On Instagram Without Permission
Update: H&M has apologised and deleted the Instagram post.
Australian music artist Harvey Sutherland has accused Swedish clothing giant H&M of using his track Bamboo without permission in an Instagram post advertising jeans.
On Monday, H&M posted a short video with a backing track on Instagram to advertise an article about blue jeans in the H&M magazine.
After two commenters praised the backing track and asked what it was called, H&M replied saying the song "does not have a name" and was "specifically produced for us to use" in the advertisement.
But Sutherland, a producer and keyboard player from Melbourne, commented on the post saying the track was actually his song Bamboo and accused H&M of using it without permission.

"Actually this is my song Bamboo, that I produced. You are using it without approval, licence or credit. DM me and let's make a deal 🤝 🤙" he wrote.
Sutherland also tagged the brand in posts on Facebook and Twitter asking that they contact him immediately.

A representative from Sutherland's label, Clarity Recordings, told BuzzFeed News: "We have reached out privately to H&M about the matter. No further comment at this time."
The H&M Instagram post, which has since been deleted, was flooded with people criticising the brand and posting the hashtag #payharvey.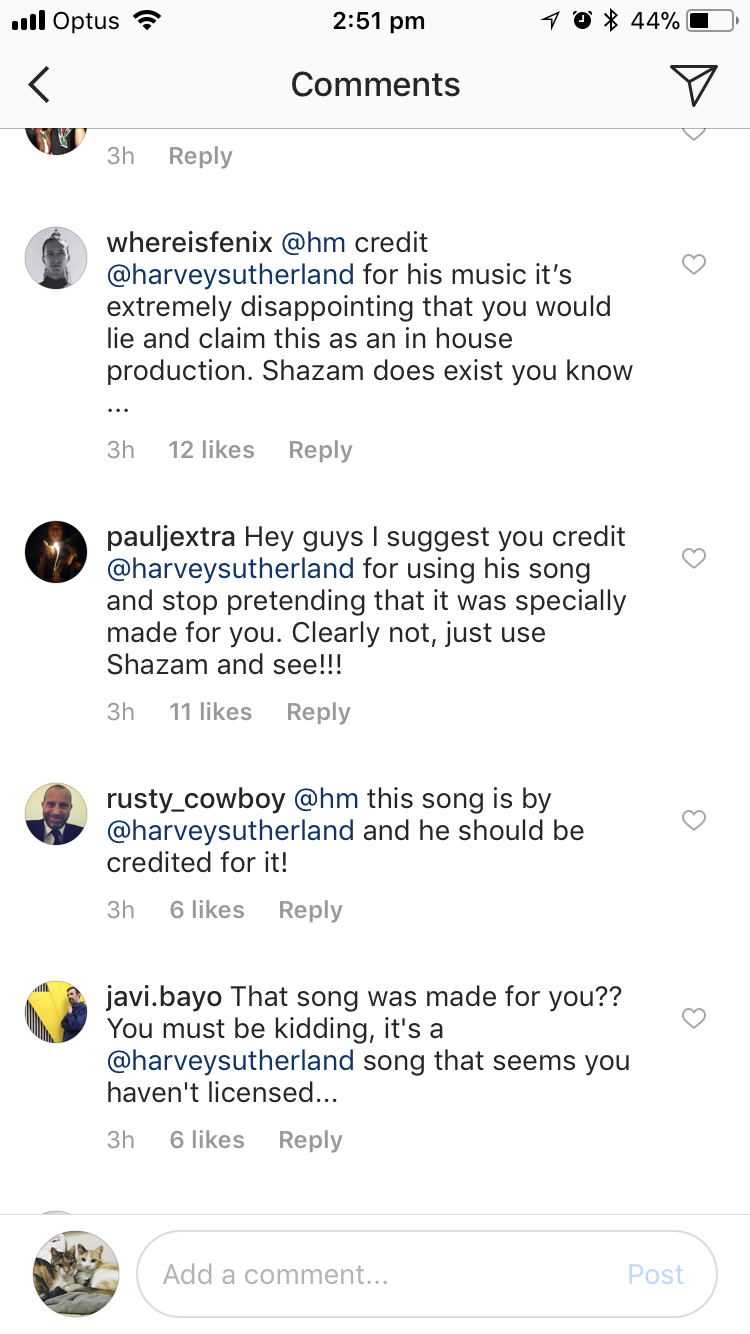 A number of people wrote that they had used music recognition app Shazam to identify the song as Bamboo.

"Hey guys I suggest you credit @harveysutherland for using his song and stop pretending that it was specifically made for you. Clearly not, just use Shazam and see!!!" one person wrote.
"Shazam does exist you know..." wrote another user.
BuzzFeed News also tried Shazam-ing the song – where it was identified as Sutherland's Bamboo.
The drama comes a month after H&M was forced to apologise and withdraw an image of a black child wearing a hoodie with the slogan "coolest monkey in the jungle" on it.
At the time, several customers tweeted to say the company had "missed the mark" and called the choice "racist" and "irresponsible".
UPDATE: H&M has deleted the Instagram post and released a statement apologising for using Sutherland's Bamboo.
"We apologise and have now removed content featuring the music from all of our social media accounts. We are also in direct contact with the artist," a spokesperson told BuzzFeed News at 10.40pm AEST.

This post has been updated to reflect that H&M has since deleted the Instagram post.