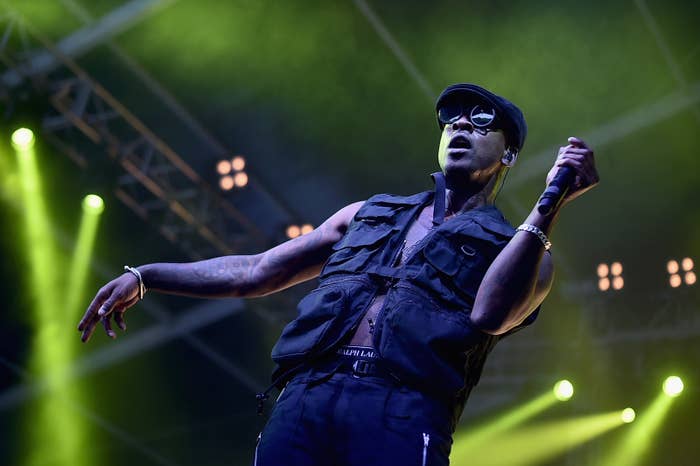 Rapper and grime artist Skepta was almost barred from entering Australia for his upcoming tour, but has now been granted a visa with two weeks to spare.
Skepta, whose legal name is Joseph Junior Adenuga, is due to perform at shows in Sydney, Melbourne, Brisbane, Adelaide and Perth later this month.
The English musician, influential in the British electronic music genre of grime, has had multiple songs reach the UK Top 40; collaborated with stars such as Drake, Mick Jagger and Ed Sheeran; and won the Mercury Prize for best album released in the UK in 2016.
But in April, a delegate for Australia's home affairs minister Peter Dutton refused to grant Skepta a visa, saying he did not pass the immigration character test due to his criminal history.
In January 2016 Skepta punched a man in the mouth after an altercation a Melbourne nightclub and pleaded guilty to recklessly causing injury. No conviction was recorded, but he was fined $2,500 and ordered to pay $10,000 to the victim.
He was also convicted of common assault in London in 2009 and fined over assault occasioning actual bodily harm in Cyprus in 2006, which he said occurred after a large group of men racially abused him and his friends and a fight broke out.
The touring company representing Skepta, Fuzzy Events, appealed the decision to the Administrative Appeals Tribunal, where deputy president Justice Janine Stevenson granted Skepta a visa on Friday.

Skepta told the tribunal he now realises he should have "walked away" from the altercations and said he has "grown as a person both emotionally and spiritually" since January 2016.

"It is not who I am, there is always a different way," he said. "I have learnt from it and made myself not get into these problems."
Skepta listed 24 countries across Europe, America, Asia and Africa that he had visited since January 2016. He also said he plans to "rest as much as possible" during his 10 days in Australia instead of going out to nightclubs.

Several people sent letters supporting Skepta to the tribunal, including a senior producer at Sydney Opera House, an official of the Musicians Union of Australia, the CEO of Sony Music Entertainment UK Limited, and a member of the Australian Opals basketball team.
The tribunal also heard that the man who Skepta punched in Melbourne has accepted an invitation to attend his concert, and will do a meet and greet with the rapper so Skepta can personally apologise.
Lawyers representing the home affairs minister argued it had not been a very long time since Skepta's last offence and said he "has attempted to consistently downplay the nature of his offending".

Stevenson agreed that Skepta failed the character test, but found there was a low risk he would commit crimes in Australia due to his guilty pleas for all three offences, his remorse, and the fact his music career has substantially taken off since he was last in Australia.
"It is my view that the Australian community would afford recognition to Mr Adenuga for his life changes since January 2016 and extend to him the 'second chance' which he requests so as to undertake the proposed concert tour," Stevenson wrote.
"I am of the view further that the Australian community would not expect our country to be the only one of 25 nations to deny entry to Mr Adenuga to enable Australian citizens to experience his recognised musical skills."
Fuzzy director Ming Gan told BuzzFeed News: "We always believed that the visa denial from the delegate for the Minister of Home Affairs was incorrect and this was proven so on appeal to the AAT."
The decision comes just after significant scrutiny on Australia's delay in granting a visa to American whistleblower Chelsea Manning, which effectively barred her from appearing in person at scheduled events on a speaking tour.
According to tour organisers, the Department of Home Affairs is yet to make a decision on Manning's visa but sent a letter indicating it intends to deny her entry based on her seven-year prison sentence.
Manning instead appeared via video-link at a talk in Sydney, and is set to do the same in Melbourne and Brisbane. She is currently in New Zealand where she was granted a visa to deliver talks in Auckland and Wellington.