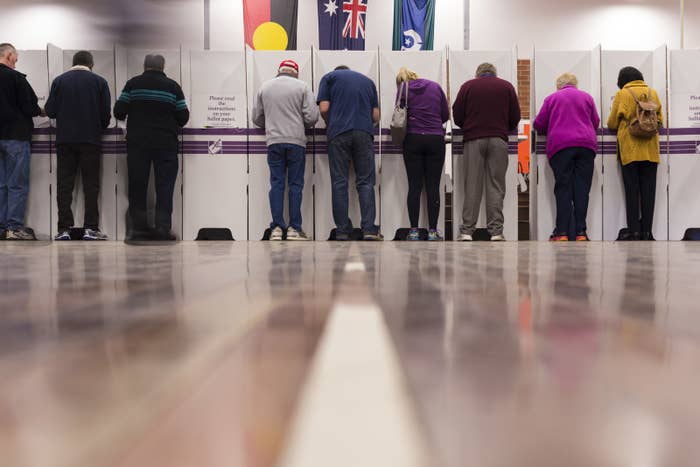 At the last federal election, on July 2, 2016, every adult in Australia was meant to vote. But not everyone did.

An estimated 816,000 Australians were missing from the electoral roll on election day. Around 1.3 million more were on the roll, but didn't cast their ballot, risking a $20 fine under Australia's compulsory voting laws.
One of those people in the latter category was Adam Easton, an agnostic man who said voting for someone he did not trust would have left him feeling "morally corrupt, much like a religious person, I imagine, if they had just sinned".
Easton was prosecuted for his failure to vote in the New South Wales Local Court, where he represented himself. He argued that he was not guilty under part of the Electoral Act that says someone can legally refuse to vote if it's part of their religion — and he won.
Now, the Commonwealth Director of Public Prosecutions (CDPP) is appealing the decision, saying it is "plainly wrong" and in the public interest for it to be overturned before more people decide not to rock up to the polling booth.
Easton's court victory, handed down on September 26, 2017, was described as a "leap into the legal unknown" by Lismore magistrate David Heilpern.
Heilpern ruled that Easton has "an honestly held belief, a moral code that requires him not to vote".
He said it would be "nonsensical" to let people with a religious objection off the hook, but not those with an "agnostic well-developed moral faith", such as Easton.

But at an appeal hearing in the NSW Supreme Court on Friday morning, barrister Wendy Abraham QC argued before Justice Natalie Adams that Heilpern was wrong to say a conscientious objection – described as "a devout, but not religious, objection" – was a good enough reason to not vote.

The Electoral Act says someone can refuse to vote if they believe it to be a part of his or her religious duty to abstain from voting.

Abraham said this didn't apply to Easton as it wasn't his religion that prevented him from voting, rather he didn't want to vote for non-religious reasons, including not wanting to vote for any of the candidates. This, she said, was not a valid reason based on existing law.
Heilpern's reasoning was far too broad and "incompatible" with Australia's compulsory voting laws, Abraham said in submissions to the court.
She also mentioned a similar NSW Local Court decision, handed down three months after Easton, in which Aboriginal man Wayne Carr unsuccessfully argued that voting would make him "complicit in actions that are against my Aboriginal religion".

"Mr Carr is free to believe what he wants, but the exception ... cannot extend to excuse conscientious objectors from the universal obligation of all adult Australians to vote, and which is necessary to maintain our system of democratic government," magistrate Brett Shields ruled.
He added in his decision – "with the greatest respect" – that Heilpern had gotten the Easton case wrong.
Gabrielle Bashir SC argued that it was overly simplistic to label Easton a "conscientious objector" on non-religious grounds, and that the moral code on which he based his refusing to vote was akin to religion, rather than political.
Easton's beliefs were "properly regarded as religious in character rather than political; religious in character, if not subscribing to a known religion, even one with a regard for the supernatural or a concept of a God" she submitted to the court.

"This wasn't someone being a charlatan or trying to pull anyone's leg," she said. "This is someone who had a very sincere belief that was part of a moral framework and a tangible faith, albeit one that was not theistic."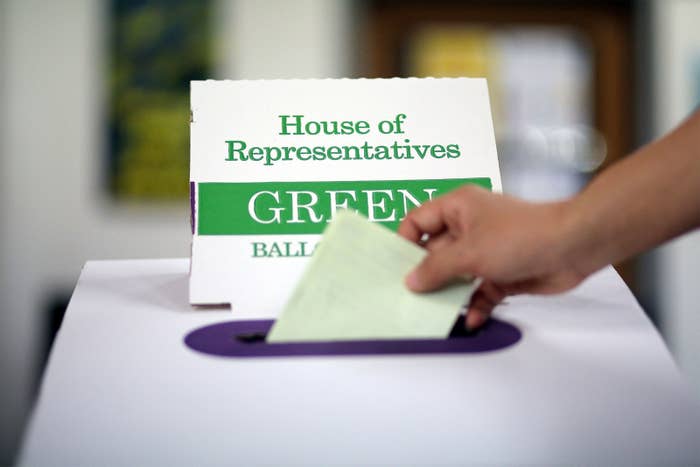 Abraham also had to ask Justice Adams to approve an extension of time because the CDPP appeal was filed months after the deadline.

Abraham said the CDPP had always believed the decision was wrong, but decided not to appeal it immediately because it had no "precedential value" (basically, it was a decision in a lower court that didn't bind other courts to act in the same way, so it didn't matter all that much).
But this all changed after Heilpern's reasoning was posted online – unusual, for a Local Court decision – and the media got hold of it.
Articles were published in the Sydney Morning Herald, the West Australian and the Age, and a Courier Mail opinion piece carried the headline "Magistrate ruling may mean end to compulsory voting in Australian federal elections".

"A spectacularly innovative decision by a court in New South Wales last week has made voting at federal elections in Australia essentially voluntary," read the first line of the op-ed.
"Media of that nature clearly has the capacity to mislead voters such that they may commit an offence," Abraham said.
Justice Adams pointed out that the average person is much more likely to read a newspaper than visit the NSW Caselaw website to peruse the state's latest legal decisions.
But Bashir said the media coverage was "simply irrelevant" and urged Adams not to grant an extension in time to the CDPP, or, she did grant the extension, to dismiss the appeal.

Adams has reserved her decision.