Conservatives Are Hinting They May Try And Delay Marriage Equality If Australia Votes "Yes"
"I don't want to legislate in haste."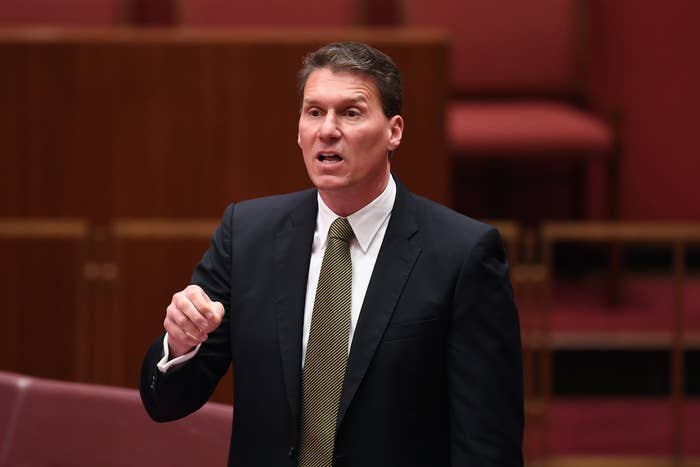 Senator Cory Bernardi has hinted that conservatives will try to delay passage of a bill for same-sex marriage if Australia votes "yes" in the current national survey on the issue.

His comments come after prime minister Malcolm Turnbull said last week that he expects same-sex marriage to be legal by Christmas if the survey comes back in favour.
"If there is a 'yes' vote, then we will ensure there is a private members' bill to legalise same-sex marriage, and I have no doubt the parliament will deal with that before we all break up in December," Turnbull told news.com.au.

Speaking to Radio National Breakfast on Thursday morning, Bernardi warned against legislating in haste for what he described as a "profound" social change.
"I do note that a senior government minister has said we will sit until Christmas Eve to make this happen," he said.
"But I don't want to legislate in haste. I would rather make sure that if we're going to make a profound change to one of out great institutions that we're doing it with a great deal of prudence."

Bernardi said the religious exemptions in a bill penned by government senator Dean Smith were inadequate and that there is still much to discuss on the issue. Labor has pledged to support the Smith bill in its current form in the parliament.
If a "yes" vote is returned in the survey, many are anticipating a parliamentary brawl over what exemptions should be in a same-sex marriage bill.
Many opponents to same-sex marriage argue significant exemptions are needed to protect religious and various other freedoms, but proponents argue this is a thinly veiled attempt to roll back anti-discrimination protections for LGBTI people.

Co-chair of Australian Marriage Equality Alex Greenwich told BuzzFeed News: "Australians are voting for marriage equality, they're not voting to increase discrimination".

He criticised delay tactics from same-sex marriage opponents and said "I hope that nobody has time for them".
"After having advocated so strongly for the plebiscite, to then towards the end try to further complicate things and drag them out, it's a sign that there are people on the 'no' side who are just interested in playing politics with the lives of gay and lesbian people," Greenwich said.
"That's becoming increasingly evident as time goes on."
Bernardi also said that he will be voting against same-sex marriage in the parliament regardless of the outcome of the survey, though he hopes the "no" vote will prevail.
"I've repeatedly said that I'll be representing the views of those who vote 'no'," he said. "I won't be voting to redefine marriage. But I think that this process, with all its flaws, and there are flaws within it, I recognise that it is going to inform the role of the parliament."