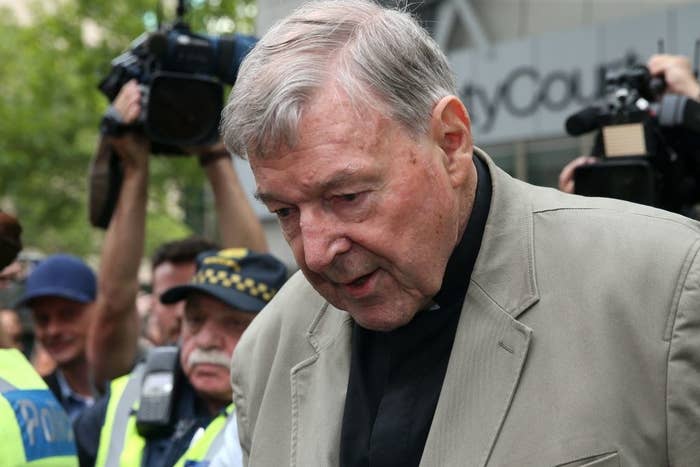 MELBOURNE — Cardinal George Pell has been sentenced to a total of six years in prison, with a non-parole period of three years and eight months, for sexually abusing two choirboys in the 1990s.
Pell, 77, was sentenced by Judge Peter Kidd in a packed courtroom in Melbourne, Australia, on Wednesday morning.
As he handed down the sentence, Kidd said Pell had acted with "staggering arrogance" as he launched a "brazen and forceful" sexual attack on two 13-year-old boys 22 years ago.
Pell was convicted by a jury in Dec. 2018 in the Victorian County Court of one count of sexual penetration of a child and four counts of committing an indecent act with, or in the presence of, a child.
Formerly an inner circle adviser to pope Francis, Pell is the most senior Catholic in the world to be found guilty of child sexual abuse.
Kidd's sentencing remarks were broadcast live around the world via a single camera set up in the jury box.

He began by saying there was a "unique context" to the sentence, noting the "extraordinary and widespread publicity and public comment" surrounding the case.
Kidd said it was fair to say Pell was a "publicly vilified figure" in some sections of the community.
He also noted the context of child sexual abuse within the Catholic church, but stressed he was required to sentence Pell in accordance with the law.
"You are not to be made a scapegoat for any failings or perceived failings of the Catholic church," he told Pell.
Kidd also delivered a message to any victims of sexual abuse who were watching him: "This sentence is not and cannot be a vindication of your trauma."
"For me to punish Cardinal Pell for the wrongs committed against you would be contrary to the rule of law, and it would not be justice at all."
About 120 people were in court to hear the sentence being handed down, and a large crowd had gathered outside the court more than an hour before the sentencing began.
Pell sat quietly at the back of the courtroom, surrounded by multiple security officers, and looked straight ahead at Kidd as his sentence was delivered.
He was dressed in a black shirt and beige jacket, with his usual priest collar nowhere to be seen.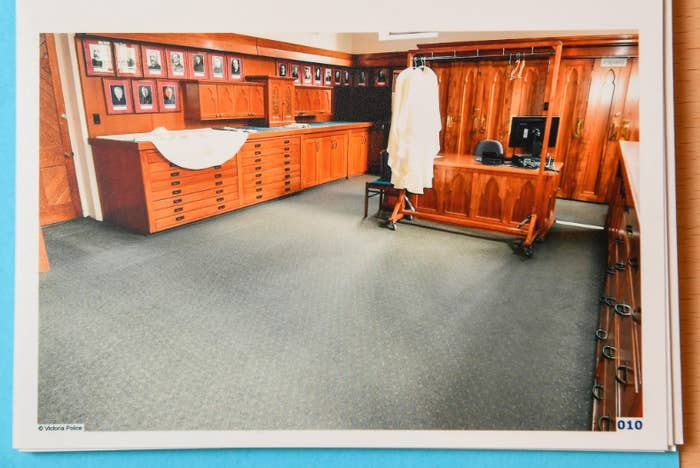 Pell committed the offences in 1996 and 1997 at St Patrick's Cathedral in Melbourne.
The complainants, who were both 13-year-old choirboys at the time, cannot be identified and were referred to as J and R by Kidd. J, now in his thirties, testified at trial, and R died in 2014.
In late 1996, Pell discovered J and R drinking sacramental wine in the priest's sacristy — a dressing and preparation room for people involved in the church service. He pushed R's head down to his penis and held it there.
"R was squirming, struggling and flailing while this was occurring. J saw R's face. R was terrified," Kidd said, as he recounted Pell's crimes during the sentencing.
He then forced J to perform oral sex on him, before touching J's genitals and masturbating at the same time.
Six weeks later, in 1997, Pell indecently assaulted J as he walked through a corridor past the priest's sacristy.

"In my view, the first episode in the priest's sacristy involved a brazen and forceful sexual attack on the two victims," Kidd said.
Kidd found "without hesitation" that Pell had abused his power and committed a breach of trust in his offending.
"You were the archbishop of St Patrick's Cathedral no less, and you sexually abused two choirboys within that cathedral," he told Pell.

Kidd said choirboys were the "least powerful and most subordinate individuals" in the hierarchy of the cathedral and there was a "stark" power imbalance between the boys and Pell.
"The argument of your counsel that this offending was committed by you, George Pell, the man, and not by you, George Pell, the archbishop, must be roundly rejected ... your obvious status as archbishop cast a powerful shadow over this offending," he said.

Kidd said he had taken Pell's age and health into account, as well as the difficulties he would experience in custody.

"Like anyone in their late seventies, your health will decline in time," he told Pell.
"I am conscious that the term of imprisonment which I am about to impose upon you carries with it a real, as distinct from theoretical, possibility that you may not live to be released from prison."
Pell looked directly at Kidd and blinked occasionally as his sentence of six years was handed down.
He received four years for the sexual penetration offence, and 2.5 years, 2.5 years, 15 months and 18 months respectively for the four counts of indecent acts. Some of the time will be served cumulatively, resulting in six years total.
He must also register as a sex offender for the rest of his life.
Pell maintains his innocence and has filed an appeal against his conviction.

According to a document filed in the County Court, he intends to argue on appeal that the jury could not have reasonably found him guilty given the evidence, as well as two other grounds.
Outside court, J's lawyer read out a statement on his behalf.
"It is hard for me to allow myself to feel the gravity of this moment. The moment when the sentence is being handed down. The moment when justice is done," J's statement said.
"It is hard for me, for the time being, to take comfort in this outcome. I appreciate that the court has acknowledged what was inflicted upon me as a child. However, there is no rest for me. Everything is overshadowed by the forthcoming appeal."

J said that he was aware of people who had publicly criticised his evidence, and said he had taken the stand for several days, including cross-examination, and that the jury had accepted he was telling the truth.
"Pell chose not to give evidence. The jury did not hear from him. He did not allow himself to be cross-examined."
If you or someone you know needs help, you can call Lifeline Australia on 13 11 14 or Beyond Blue Australia on 1300 22 4636.