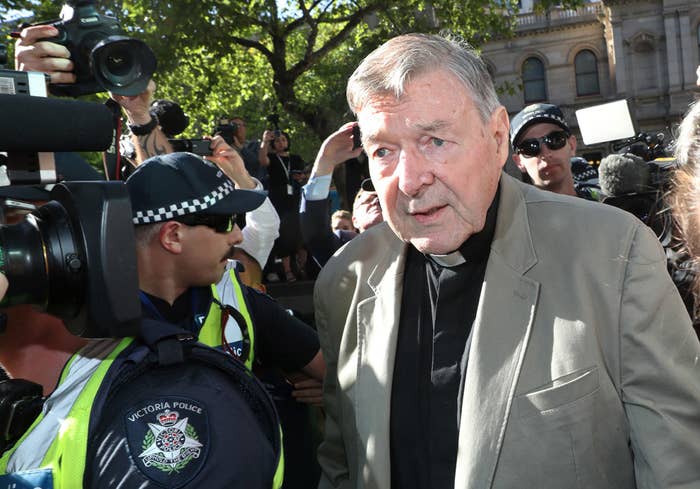 Cardinal George Pell, the most senior Catholic to ever be found guilty of child sexual abuse, will spend his first night behind bars after a sentence hearing on Wednesday in Melbourne, Australia.
At the hearing, his barrister told the Victorian County Court that Pell's sexual attack on a 13-year-old choirboy in 1996 amounted to "no more than a plain vanilla sexual penetration case".
Prosecutors argued Pell, formerly an inner circle advisor to pope Francis, should be jailed immediately for his crimes 22 years ago, committed at St Patrick's Cathedral in Melbourne.
The complainants, who were both 13-year-old choirboys at the time, cannot be identified.
The court heard that Pell pushed the head of one of the boys down to his penis after he discovered them drinking sacramental wine in the priest's sacristy — a dressing and preparation room for people involved in the church service.
He then forced the other boy to perform oral sex on him, before touching the boy's genitals and masturbating at the same time. Six weeks later, Pell indecently assaulted the second boy as he walked through a corridor past the priest's sacristy.
Pell will remain in custody until he is sentenced in two weeks time. He is expected to receive a prison term.
His guilty verdict was delivered unanimously by a jury on Dec. 11, 2018 in the Victorian County Court in Melbourne, but it had been subject to a suppression order until Tuesday.
Pell slowly navigated an enormous media scrum on his way into the court on Wednesday morning, with protesters screaming that he would "rot in hell" and that he was a "faggot" as he entered.
Inside, his barrister Robert Richter QC told Judge Peter Kidd of the need to "divorce ourselves from the emotion" of the high profile case and said: "This is a court of law, it's not a court of morals."
Richter argued there were no aggravating factors to Pell's crimes, saying the offences had not involved any grooming, threats or recording for "later titillation", that it only lasted a short time, and that Pell was not on bail or parole at the time.
"That list tells Your Honour with great respect this was no more than a plain vanilla sexual penetration case where the child is not volunteering or not actively participating," Richter said.
Kidd replied: "It must be clear to you that I am struggling with that submission ... I'm not persuaded by that.
"So what, he wasn't on bail or parole. If he was on bail or parole he wouldn't have been the archbishop of Melbourne ... what am I to make of that?"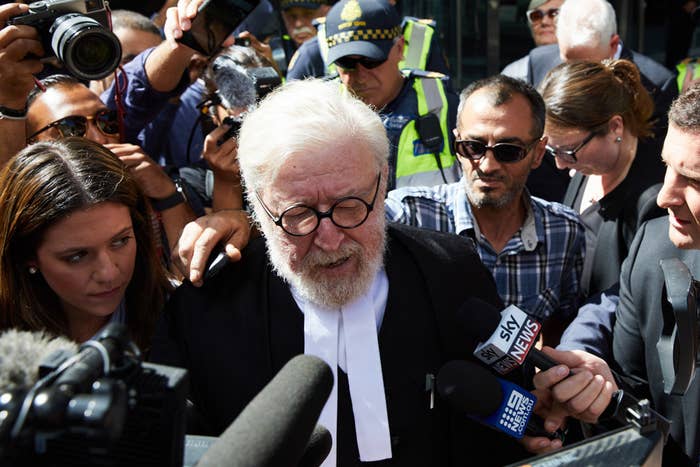 The "plain vanilla" comment drew opprobrium from members of the public, some of whom abused Richter during the court lunch break.

Word of the incident reached Kidd, who issued an admonishment when court resumed, saying "an assault on Mr Richter is an assault on the court".
"This is not a game," the judge told the packed public gallery sharply. "The system requires defence counsel to defend people."
Kidd responded forcefully to several submissions put by Richter, particularly his suggestion that the crimes were at the lower end of a scale of seriousness.
"At the moment I see this as callous, brazen offending. Blatant," Kidd said. "He did have in his mind some sense of impunity. How else did he think he was going to get away with this?"
Crown prosecutor Mark Gibson argued Pell should be immediately jailed over the offences, which he said were serious and carried a number of aggravating factors, including the "humiliating and degrading" nature of the acts and the youth and vulnerability of the victims.
He rebuked a comment from Richter about the length of the abuse in the priest's sacristy – five to six minutes, 22 years ago – saying "six minutes of abuse can last a lifetime".
"There has been a breach of trust in this case, in that cardinal Pell was the driving force and in charge of this cathedral, and these two choristers were a cog in the cathedral wheel, if you like, on Sunday masses," Gibson said.
"There's an unlikelihood of him being questioned about any wrongdoing give his position, authority and power at the time … The church setting is relevant to the breach of trust and the position of power."
Richter rejected that there had been a legal breach of trust, saying the boys had not been entrusted to the care of Pell, but rather to the lead choristers.
Kidd replied that the children were, broadly speaking, entrusted to the care of St Patrick's Cathedral. "And the person who stood at the top of that was your client," he said.
Gibson noted Pell had shown "no remorse or insight" into his crimes. "There remains no explanation for the offending," he said.
More than once, Richter noted he was in the "difficult position" of making sentencing arguments on the basis of a guilty verdict which his client stridently denies.
"We are bound by the jury's verdict, and have to argue within that," he told the court.
He said it was "impossible" to say what Pell was thinking at the time – including whether or not he acted in the belief he would never be caught – because he denies committing the crimes at all.
Kidd stressed that this case was about Pell, and not about whether or not his crimes would have been covered up by other clergy.
"From where I'm sitting the Catholic Church is not on trial," he said. "I'm not imposing a sentence on the Catholic Church. I'm imposing a sentence on Cardinal Pell for what he did."
He told Richter that the jury had rejected his argument that "only a madman" would commit a sexual assault in such a public and risky fashion.
"There's no medical evidence that Cardinal Pell is mad," Kidd said. "On the face of it that leaves to me only one available inference: that he thought he would get away with it."
Pell had initially filed a bail application in the Court of Appeal for Wednesday afternoon, but had a change of heart, and will now not apply for bail until after he is sentenced.
Kidd explained that Pell hadn't been taken into custody following the verdict for "reasons of humanity" — a scheduled knee operation. But that grace period ended on Wednesday.
"Cardinal Pell, I'm now revoking your bail," Kidd said, at the end of the hearing. "The cardinal can be taken away please."
All heads turned to the back of the courtroom, where Pell had sat, alone, as his fate was discussed.
Flanked by corrective services officers, Pell rose and slowly left the courtroom through a door to his left, leaning heavily on his walking stick.
He will be sentenced on Mar. 13 at 10am.
UPDATE
The day after the hearing, Richter issued an apology for using the phrase "plain vanilla sexual penetration", saying it was "wholly inappropriate".
"After spending a sleepless night reflecting upon the terrible choice of phrase I used in court during the course of a long and stressful process, I offer my sincerest apologies to all who were hurt or offended by it," he said in a statement.
"It was in no way meant to belittle or minimise the suffering and hurt of victims of sex abuse, and in retrospect I can see why it caused great offence to many."