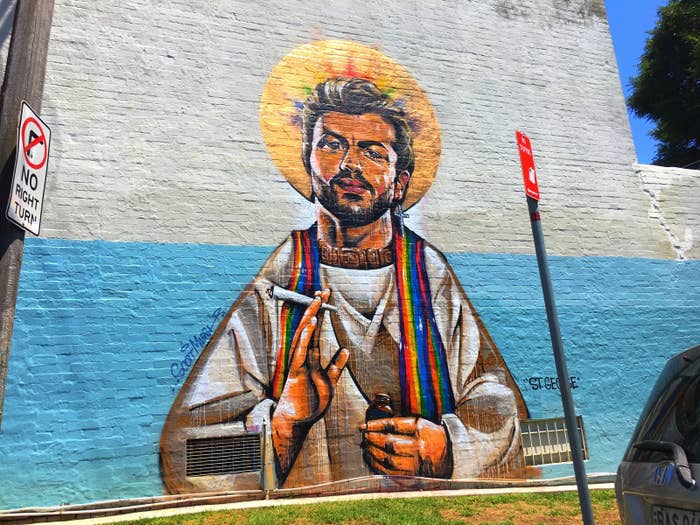 The man who defaced a mural of the late pop star George Michael in the days after Australia voted "yes" for same-sex marriage has been given 300 hours of community service and ordered to pay $14,000 in compensation.

Ben Gittany, 24, was sentenced in the New South Wales Local Court on Tuesday morning after he covered the mural in black paint on November 18, 2017.

The artwork, titled "St George", was painted by artist Scott Marsh in the inner Sydney suburb of Erskineville following Michael's death in December 2016. It depicts the gay rights icon wearing a white robe with a halo around his head while holding a joint.
Gittany, a Christian, claimed he was "defending his religion" as he defaced the mural three days after the same-sex marriage postal survey results were announced. The incident happened a week after another mural by Marsh in a neighbouring suburb, showing Tony Abbott and George Pell in a relationship, had also been defaced.

On November 18 Gittany travelled from his home town near Bathurst to Erskineville, stopping at Bunnings to buy $135 worth of supplies, and proceeded to cover the colourful mural in a thick black layer of paint.
In footage of the incident Gittany can be heard saying "I've done nothing wrong, I'm defending my religion".
To an onlooker who warned he may spend time in prison, Gittany said: "I don't care what happens to me, my religion's more important than me."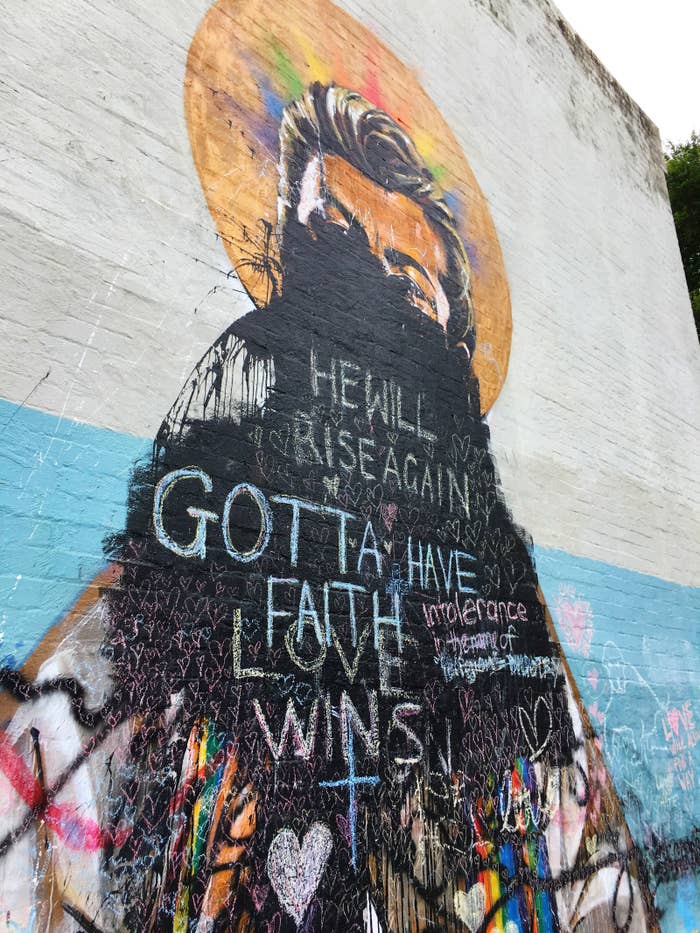 Local Court magistrate Carolyn Huntsman told Gittany his crime was serious and had caused harm to the community, and the question was whether he should spend time in prison.

Huntsman noted that Gittany had acknowledged in a letter to the court that George Michael was a friend of one of the men who commissioned the mural, that his crime had contributed to that man's grief, and that he wanted to apologise to them.

But, she said: "There is no expression in the letter it was wrong and you harmed a community. You travelled to someone else's community and imposed your views on them with an act that was criminal and harmful.
"What was left [on the wall] was a large area of black paint which arguably was a disturbing message of rejection to the community and arguably a contempt for other people.
"We are not a community where violence, criminal acts and property destruction are sanctioned because you have different beliefs to other people. They had to look at it for months. It distressed the owner and the community, and it was extensive."
Letters supporting Gittany said he was running a carpentry business and taking responsibility in his family, particularly in his role as an uncle.
"Your conduct contradicts the belief that those around you have in you," Huntsman told Gittany.
A character reference from his sister said he had "travelled away from younger offending behaviour".

"Unfortunately the matter before court doesn't demonstrate that," Huntsman said.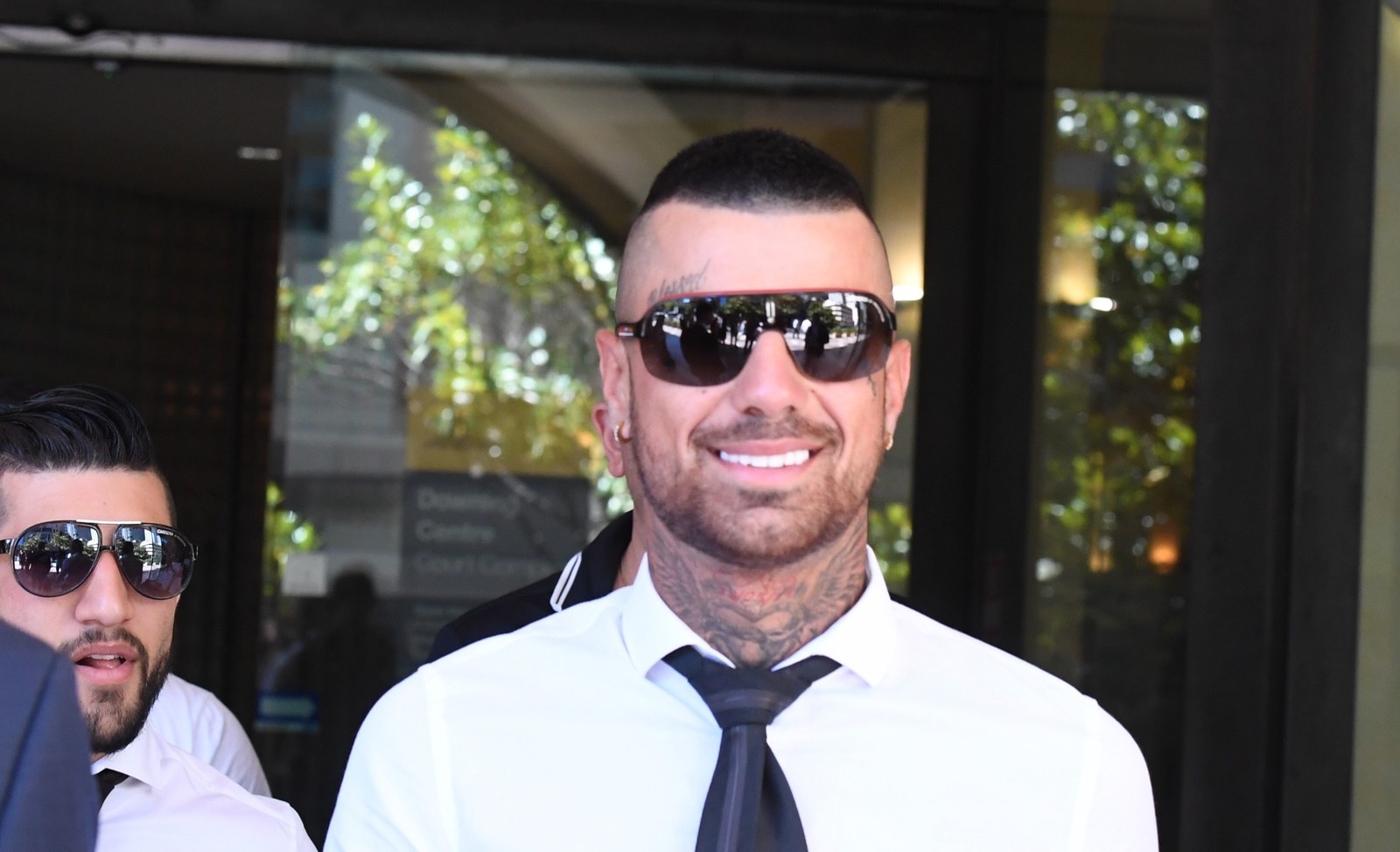 A pre-sentence report on Gittany said the 24-year-old had shown insight that he could learn to accept life in a religious pluralist society.

He also told the officer who wrote the report that he now realised there were other ways to show his disapproval of the mural, like complaining to the council.
Huntsman ordered Gittany carry out 300 hours of community service, which may include cleaning graffiti, and told him: "Every time you have to spend hours washing damaged walls you can reflect on your own conduct."
He was also ordered to pay $14,000 compensation to the owners of the mural.
"Clearly there's an incredible amount of black paint on that wall. It needs to be primed, it's a very tall wall and there is a need for lift hire," Huntsman said. The sum also includes the fee of the artist.
Prosecutors had asked for a further $8,000 to graffiti-proof a re-painted version of the mural, but Huntsman said she could not order that as it was not strictly speaking damage compensation.
After Gittany covered the mural in black paint, people in the community wrote messages on it such as "love wins" and "gotta have faith" in support of the LGBTI community and same-sex marriage.
More than 30,000 people signed an online petition supporting Gittany and claiming the mural incited hate against Christians by invoking religious iconography.