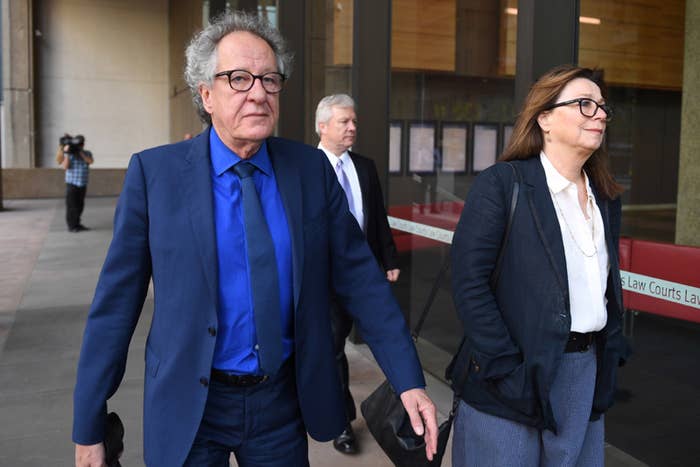 Geoffrey Rush may never work again and should receive a damages payout that runs into the millions of dollars over articles about his alleged inappropriate behaviour on the set of a Shakespeare play, a court has heard.

On the final day of the three-week defamation trial between Rush and the publisher of Sydney newspaper The Daily Telegraph, lawyers argued over how much Rush should receive in compensation if the court finds in his favour.
Rush is suing Nationwide News and journalist Jonathon Moran, after they published allegations in November 2017 that Rush had been accused of behaving inappropriately towards a female cast member during the 2015-16 Sydney Theatre Company (STC) run of King Lear.
Rush, 67, has strenuously denied the allegations. He claims publisher Nationwide News defamed him in two articles and a poster by painting him as a pervert, a sexual predator, and someone who engaged in inappropriate sexual behaviour and committed sexual assault while acting in King Lear. He also says the articles suggested his conduct was so serious that the STC pledged to never work with him again.

Nationwide News argued a defence of truth based on the testimony of Eryn Jean Norvill, who played the role of King Lear's daughter Cordelia in the production and alleges Rush sexually harassed her during the run of the play. Norvill did not participate in the stories and agreed at a late stage to testify for the Telegraph.
Rush's barrister Bruce McClintock SC said Rush's reputation was "outstanding" before the articles and they had caused him an "absolutely immense" amount of hurt.
He said there was a "significant risk" Rush will not work again, due to the "cloud" of being associated with the #MeToo movement and the prospect he may never recover his confidence and desire to work.
"What they did to my client has disabled him from working," he said, saying there was evidence Mr Rush was a "different man" after the articles.
"It doesn't take much of a taint to destroy a career," he added.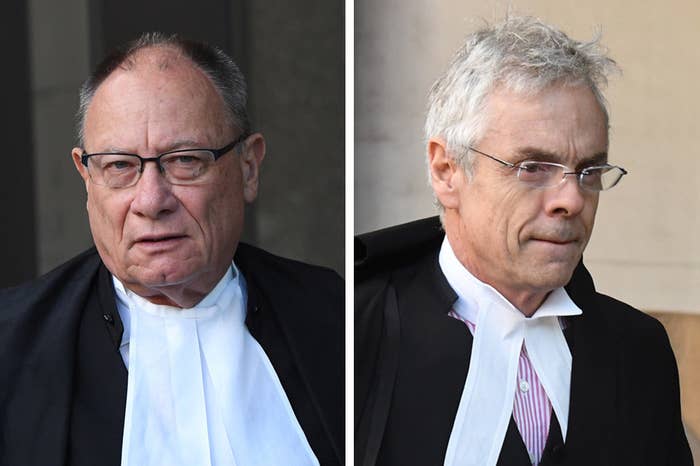 McClintock urged Justice Michael Wigney to find in Rush's favour, award "substantial" general damages, and also to award Rush an undisclosed figure for his economic losses. Nationwide News barrister Tom Blackburn SC said the claim amounted to "millions".

McClintock told Wigney he was not limited by a $398,500 cap on general defamation damages, as it can be exceeded when there are aggravating circumstances. These circumstances, McClintock said, included the "unfair, sensational and extravagant" way in which the articles were published, and the "calculated cruelty" of the Telegraph publishing when they knew Norvill did not want the allegations aired, and that Rush had issued a strong denial.
Earlier this year, the Queensland Supreme Court awarded $750,000 in general damages each to four members of the Wagner family, who successfully sued broadcaster Alan Jones and radio stations 2GB and 4BC for defamation after he blamed them on air for deaths in the Grantham floods.
"I would suggest in this case that that's the starting point. That's the floor," McClintock said.
McClintock also told Wigney it would not sufficiently ameliorate the economic damage to Rush if the judge ruled that the Telegraph had simply failed to prove that the incidents alleged by Norvill happened, as opposed to a positive finding that they did not happen.
"It wouldn't be a wholehearted vindication," McClintock said.
Nationwide News barrister Tom Blackburn SC said Rush's lawyers hadn't proved "the most fundamental piece of evidence": that Rush had been unable to work since the publications.
He said if a doctor had given evidence he had examined Rush and found he was "unable to work" that would be powerful evidence. "But there's no such evidence. There's just other people giving their opinion about his mental state," he said.
He also said that neither Rush nor his Hollywood agent Fred Specktor had given evidence that Rush hadn't received any offers since the articles.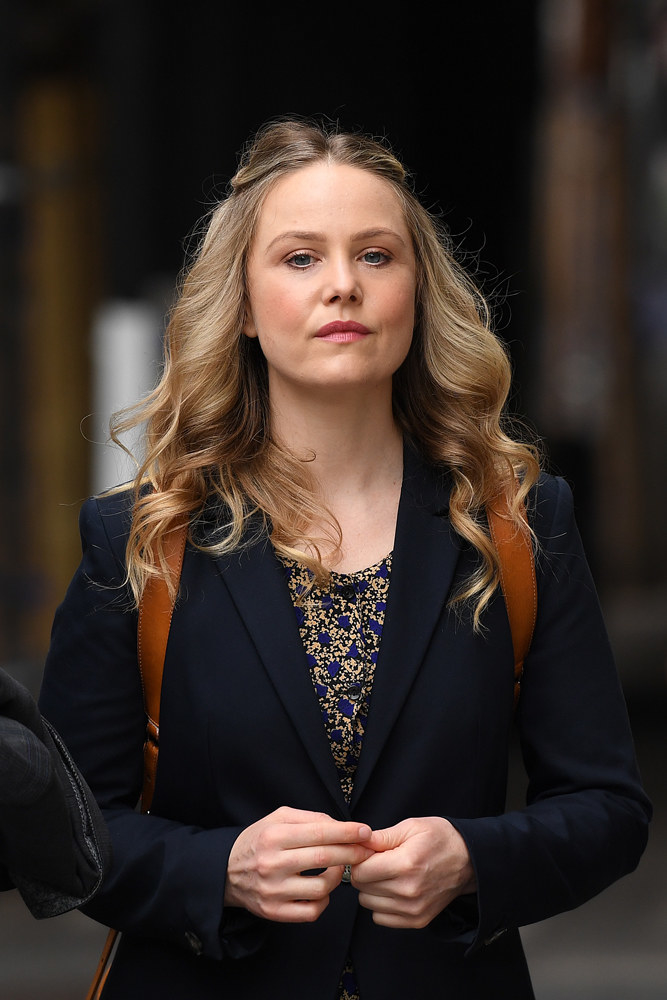 Over the course of the three week trial, the court has heard evidence from Australian entertainment royalty, including actors Judy Davis and Robyn Nevin and the director Fred Schepisi.

Rush spent two and a half days on the witness stand, and Norvill testified for two. Closing submissions from the two parties focused heavily on her credit as a witness.
Nationwide News barrister Tom Blackburn SC argued Norvill was a "fundamentally honest witness" who had wanted the complaint she made about Rush to an STC employee in April 2016 kept confidential.
"The only evidence Your Honour has about Miss Norvill's motive [to lie] is that she didn't have one," he said. "She desperately, desperately wanted to stay out of the limelight. Her concern was, as she said, to make sure it didn't happen again."
Sue Chrysanthou, Rush's junior barrister, labelled Norvill's evidence a "complete lie" that was "rife with contradictions", saying she had "told so many false stories she can't keep them straight".
She said Blackburn's focus on Norvill's motive was irrelevant. "Who cares?" she said. "It has nothing to do with anything. People lie. We don't know why."
Justice Michael Wigney has reserved his decision.
He told the court before adjourning at 1.15pm that he wanted to hand down a judgement this year, but his work schedule does not allow for it.
"For the interests of both parties, I would dearly love to, but it's not going to happen," he said.