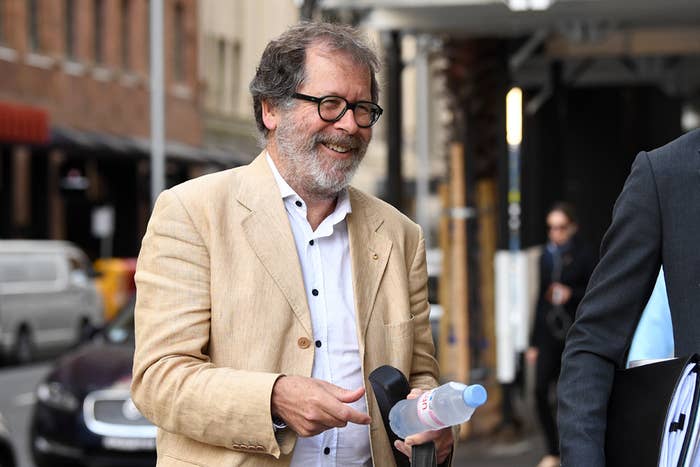 The director of the Shakespeare play at the centre of the Geoffrey Rush defamation trial says he watched the preview performances "like a hawk" and saw no "gratuitous action" from Rush as he played the role of King Lear grieving his dead daughter Cordelia.
The fourth day of the high profile trial also saw one of Rush's co-stars break into song on the witness stand, singing a line from "Truly Scrumptious" in the 1968 film Chitty Chitty Bang Bang before clarifying that she had never heard Rush say another female actor in the play looked "scrumptious" during rehearsal.

Rush is suing the publishers of Sydney newspaper The Daily Telegraph and journalist Jonathon Moran for defamation, after they published allegations he had been accused of behaving inappropriately towards a female cast member during a 2015-16 Sydney Theatre Company (STC) production of King Lear.

Rush, 67, has strenuously denied the allegations. He claims publisher Nationwide News defamed him by painting him as a pervert and a sexual predator who committed sexual assault while acting in King Lear, and by suggesting his conduct was so serious that the STC pledged to never work with him again.
Australian director Neil Armfield, who has worked with Rush on 22 plays and a number of films, was quizzed extensively on Thursday morning about the preview performances from November 24-27 of the production of King Lear.
He said he had given Rush a stage note to pick up Norvill during the pivotal grieving scene, and hold her over his shoulder as if she was a two-year-old child, rather than leaving her lying horizontal on the ground throughout the entire scene.
"[The note] 'to lift her like a baby' suggests I am asking Geoffrey to go back to the most primal moment of a parent with his child, of holding a baby up in his arms," he said.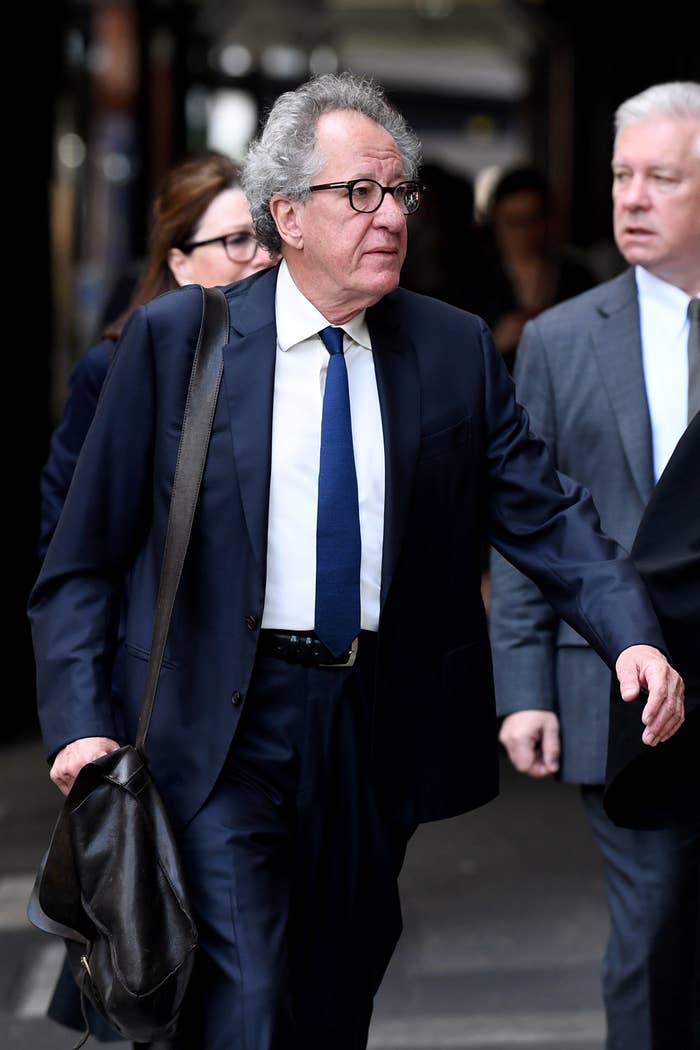 Armfield said he was "watching like a hawk" during the preview shows, going so far as to dictate notes to the assistant director rather than writing them down himself "so my eyes don't leave the stage".
Asked if he had ever seen Rush "brush the side of Miss Norvill's breast with his hand", Armfield replied: "To ask someone to pick up someone's torso and hold it against his head as I asked Geoffrey to do, I could have thought might easily mean … I suspect it would be impossible to do without his hand touching her breast. I certainly never saw any gratuitous action outside the action that was necessary for his manipulation of her body in that scene."
He denied he had said to Mr Rush that his touching of Norvill in the scene was "becoming creepy and unclear" and that he told him to "be more paternal".
"I have no memory of that," he replied to both phrases when they were put to him by Rush's barrister Bruce McClintock SC.
Armfield was pressed on this point later by Nationwide News lawyer Tom Blackburn SC. Armfield said "I don't think it's probable" that he would have told Rush to be more paternal.
"You wanted Mr Rush to behave more like a father," Blackburn said.
"I wanted the image to be the strongest possible statement," Armfield replied. "Like it's a Pietà, really. It's a parent with a dead child in their arms."
Blackburn: "So it's likely you said to him be more paternal."
Armfield: "No, I think it's more likely I said to him we want this moment to be more full in its exposure of grief."
Armfield said that, hypothetically, if he had thought Rush's behaviour was "creepy" he would not have have said it in front of the cast but to Rush directly.
"You said you had no memory of saying that," said Blackburn. "You don't absolutely deny that you did say it, do you?"
"I can't imagine using the word creepy," Armfield replied. "So, I deny saying that."
Armfield said he had not seen Geoffrey Rush make gestures towards Norvill such as "groping gestures in the air with two cupped hands as if to simulate groping her breasts", nor heard him say she looked "yummy" or "scrumptious".

He was also asked if he had seen Rush make the same gestures towards the King Lear stage manager Georgia Gilbert.
"I would have thought that Georgia Gilbert would have slapped Geoffrey on the face had such a thing happened," he said.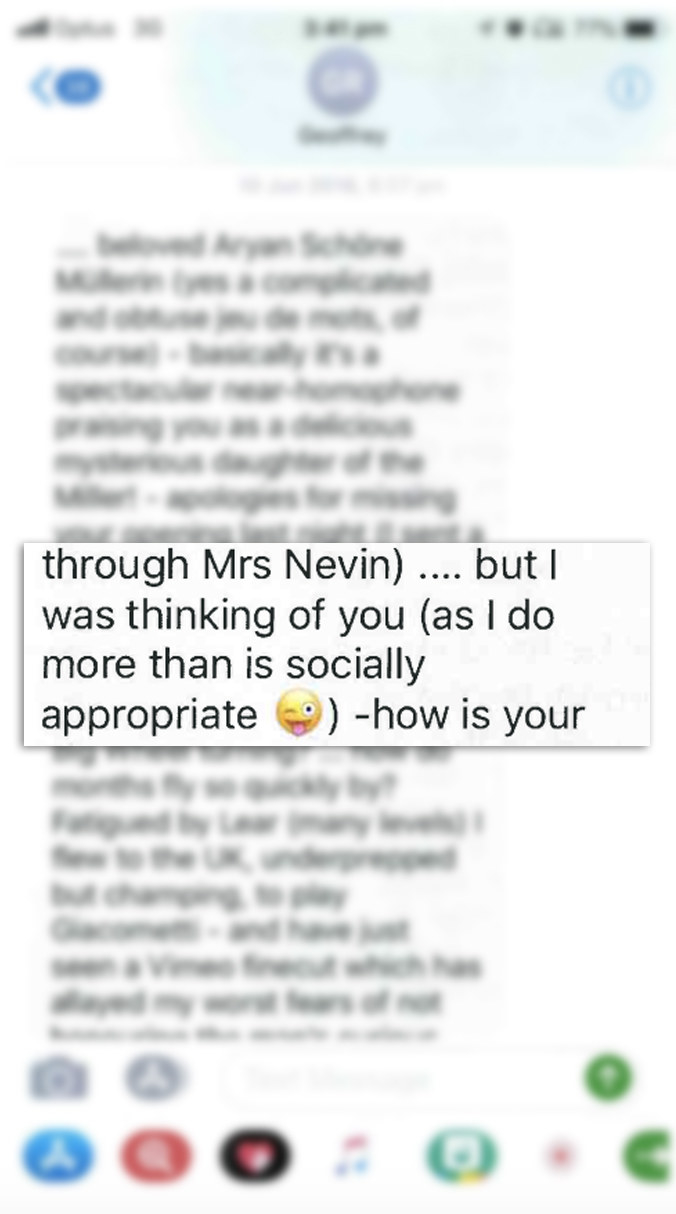 Actor Helen Buday, who co-starred in King Lear as Goneril, gave evidence on Thursday afternoon.
She told the court she thought a text Rush sent to Norvill, including the line "I was thinking of you ( as I do more than is socially appropriate)", followed by a winking emoji face with its tongue poking out, was a "wonderful example" of good mentoring.
"Do you think it's appropriate for Mr Rush, aged 65 as he was then, to say to this young aspiring actress that 'I was thinking of you as I do more than is socially appropriate'?" asked Blackburn.
"Yes, I think it's appropriate," replied Buday. "Appropriate is in the eyes of the beholder sometimes. I'm astounded you would find this in its context in any way inappropriate."
After some spirited back and forth with Blackburn, she said: "This, I find a delightful text. That's my answer. I hope that's really clear. Is it clear?"
Buday also sang the line "Truly scrumptious, truly truly scrumptious" from a song of the same name in Chitty Chitty Bang Bang twice while giving evidence, at first when looking at the text and for a second time when asked if she had heard Rush say Norvill looked "scrumptious" during rehearsals.
After singing, she clarified she had not heard him call her "scrumptious", nor "yummy".
The court also heard that Orange is the New Black star Yael Stone had initially committed to playing the double role of Cordelia and the fool in King Lear.
After she had agreed to the role, Armfield said that he and and Rush considered that it might be more interesting to have the fool be someone from the same generation as Lear, and they approached Robyn Nevin.
Stone was asked if she would be happy just playing Cordelia, not the double role, and decided at that point she didn't want to be part of the play, Armfield said.
Robyn Kershaw, who produced the 2000 film Looking for Alibrandi and the beloved comedy TV series Kath & Kim, said Rush's trip to Los Angeles to attend the Screen Actors Guild in January 2018 was like an "army manoeuvre".
Giving evidence on Thursday morning, she said she and her husband planned the trip extremely carefully "because of the fear Mr Rush had around paparazzi, people, his reputation".
"When I saw him at the airport he was hiding behind a pillar, totally like a child," she said.
He had elected not to attend the Golden Globes earlier that month because people in Los Angeles were focused on the #MeToo campaign, with women announcing their plans to wear black outfits on the red carpet, Kershaw said.
"Geoffrey and Jane were very conscious that would probably not be a very healthy or safe place for Geoffrey generally," she said.
The trial continues.