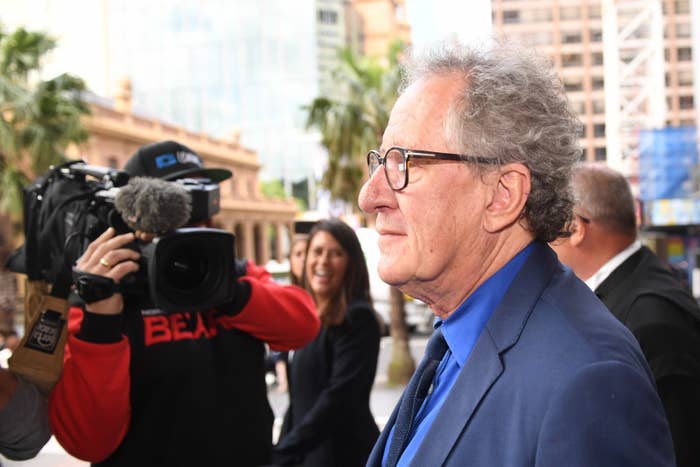 Australian actor Geoffrey Rush says his "blood ran cold" when he saw a second front-page newspaper article alleging he had behaved inappropriately towards a female actor and realised the story was going to continue like a "box set".
In a case that has attracted global attention, the Australian actor is suing the publishers of Sydney newspaper the Daily Telegraph and journalist Jonathon Moran for defamation after they published allegations he had been accused of behaving inappropriately towards a female cast member during a 2015-16 Sydney Theatre Company (STC) production of King Lear.

Rush has strenuously denied the allegations.
The trial started on Monday morning in the Australian Federal Court with a directive more commonly issued in a movie theatre than a defamation trial: a reminder to please switch off mobile phones.

Rush's barrister Bruce McClintock SC began his opening with: "On the evening of 29 November 2017, not quite a year ago, Geoffrey Rush had had an extraordinary career. To the point where one could describe him, without exaggeration, as one of Australia's most famous actors."
But this all changed, McClintock said, when "a gossip columnist in the Telegraph decided to write an article about my client" on November 30.
Rush is suing over two articles and a newsagency poster that he claims defamed him by painting him as a pervert and a sexual predator who committed sexual assault while acting in King Lear, and by suggesting his conduct was so serious that the STC pledged to never work with him again.

Labelled "World Exclusive", the articles were published seven weeks after revelations about Hollywood producer Harvey Weinstein in The New York Times sparked a flood of reporting, and women sharing their own stories, about sexual harassment and assault in a movement referred to as #MeToo.
Daily Telegraph publisher Nationwide News will argue a defence of truth, based on a statement from actor Eryn Jean Norvill, who played the role of King Lear's daughter Cordelia in the production, and who allegedly complained to the STC in April 2016 about Rush's inappropriate behaviour towards her.
Rush took the stand just before lunch on Monday. He told the court that seeing the first article about him had been "devastating", particularly when he saw how distressed his wife and children were.
"I felt as though someone had poured lead into my head," he said. "I went into a kind of, this can't be happening. I was numb."

When he saw another front page the next day, promoting a story with the words "Unscripted drama: The Oscar star scandal", Rush said he realised the story was going to run and run.
"My blood ran cold and I went to jelly as I thought, this is the beginning of a box set," he said. "This story is going to continue and it's wilder than you think, dear reader."

This second story, which had the sub-headline "Theatre cast back accuser as Rush denies 'touching'", said that actors Meyne Wyatt, who was in King Lear, and Brandon McClelland, who was not, had spoken out in support of the actor who accused Rush. It was based on a Facebook post from Wyatt and a tweet from McClelland, who wrote: "It wasn't a misunderstanding, it wasn't a joke."
Rush said he did not know Wyatt very well, as their characters did not interact much in the play, but "liked him".

As for McClelland: "Pardon my French, but who the fuck is Brandon McClelland?" Rush asked. "He wasn't in King Lear, so I'm going, why is he banging on as part of the theatre cast?"
Earlier, the court had heard that Moran had messaged McClelland seeking more information, but McClelland had replied saying his tweet was not directly related to any individual and that he didn't have any intimate knowledge of what had happened in the King Lear production.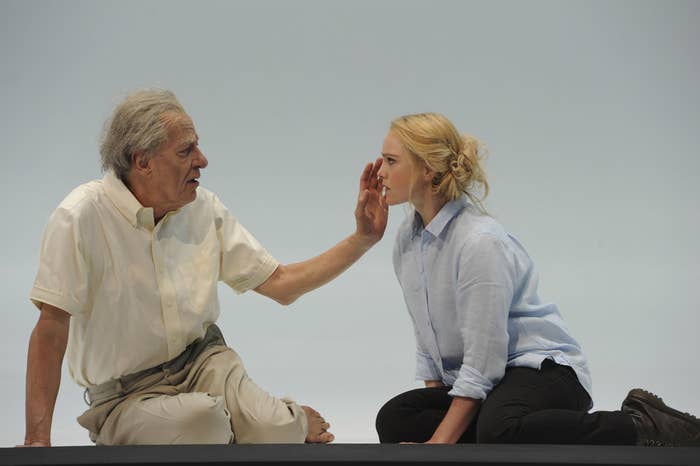 This second article was the first time he had seen the word "touching" used in relation to his alleged behaviour, Rush said. He added that this was a "clue" as to what he had allegedly done, because at that point he had still not been given any specifics of the allegations from the STC.
The "KING LEER" headline on the first article, splashed across the front page under a photo of Rush that was taken as a promotional shot for the play, had the subtext of "major depravity, or major pervert", he said.

"It diluted … the original intention of the image and converted to what I think looked like a police line up. It made a madman from the theatre look criminal in reality."
Rush said he pulled out of a lead role in a Melbourne Theatre Company production of Twelfth Night because his "mental and physical state" meant he wasn't able to act to his full capacity.
"It wasn't paranoia, but I thought my presence in the production would also spoil it because of the stain that was building up over the last 11 months, and ruin it for what had already been established as a very good cast," he said.
Asked how the articles in total made him feel, Rush said: "It's been the worst 11 months of my life. And these are the starting point of that, and it only got worse."
Rush's testimony came after his lawyer told the court the film star's reputation was "smashed" and "destroyed" by articles written by a journalist who was "desperate" for a story that rivalled The New York Times' Harvey Weinstein scoop.
In his opening address, McClintock listed Rush's credentials, saying he was a "living national treasure" with a "stellar" reputation and comparable only with Cate Blanchett in terms of Australia's exports to Hollywood.
He told the court that Rush's career, spanning over 50 years, had elicited the rare "Triple Crown" – winning an Oscar, an Emmy, and a Tony award – a feat only achieved by 24 other actors.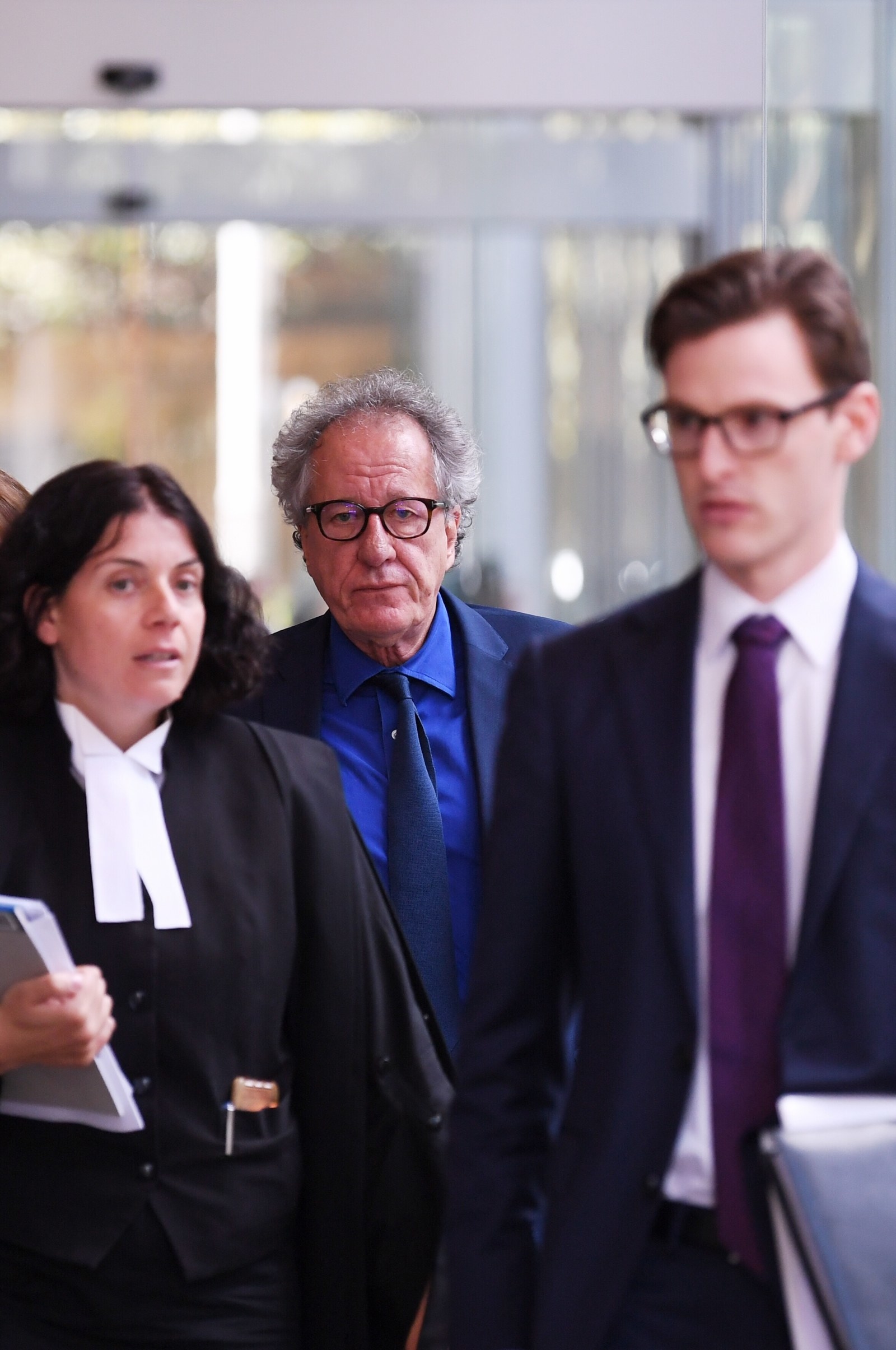 McClintock said Moran was desperate for a "Weinstein story" after Fairfax Media (News Corp's newspaper competitor in Australia) published an investigation into the alleged behaviour of Australian TV personality Don Burke.

"I don't wish to be unkind, but an investigative journalist he isn't," McClintock said of Moran. "He was obviously desperate for a story."
The "KING LEER" headline was both "a feeble pun characteristic of The Daily Telegraph" and a "pointed and vicious pun" on the name of the play, McClintock said.
The court also heard that a staff member at Sydney Theatre Company had sent Moran an email prior to the publication of the first article saying Norvill was "distressed" by the situation and didn't want any part in the story.
"It is her story to tell and she should have a right to tell it at the time of her choosing and on her own terms," the email said.
The stories did not name Norvill, and she did not agree to testify for The Daily Telegraph until a relatively late stage in the proceedings.
The court heard that a journalist from another News Corp publication, The Australian, had contacted Rush about the allegations around November 9, but did not run a story after Rush told the journalist "he had no idea what she was talking about".
The enquiry prompted, however, a "Kafkaesque" phone call between Rush and STC executive director Patrick McIntyre, McClintock said, in which Rush asked if a complaint had been made about him, and if so, what was the nature of the complaint, and McIntyre said he couldn't tell Rush anything for legal reasons.
"We're not here to try Mr McIntyre, but it's an extraordinary response," McClintock said. "You could accurately say my client and Miss Norvill are victims of the incompetence of the STC and the malice and dishonesty of the Telegraph, and the desire to have a sensational story."
McClintock said the story was "picked up worldwide" due to Rush's fame and that he had suffered "real financial harm" over the articles.
"There's nowhere in the English speaking world this wasn't repeated in some way," he said.
The court heard that Rush's earnings went from $1.5 million from July 1, 2017 to November 30, 2017 to $44,000 from December 1, 2017 to last week.
In an earlier part of Rush's testimony, he was taken through the early years of his career at Queensland University.
He mentioned a stint as a dishwasher while at an acting school in Paris – "because I got fed twice a day and learnt crude French from my chef colleague" – and an unexpected housemate in the late '70s.
"I was living in a very empty house in Kensington with a young Mel Gibson, who was five years my junior, just in the wake of the release of Mad Max, the first film," Rush told the court.
Instead of listing every play he's ever been in, McClintock handed Rush a stapled list and asked him it was accurate.
"It's a lot of opening nights," Rush remarked, as he thumbed through the document.