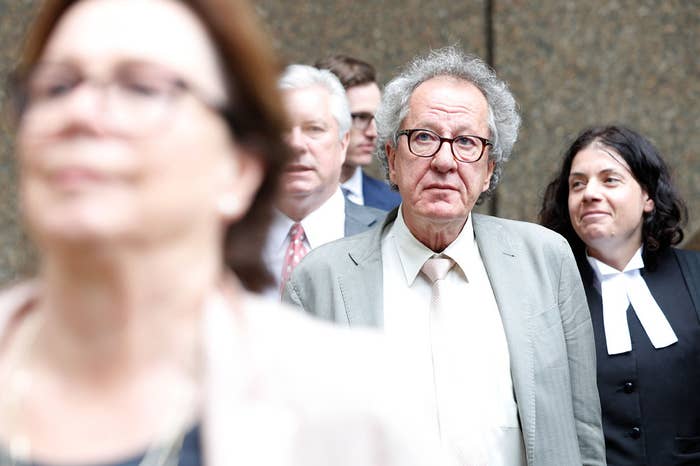 Actor Geoffrey Rush has had a comprehensive victory in the defamation case he launched against Sydney newspaper the Daily Telegraph, with justice Michael Wigney labelling the articles published about him "recklessly irresponsible" and journalism "of the very worst kind".
In a judgement handed down Thursday afternoon in Sydney, the newspaper was found to have completely failed to make out its truth defence and Rush was awarded $850,000, with a further sum yet to be determined for economic loss.
Rush's accuser, Eryn Jean Norvill, declared outside court that she stood by everything she said at trial and had never wanted the matter to end up in court.
Rush, 67, sued publisher Nationwide News and journalist Jonathon Moran after they published allegations the Oscar winner had been accused of behaving inappropriately towards a female cast member during the 2015-16 Sydney Theatre Company (STC) run of King Lear.
Rush strenuously denied the allegations and filed for defamation soon after, claiming the stories had painted him as a pervert and a sexual predator, among other things.
During a three-week trial in 2018, Nationwide News argued a defence of truth based on the testimony of Norvill, who played the role of King Lear's daughter Cordelia in the production. Norvill did not participate in the stories and agreed at a late stage to testify for the Telegraph.
Handing down the judgement on Thursday afternoon, Federal Court justice Michael Wigney found in Rush's favour and said Nationwide News had failed to make its truth defence.
The courtroom was packed to hear the judgement, Rush sitting with wife Jane Menelaus behind his lawyers and Norvill seated with supporters in the front row of the public gallery.
"This is a sad and unfortunate case," Wigney said as he began reading a summary of the judgement.

"It plainly would have been better for all concerned if the issues that arose in the saga that played out in this courtroom in October and November last year had been allowed to be dealt with in a different way and in a different place to the harsh adversarial world of a defamation proceeding.
"But they were not. And so it comes to this."
Wigney said he was unconvinced by Norvill's evidence on any of the allegations she had made against Rush, and preferred the evidence of Rush and the people who had testified for his case, including King Lear director Neil Armfield and actors Robyn Nevin and Helen Buday.
Wigney said Norvill's account of Rush touching her breast as they acted out a pivotal grieving scene during a preview performance of King Lear was "improbable or implausible".
He accepted Rush's evidence that when he said to a journalist he had a "stage door Johnny crush" on Norvill that it was meant as a "light-hearted compliment", and that a text Rush sent to Norvill saying that he thought of her "more than is socially appropriate" was intended as a "throwaway line or joke".
He said he did not find Norvill to be an entirely credible witness and that she was "prone to exaggeration and embellishment".
In considering her evidence, Wigney said, he had given mind to the fact she had "essentially been dragged into the spotlight" by the actions of the Telegraph, and to the "difficulties and disadvantages" often encountered by complainants in cases involving sexual harassment allegations.
Outside court, Rush said there were "no winners" in the case and that it had caused enormous distress to everyone involved.

Norvill also spoke outside court, saying: "I stand by everything I said at trial. I told the truth. I know what happened. I was there. I would've been content to receive a simple apology and a promise to do better, without any of this."
Wigney awarded Rush $850,000 in general and aggravated damages. He will also award Rush special damages for economic loss, with the amount to be determined at a later date.
The judge took aim at the Telegraph, saying its articles were "a recklessly irresponsible piece of sensationalist journalism of the worst kind" and had caused enormous hurt and distress to Rush.