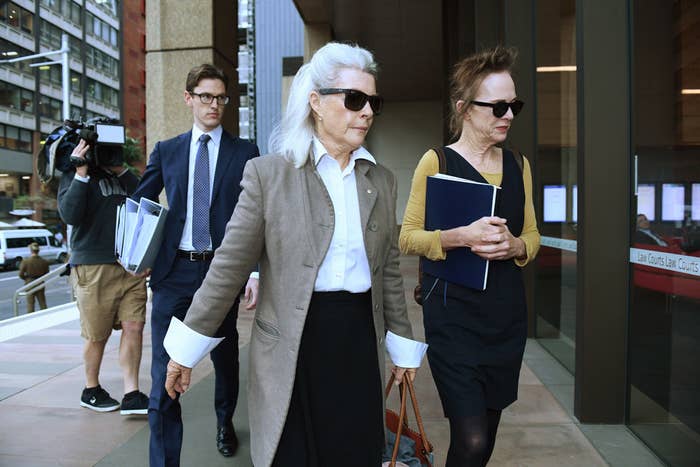 Australian actor Robyn Nevin has accused the Daily Telegraph's barrister of putting "words in my mouth" as she denied her King Lear costar Eryn Jean Norvill had spoken to her about the "unwanted attention" she had allegedly received from Geoffrey Rush on set.
The 76-year-old veteran actor gave evidence on Monday morning, the sixth day of the high-profile defamation trial, following brief testimony from fellow Australian star Judy Davis. After the court lunch break, the Daily Telegraph was due to open its case — but the trial unexpectedly adjourned for the afternoon and is back on Tuesday morning.
Rush is suing the publishers of Sydney newspaper the Daily Telegraph and journalist Jonathon Moran, after they published allegations in November 2017 that he had been accused of behaving inappropriately towards a female cast member during a 2015–16 Sydney Theatre Company (STC) production of King Lear.

Rush, 67, has strenuously denied the allegations. He claims publisher Nationwide News defamed him in two articles and a poster by painting him as a pervert and a sexual predator who committed sexual assault while acting in King Lear, and by suggesting his conduct was so serious that the STC pledged to never work with him again.
Nationwide News will argue a defence of truth based on a statement from Norvill, who played the role of King Lear's daughter Cordelia in the production. She allegedly complained to the STC in April 2016 about Rush's inappropriate behaviour towards her, but was not named in the articles.
Nevin recalled a conversation with Norvill during the STC production of All My Sons in mid-2016, which both actors appeared in following the run of King Lear.
"[Norvill] was in a tearful state and when I asked what was wrong, she said it just reminds me — I'm absolutely paraphrasing, I can't quote her – it reminds me of the trouble I had here with King Lear. We were in the same theatre," Nevin said.

"She indicated to you, didn't she, that it was inappropriate behaviour of a sexual kind that she was upset about?" asked Nationwide News barrister Tom Blackburn SC.
"She most definitely did not suggest that to me. You're putting words in my mouth," Nevin replied loudly, before adding: "I beg your pardon for raising my voice."
She said Norvill did not imply "in any way" during the conversation that she had received inappropriate or unwanted attention from Rush, and that she had been upset over "struggles" she had in playing the role of Cordelia.
Nevin also denied a suggestion from Blackburn that she had said to Norvill: "Oh, I thought Geoffrey had stopped doing that. Poor Jane."
Rush's wife, Jane Menelaus, is a close friend of Nevin's, the court heard.
Nevin agreed with a suggestion from Blackburn that she believed Norvill's complaint against Rush was baseless, saying: "I was there."
"I didn't see anything that would justify the kind of complaint that was made," she said.
Nevin was also questioned over a text she sent to Norvill on Dec. 1, the day the second article was published.

The text said: "Oh dear girl are you ok??i was contacted today by channel 9, I was in rehearsal with no iPhone. Fortunate. I told my agent no comment. But it's nasty. I hope you'll be protected. I'm sure you will be. If you need anything just ask.xxx"
Norvill replied saying she was "frightened" and being "ferociously" hounded by the media.
"It's pretty scary. I'm just trying to do the show and survive. I didn't ask for any of this," Norvill wrote in the text.
Blackburn suggested to Nevin that she didn't ask Norvill to explain the allegations over text because she believed they were true, but Nevin disagreed.
"Weren't you curious to know why these serious allegations were being made against Mr Rush? By someone you had respected?" asked Blackburn.

"I didn't question Miss Norvill. The damage was done," Nevin replied.
More texts between the two actors later in December, in which Nevin offered support to Norvill, were also tendered in court.
In part of a text exchange on Dec. 4, Nevin wrote to Norvill: "I'm thinking of you. Sending love. Breathe deeply and calmly."
Nevin said she felt angry with the Sydney Theatre Company for disclosing the complaint, but not with Norvill.

"I was distressed for Miss Norvill because I knew what it would mean to have this revealed to the public," she said.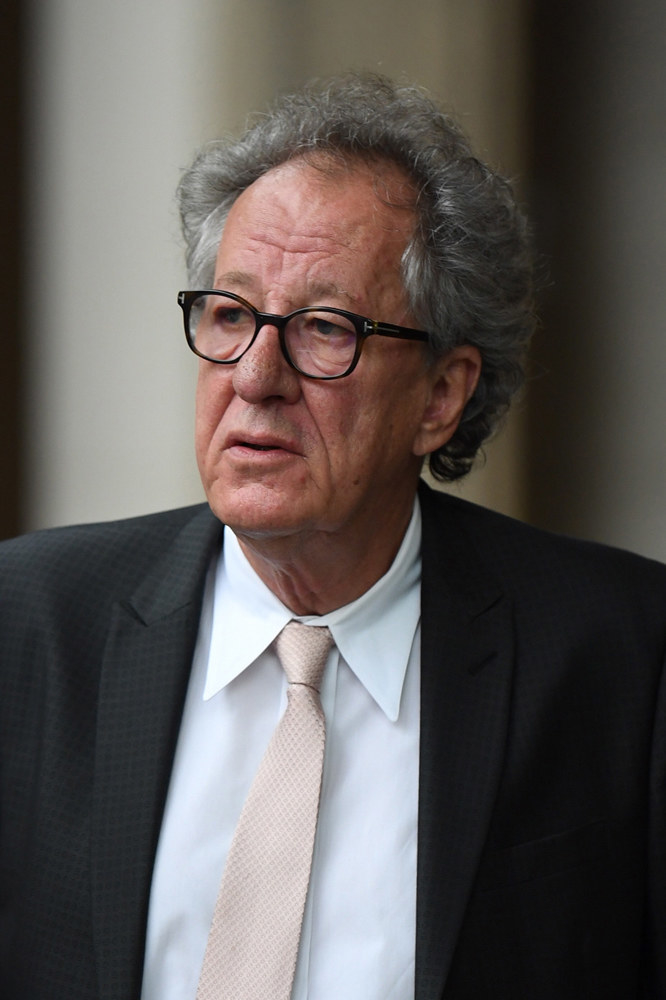 Multi-award-winning Australian actor Judy Davis told the court that she and Rush had played husband and wife in two films — Children of the Revolution (1996) and Swimming Upstream (2003) — as well as siblings in the 2011 film Eye of the Storm.

She said she had "loved" working with Rush in Children of the Revolution and said he had a "really very serious heavyweight reputation as an actor" among the international film and theatre community.
Davis said she had heard "a couple of people" talking about the articles published about Rush since November 2017.
"I have to say I don't like gossiping. I don't mix, really, in theatrical circles. But yes I have," she told the court. "They've said really that his career is finished."
The two actors were the final witnesses in Rush's case, bar his agent Fred Specktor, who is scheduled to give evidence later in the trial for logistical reasons.
Blackburn was set to deliver the opening address for Nationwide News' case directly after lunch on Monday, but the hearing was instead adjourned until Tuesday morning, when key witness Norvill and King Lear cast member Mark Leonard Winter are now expected to give evidence.
Over the past week, the trial has heard at times colourful testimony from a series of eminent people in Australia's entertainment community, including actors, directors, and producers.
Rush spent two and a half days on the stand, during which he denied the allegations against him and said the past 11 months had been the worst of his life.
When he saw the second front page about him, Rush said: "My blood ran cold and I went to jelly as I thought, this is the beginning of a box set. This story is going to continue and it's wilder than you think, dear reader."
He said he might have called Norvill "yummy" during rehearsals, but denied touching her breast or making lewd gestures towards her in rehearsals.
Actor Helen Buday, who played King Lear's oldest daughter Goneril, sang a line from the 1968 Chitty Chitty Bang Bang song "Truly Scrumptious" when asked if she had heard Geoffrey Rush say another female actor looked "scrumptious".
Director Fred Schepisi said Rush had been subject to a "trial by media" that placed him in the same league as "some rather disgusting people" in the #MeToo era.
The court has also heard from Jane Menelaus, who said her husband "doesn't wish to act again", as well as Kath & Kim and Looking for Alibrandi producer Robyn Kershaw and actor John Gaden.
The trial continues.