The gay daughter of a prominent anti-marriage equality campaigner has slammed flyers accusing Labor and the Greens of promoting "extreme sex education" in schools.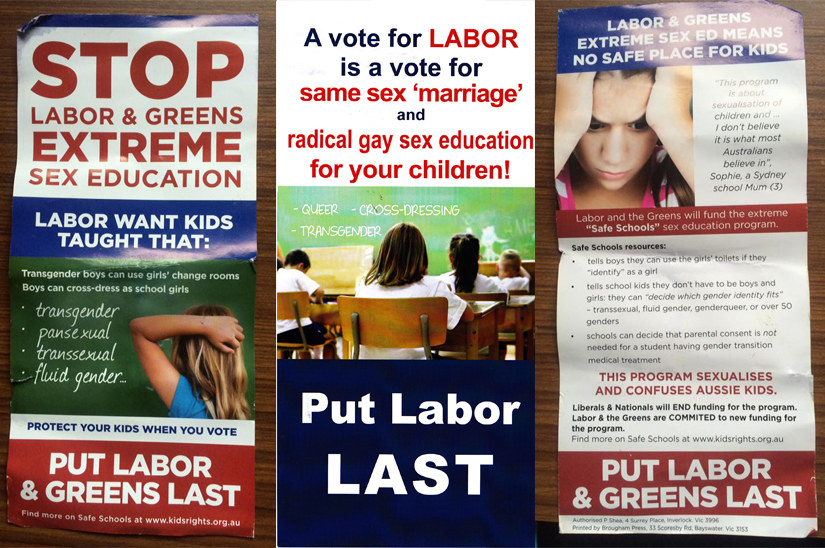 The flyers, authorised by Inverloch, Victoria, man Patrick Shea and put together by the Australian Family Association and the National Civic Council, says the LGBTI Safe Schools anti-bullying program "sexualises and confuses Aussie kids".
Trish Hackney-Westmore is the daughter of National Civic Council president Peter Westmore. She told BuzzFeed News the flyer made her and her wife Christy "very upset and very angry".
"I would hope that the community would see that and think 'That's extreme, that's untrue, what horrible things to say'," she said.
"I think it's terrifying that anything that teaches respect and tolerance and diversity is seen as a threat. It's unfathomable to us," she told BuzzFeed News.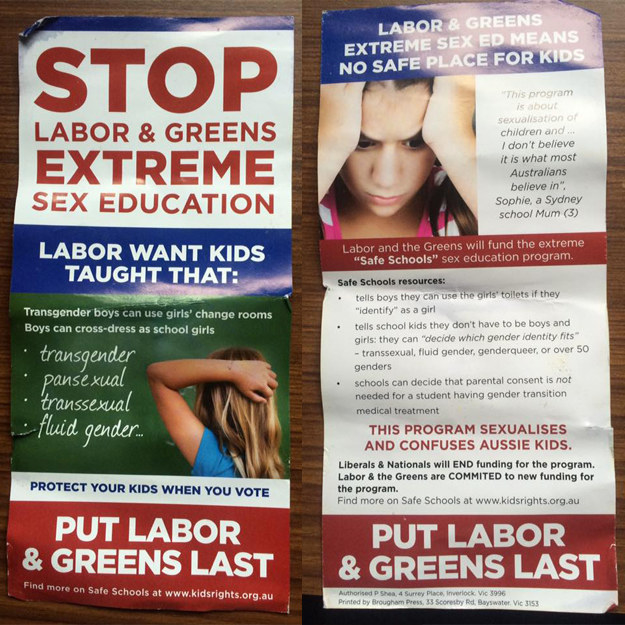 Hackney-Westmore said her father's connection to the flyers was "incredibly painful", but she felt compelled to speak up about them.
"This is obviously something that's incredibly difficult," she said. "But it's about Christy and I feeling like we have a responsibility to speak up and say 'It's not OK'."
There are a number of factual errors in the flyer.
It states Labor wants kids taught that "transgender boys can use girls' change rooms". However, the Safe Schools program actually advocates transgender boys be allowed to use boys facilities, rather than having to use those for girls.
The flyer also says "schools can decide that parental consent is not needed for a student having gender transition medical treatment." To receive cross-sex hormones treatment, a transgender person aged under 18 must get permission from the Family Court, a process typically involving supporting testimony from medical professionals and parents. Schools have no say in the matter.
Other conservative organisations have also distributed material focusing on Labor's support for the Safe Schools Coalition.
The Australian Marriage Forum flyer argues a vote for Labor is a vote for not only marriage equality, but also "radical gay sex education".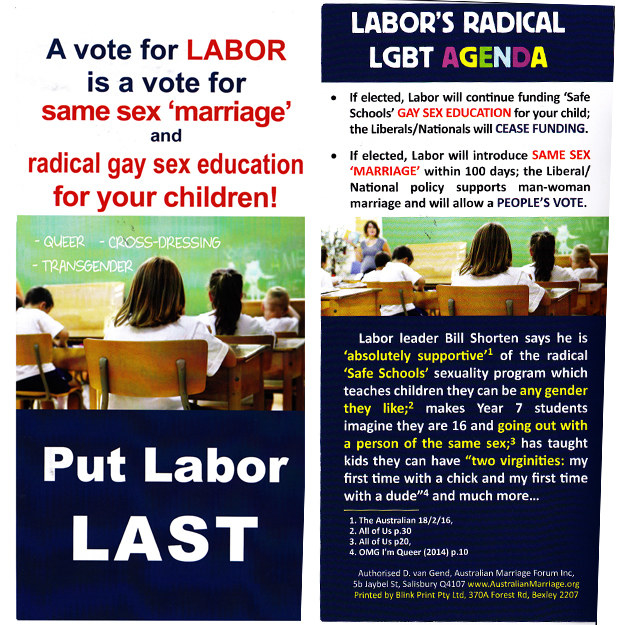 The organisation distributed a version in Greek, too.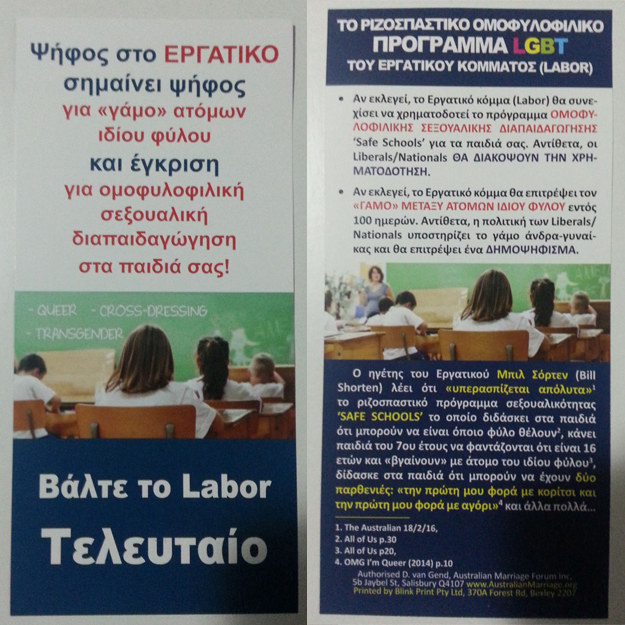 The flyer has been distributed in several electorates, including Barton in Sydney. A print-out of the flyer popped up in a picture posted to Facebook by member for Barton, Nickolas Varvaris, meeting with heads of the Maronite church.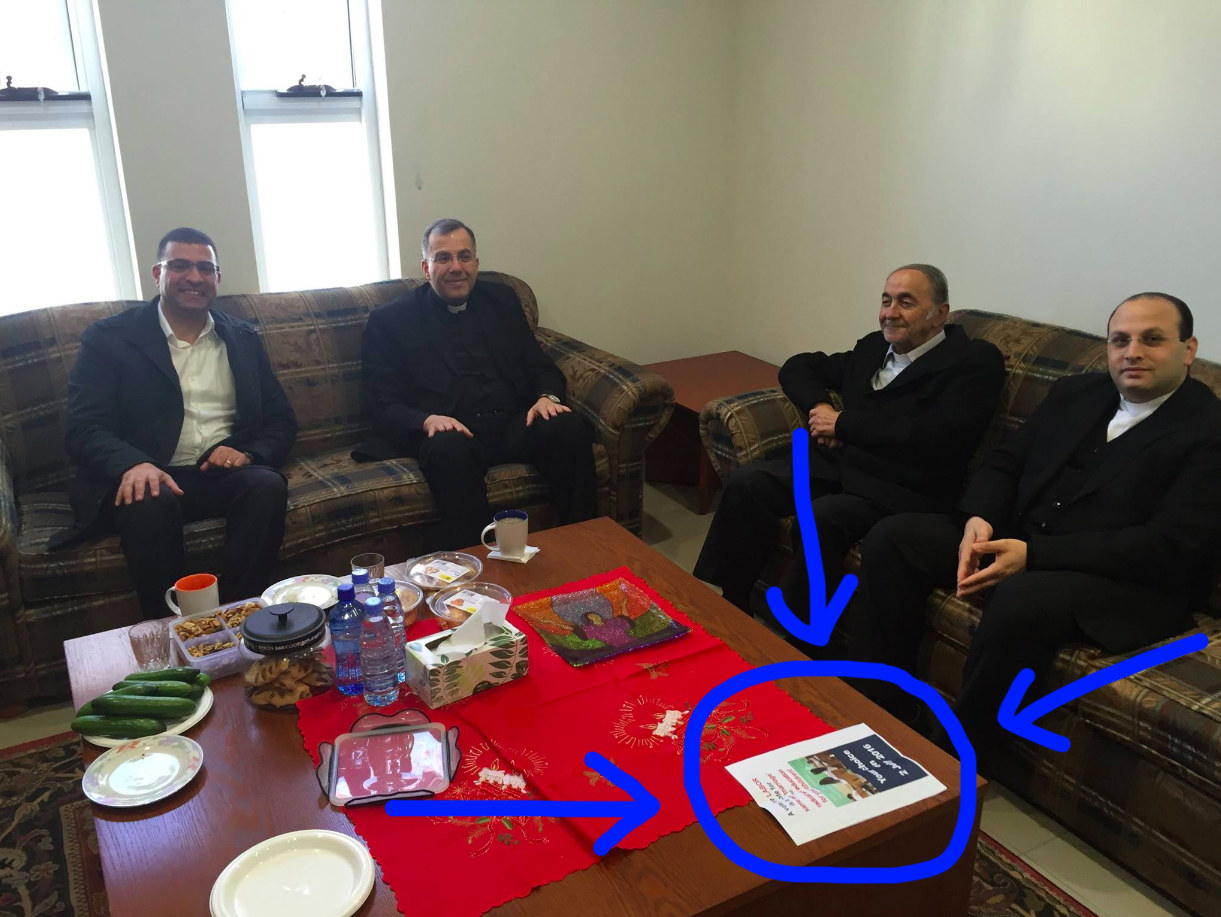 Varvaris's office told BuzzFeed News a community member had brought along the print-out to discuss with the member.
The Australian Christian Lobby flyer is titled "Labor's plan for education" and focuses entirely on the party's support of the Safe Schools program.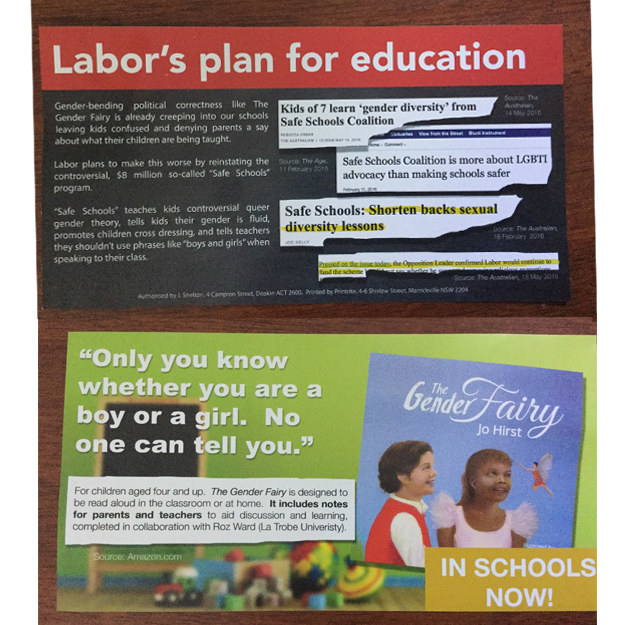 Hackney-Westmore said she hopes the message of the flyers isn't cutting through.
"I would hope not," she said. "But I also know there are people who are distributing them, people who are reading them, people who don't want their children to participate in these programs, and I think they're the children who need these programs the most."