Update
Not one parent of a student at Burwood Girls' High complained to the school over the planned showing of Gayby Baby, The Guardian reports.
"The school has not received any complaints from Burwood girls high school parents," the department said in a statement.
This is in contrast to earlier reports that the school had received four emails about the issue.
NSW minister for education Adrian Piccoli has directed his department to stop schools from showing a documentary about same-sex parenting during school hours.
Piccoli's decision comes after media reports that parents at Burwood Girls High School in Sydney are upset that the Gayby Baby film will be shown during school hours.
Gayby Baby, directed by former Burwood Girls student Maya Newell, follows four children raised by same-sex parents.
The Daily Telegraph reported this morning that parents have complained after the school principal announced the screening, saying the film pushed a pro-gay agenda.
However, the film's creators have defended their work, saying "we firmly believe our film has positive benefits for all students".
The film screening coincides with Wear It Purple Day, where students are encouraged to wear purple in support of their LGBTI peers.
"Schools are not places for political issues to be aired," Piccoli told 2GB radio on Wednesday.
"During school hours we expect them to be doing maths and English and curriculum matters. This movie is not part of the curriculum and that's why I've made that direction."
The Telegraph story alleged that parents were upset that the film was being shown during lesson time.
"This is trying to change children's minds by promoting a gay lifestyle," Presbyterian minister Mark Powell told The Daily Telegraph.
"Students are being compelled to own that philosophical view by wearing certain clothes and marching under a rainbow flag."
Newell and the film's producer Charlotte Mars defended the film on Facebook.
The Daily Telegraph also published a column from journalist Piers Akerman, who singled out one of the children in the documentary and said her family wasn't normal.
"Twelve-year-old Ebony is quoted saying: 'It's not normal. You're not normal.' They're the kind of things that go through my head.'," wrote Akerman.
He then quoted the definition of normal as it appears in the Oxford Dictionary and pointed to census figures that show the relative rarity of same-sex couples with children in Australia.
"Children in same-sex couple families are one in a thousand of all children in couple families (0.1 per cent). Statistically, you are not in a "normal" family, no matter how many LGBTIQ-friendly docos you may be forced to watch by politically-driven school principals," Akerman wrote.
The column received extensive criticism on social media, where many accused Akerman of bullying the 12-year-old girl. News Corp declined to comment on the column.
Kate Ellis, a Labor politician and the shadow minister for education, described the coverage in The Daily Telegraph as "dangerous".
"Many same-sex attracted and gender diverse young Australians already feel ostracised as it is – they don't need the front page of a newspaper to make this worse," she told BuzzFeed News.
"These aren't just insensitive comments, they are dangerous. This is a serious mental health issue in our schools, with same-sex attracted and gender diverse young Australians facing a much higher risk of suicide."
"Quite simply, we should be encouraging school initiatives which promote inclusion," she added.
Various schools across the country are planning to show the documentary on Wear It Purple Day.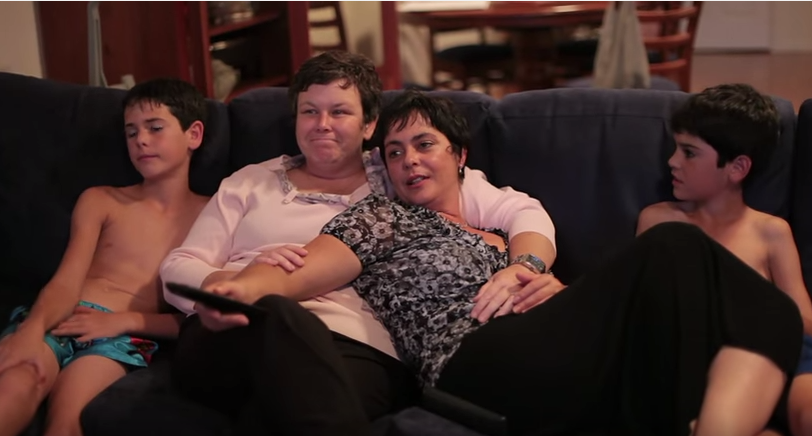 Wear It Purple founder Katherine Hudson, who is also a former Burwood Girls student, told BuzzFeed News that those criticising Wear It Purple and the documentary were "getting the message wrong".
"What Wear It Purple is about is saying that we want schools to be an accepting place of everyone, regardless of their opinions, regardless of their views, regardless of their sexuality. It's all about diversity and accepting diversity in schools," she said.
"We're not promoting any type of agenda, and that's a complete distortion by the conservative media of what the mission of the organization is."
Hudson came out at school when she was 14, and said she had a very positive experience at Burwood Girls.
"The school's been behind Wear It Purple Day since it started in 2010 and they've been very supportive, they're one of the key schools in the Safe Schools Coalition."
Several politicians have also condemned the Telegraph's coverage and Akerman's column on Twitter.