Here's Why People Are Fundraising To Help Aboriginal Women Pay Off Fines
"You go through a red light, you speed a little bit, you hit a $300, $400, $500 fine. It can be more than someone's weekly Newstart Allowance, their single parent allowance."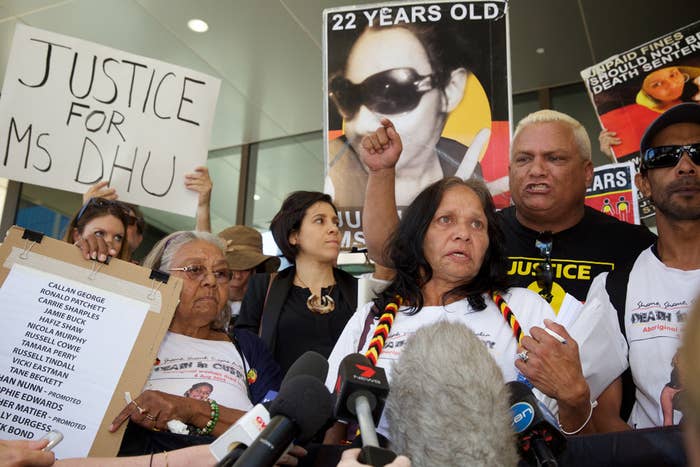 When Debbie Kilroy, the chief executive of prison advocacy organisation Sisters Inside, saw that Aboriginal dancer and actor Ruben Yorkshire had been jailed over unpaid fines, she thought I'm sick of this.

Yorkshire, a Noongar man who is set to appear in the upcoming ABC series The Heights, was freed on Sunday after being arrested last Wednesday and forced to spend four nights in jail to clear a $1,700 debt.
The prison stint, which ended after a donor paid off Yorkshire's remaining $638, made headlines. It is also par for the course in the state of Western Australia (WA), where hundreds of people each year are jailed over unpaid fines.
When Kilroy heard about what happened to Yorkshire, prominent in her mind was the case of Miss Dhu, a young Aboriginal woman who died within 48 hours of being jailed in August 2014 over $3,622 in unpaid fines.

"I'm sick of WA doing this, particularly to Aboriginal women, Aboriginal mothers, and then they die in custody," Kilroy said. So she thought she'd turn to the public, and set up a fundraiser aimed at paying off the fines of single Aboriginal mothers.
"Sunday afternoon, I thought I'm going to pop this out, see what happens. Ask people to give up two coffees out of their week. Ten bucks. White middle-class Australians spend a fortune on coffee at coffee shops."
The response, a jubilant Kilroy told BuzzFeed News in a phone interview on Tuesday afternoon, has been "mind-blowing". As of 3:30pm, the amount raised had passed $80,000.
"It's so heart-uplifting to know that there's so many people across this country who actually agree that Aboriginal mothers should not be in prison for fine default," she said.
"It's a loud and clear message to the WA government and the attorney general that they must introduce [legislation to] parliament to change the laws."
A spokesperson for WA attorney general John Quigley told BuzzFeed News the government intends to introduce legislation "as soon as possible" that would make going to prison over fine default "truly a last resort" and only possible if ordered by a court.
"We know that keeping fine defaulters in custody to 'cut out' their unpaid fines is not the most effective way to enforce fines payments and is economically unsound," the spokesperson said.
Advocates expect alternative measures to follow those adopted in other jurisdictions: garnishing welfare and work payments, and community orders.
Quigley is also considering clearing outstanding warrants as part of the changes, which the spokesperson said would be introduced to parliament in the first half of 2019.
But until those laws pass, people are still being jailed over unpaid fines.
Kilroy is adamant that the WA government has to act as soon as parliament resumes in just over a months' time, and said the middle of the year is not good enough.
"We could end up with the same situation again of Miss Dhu, and an Aboriginal woman dying in custody," she said.
Miss Dhu died from septicaemia and pneumonia stemming from an infection caused by a broken rib inflicted on her in an act of domestic violence. Medical staff and custodial officers did not believe Miss Dhu when she told them how much pain she was in, and she was pronounced dead on her third trip to see doctors.
Kilroy's goal is to get women out of prison and keep them out until the law can be changed. She told BuzzFeed News two women had their fines paid off on Monday and six more were slated to be paid off on Tuesday.

The two paid off already were a Noongar mother of three and domestic violence victim and a 22-year-old Aboriginal woman who is pregnant and has a young child, Kilroy said.
None of the eight women were presently in custody, but had warrants out and were at risk of arrest, Kilroy said.
Kilroy has also turned to the public to find more women facing prison, as she could not obtain a list of women with warrants out against them from the fine registry.
"We've got to use social media to ask family and friends [of women with warrants over unpaid fines] to contact us, and get the information," she said. "I've contacted the prison over there, asked them for women who are in prison."
A spokesperson for the WA Department of Justice told BuzzFeed News that as of midnight on Jan. 6, 2019, there were four people in prison for fine default: two men and two women.
A 2016 report from the Office of the Inspector of Custodial Services found an average of 803 people were locked up each year for fine default in Western Australia between 2006 and 2015, but that number fluctuated significantly between years.
The numbers ramped up significantly in the early 2010s, soaring from 396 people jailed in 2008–09 to more than 1,000 in each of the following five years. In 2014–15, it fell back down to 603 people.

The average stay in prison was 4.5 days from 2008 onwards, the report said.
The report also noted that Aboriginal women were "by far" the most likely group to be in custody over fine default.

Gerry Georgatos, who is the national coordinator of the National Child Sexual Abuse Trauma Recovery Project and involved in the fundraising effort, told BuzzFeed News the stress placed on single mothers by fines is particularly acute.

"You go through a red light, you speed a little bit, you hit a $300, $400, $500 fine. It can be more than someone's weekly Newstart Allowance, their single parent allowance," he said.

"What's their choice? Put food on the table, pay the rent, or pay that bill?"
According to Georgatos, people are primarily jailed over traffic infringement fines, with others arising from things like move-on notices, unregistered dog fines, misbehaviour and disorderliness infringements, and court-ordered costs.

He gave the example of a mother who had been arrested in 2017 after calling the police in distress – a similar situation to that of Miss Dhu.
"A visitor had become disorderly and was a threat of harm to the household," Georgatos said. "Police attended and found she had $4,000 almost in unregistered dog fines, that sort of stuff, all civil matters. They took her away from her five young children for a 14-day sentence in Melaleuca [women's prison] to pay it down."
While an end to fine default imprisonment will be welcome, Kilroy and Georgatos said it is not a silver bullet for the serious financial stress fines place on struggling families.
Kilroy said colleagues in WA were gearing up to support women who have either been released from prison or had their fines paid off.
"This is about the WA government criminalising poverty. It must end, but what must begin is resources to stop poverty in the first instance," she said.
Georgatos plans to lobby the WA government to introduce a system of means-tested fines, widely used in Scandinavian countries.
"If we're going to do the punitive crap, we might as well dish it out equally," he said.